Activists Have Day in Court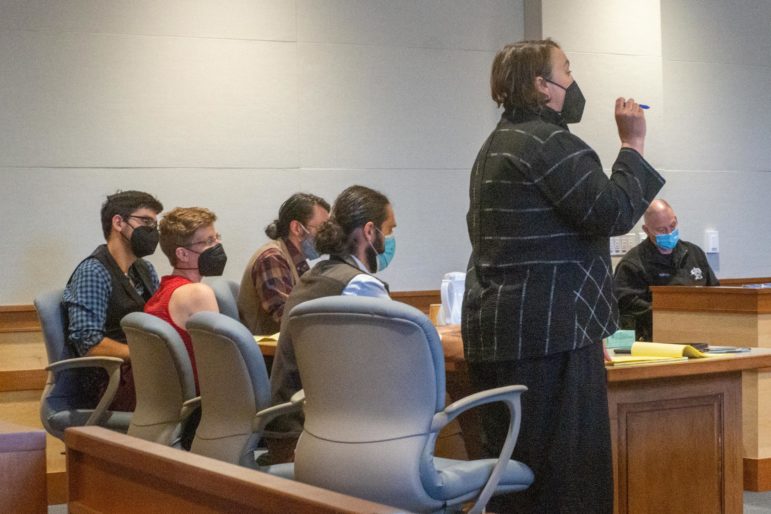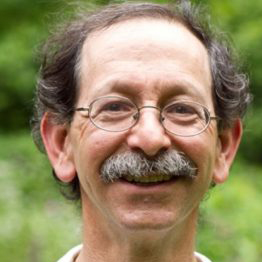 Arnie Alpert is a retired activist, organizer, and community educator long involved in movements for social and economic justice. Arnie writes an occasional column Active with the Activists for InDepthNH.org.
By ARNIE ALPERT, Active with the Activists
CONCORD—Two groups of activists arrested in civil disobedience actions were sentenced in separate Concord courtrooms Friday, May 13. In each courtroom, four defendants spoke about their motivation for engaging in protests that led to their arrests, but there the similarity mostly ended.
At Concord District Court, Asma Elhuni, Dana Hackett, Ali Brokenshire, and Joy D. M. Robertson agreed to a finding of guilty and received light sentences stemming from a June 24, 2021, State House demonstration against education and abortion restrictions incorporated into the state budget.
Across town, Dana Dwinell-Yardley, Daniel Flynn, Johnny Sanchez, and Jay O'Hara, who had been found guilty on two counts of criminal trespass stemming from a 2019 attempt to interfere with shipment of coal to Merrimack Station in Bow, faced their own sentencing hearing. At the close of a 2-hour hearing, they were fined, ordered to pay restitution to Pan Am Railway, barred from getting near the power plant or entering railroad property, and forbidden to engage in planning of illegal activity for a number of years. They also received jail sentences of four to six months, suspended as long as they remain on "good behavior," which in this case means refraining from further acts to plan or engage in civil disobedience.
At times the scene in Courtroom 3 at Merrimack Superior Court resembled a college seminar on civil disobedience, with Judge Andrew Schulman in the role of professor and the defendants, their attorney, and the prosecutors in the roles of students.
The facts of the case were not at issue. Dana Dwinell-Yardley, Daniel Flynn, Johnny Sanchez, and Jay O'Hara had been on Robie's Bridge, a railroad trestle over the Merrimack River in Hooksett, on December 8, 2019, when a train carrying coal to New England's last operating coal-fired power plant was scheduled to pass.
The train had already gotten past groups of peaceful protesters in two Massachusetts towns when it reached Hooksett. As O'Hara testified at trial on March 23, the purpose of the action was to stop the train and "keep the coal from being burned." Though the train carrying 80 carloads of coal eventually made it to the power plant upriver in Bow, the demonstrators delayed its arrival by four and a half hours.
The demonstration was organized by No Coal No Gas, a three-year-old campaign backed by 350NH Action and the Climate Disobedience Center, known for nonviolent demonstrations aimed at shutting down the Bow power plant.
In addition to a series of demonstrations at the plant, which sits on the banks of the Merrimack a few miles north of Robie's Bridge, the campaign is also working to end the "forward capacity" subsidies paid to the plant's owner, Granite Shore Power, that keep Merrimack Station open.
Twelve members of the No Coal No Gas campaign were arrested on the bridge on a frigid December day by State Police, Hooksett Police, and railway police, with assistance from the Manchester Fire Department.
Seven of them accepted a plea-bargained sentence at District Court, while Dwinell-Yardley, Flynn, Sanchez, O'Hara, and Emma Schoenberg opted to appeal for a Superior Court trial. There, they hoped to convince a jury their actions were justified by the unfolding climate catastrophe brought on by burning fossil fuels. A 3-day trial before Judge Schulman ended March 24 with all but Schoenberg found guilty of criminal trespass and the separate charge of criminal trespass on railroad property, both misdemeanors punishable by up to a year in jail and a $2,000 fine.
Schoenberg, who had been acting as the "police liaison" for the protest group and was arrested while trying to engage in dialogue with a state police officer, was found not guilty. Sanchez, who had climbed up the trestle to hang a banner and refused initial police orders to come down, was found not guilty of resisting arrest.
By the time the jury returned its verdicts on March 24, there was no time left for sentencing; Judge Schulman ordered the parties to return at 2 p.m. on May 13.
"General deterrence really is the meat of the argument."
As the prosecution pointed out in court and in a sentencing memo submitted to the court before Friday's hearing, sentences in criminal cases are considered to have three purposes: punishment, rehabilitation, and deterrence, the latter including both "specific deterrence," or dissuading a person from re-offending, and "general deterrence," which means sending a message to others not to follow a bad example. According to the prosecutors, none of the defendants needed rehabilitation; they just need to "to decide to stop breaking the law." In other words, they needed "specific deterrence," for which they should be sent to jail for a week as well as being forced to pay restitution to the Pan Am Railway, reimburse state and local agencies for their expenses, and stay away from railway property unless they were paying customers. Prosecutors also recommended a $2,000 fine and 6-month jail sentence, both of which (with the exception of the 7 days in jail) would be suspended provided the defendants remained on "good behavior" for three years. If the sentence seemed a bit harsh for the crime of standing on a railroad bridge without permission, prosecutors argued it was justifiable following a precedent established in the case of a No Nukes protest at Seabrook 45 years ago.
What seemed to particularly incense Assistant County Attorney Steven Endres, who led the prosecution, was that the civil disobedience action had generated "free publicity" for the movement to end the use of fossil fuels. "It is clear that the 'no coal, no gas' campaign is an ongoing movement which is willing to employ, and seems to encourage, unlawful actions in order to generate publicity for their cause," he wrote in the sentencing memo. As recently as late April, he said, members of the group had displayed banners on a railroad trestle in Worcester.
"General deterrence really is the meat of the argument," he told Judge Schulman, "This is a case of people who are saying we did this, we're proud we did it, we'll continue doing it, and we hope that you join us."
"What happens here in this courtroom today is going to make news," Endres added.
After being chided by the judge for seeking to pin responsibility on the defendants for actions, some lawful, carried out by other members of No Coal No Gas, Endres went on to explain why the defendants should compensate the railroad company and public agencies.
Is "The System" working?
Speaking for the defendants, attorney Logan Perkins agreed in part with Endres, saying "these defendants see themselves as part of a movement." What she objected to was the state seeking to punish her clients for being part of an organized campaign, a fact which they had been barred from delving into at trial. Had they been able to base their defense on the "competing harms" principle, she said, they would have been able to argue before a jury that their actions had been justified by the dangers caused by burning coal. But Judge Schulman would not allow it, leaving the defense unable to present what Perkins described as the "science of social change," which she said, "has clearly identified the power of nonviolent social movements to effect social change when all other approaches failed."
"Now the state wishes to criminalize our clients' involvement in that very movement, which from our perspective would have formed a foundation of an element of the competing harms defense," Perkins said.
As Perkins began to describe evidence of the unfolding climate disaster, Judge Schulman was quick to jump in. "You say there's a social movement and civil disobedience is necessary to stop this threat. Aren't you really saying your clients have the right to be the legislature, and the governor, and the Public Utilities Commission and the federal regulatory commission, because this is the policy that they choose, and they won't accept what has been done through the democratic process?"
When Perkins tried to compare the Robie's Bridge civil disobedience to actions taken by civil rights activists a few generations back, the judge interrupted again, suggesting that the conditions now in New England cannot be compared to those of the Jim Crow south. "There wasn't a democratic process when a large chunk of the country couldn't vote," he said.
"Is Vermont under the boot of 'Big Coal?" he asked.
Perkins resumed, "This is a crisis right now and that government is not responding and the reasons that government is not responding are because they are captured by the coal industry, by the fossil fuel extraction industry, and by the business-as-usual mentality that has made it politically unviable and unpopular to take necessary, urgent actions to assure a livable planet for the rest of us, just like those who held political power in the Jim Crow south."
It was a social movement that forced change at that time, Perkins said. At this time, she went on, there's a "global scientific consensus that if we don't act now, in fact if we didn't act ten years ago, we are going to set ourselves up for irreversible, catastrophic climate change which will make human existence on this planet, never mind the rest of the biosphere, untenable."
Judge Schulman wasn't buying the argument, equating it to a notion that "everybody can be a government unto themselves" if they feel strongly about an issue and therefore have the right "to do whatever they want," like anti-abortion activists who shoot doctors.
Perkins took umbrage at that comparison with her clients. No Coal No Gas bases its actions on a commitment to nonviolence, "which is not just moral but is an effective imperative."
"Some might argue that the distinction between violence and nonviolence gets fuzzy at times," the judge responded.
Perkins returned to why it would have been better to have this philosophical discussion in the context of a competing harms defense rather than a sentencing hearing, and returned to describing her clients commitment to nonviolent action against climate disruption. "It is those people who write letters from Birmingham jail," she said.
"One question," the judge said. "The letter was at the end of the day written from the Birmingham jail. The concept of civil disobedience is you break the law and then you answer according to the law."
"And you get to decide whether you want to be that judge or whether you want to be a different judge," Perkins replied. "That's what we're asking you to do today, is to place yourself in those shoes and in this moment, in this historical context and assess that whether what these people did, their motivations for doing it, their way of doing it and the consequences of them doing it, comes down on the right side of history or on the side of history which will get drowned in rising seas a hundred years from now."
Arguing against the state's complaint that the No Coal No Gas campaign was just about getting "free publicity," Perkins suggested the prosecution was dangerously close to infringement on the right to free speech and due process of law. At that, she turned the hearing over to her four clients to present their "allocutions," or addresses to the court, which they delivered mostly without interruption from the judge.
Defendants state their case
Johnny Sanchez, who now lives in Maine, called attention to the raging wildfires near where he grew up on the Ohkay Owingeh Reservation in New Mexico. "Coal is responsible for roughly 30 percent of CO2 emissions," he said, and Merrimack Station is "the last major coal fired power plant in New England."
"Today I'd like us all to think about what exactly justice means in the face of an undeniable climate catastrophe. Does justice look like allowing coal to still be burned in New England when we know the consequences?" he asked.
Daniel Flynn, of Portland, Maine, responded to the prosecution's claim that the defendants deserved punishment for lacking remorse about their actions. It is human activity which is disrupting the climate, he said, and those with "actual regulatory and legislative authority have done relatively little of meaningful consequence to mitigate the damaging nature of these activities."
"I read just the other week that this past month of April, the average high temperatures in parts of India and Pakistan were 95 to 100 degrees Fahrenheit for the entire month, with some areas reaching 120 degrees Fahrenheit as a high. And this is an area where one billion people live, an eighth of the population of this planet, whose lives and health are being threatened by the situation that we're facing," he told the judge. "And that's where my remorse lies today, with those people."
Dana Dwinell-Yardley delivered the most poetic allocution, emphasizing her deep connection to the earth and New England's natural environment. Putting responsibility for climate change on human behavior "is technically true," she said, "but blaming 'humankind' in a broad swath for the damages caused by climate change puts responsibility everywhere and nowhere."
"Humankind at large is not the problem," she continued. "Very specific humans making very specific decisions are the problem. Our communities — especially low-income communities, people of color, and indigenous people — are suffering right now, not because of people like me and my codefendants, but because of lawmakers, governments, and corporate leaders.
"These select few people in power are choosing over and over to prioritize profits and personal gain instead of taking the drastic, rapid action needed to halt the climate catastrophe. Our communities, all of us, our futures, are thrown under the bus, or perhaps under the coal train, along with our beloved and familiar ecosystems that we call home."
Jay O'Hara, who lives in Portland, Maine, took objection to the claim that Pan Am Railways was not "a neutral carrier," as the prosecution had said during trial. Pan Am, which operated the train and owned the tracks, is worth $700 million, and makes money transporting coal. And CSX, the Florida-based corporation which owned the coal cars and has recently purchased Pan Am, took in $2.1 billion in coal-related revenue in 2019.
Moreover, O'Hara said, CSX was part of an industry lobbying effort which fought climate-related legislation in Congress. "CSX and these other railroads spent tens of millions of dollars on this effort, to ensure that they can continue to make billions of dollars shipping coal in the future, while the rest of us suffer," he said.
O'Hara also displayed a chart to show how rapidly the climate is warming. He told the judge, "If you look at this reality and find that the situation of injustice is unprecedented climate catastrophe unfolding, and the corporations who have prevented meaningful action, and that 'no proper purpose would be served by imposing any condition,' then you should find that my conviction is sufficient and hand down an unconditional discharge. If, however, you find that the injustice here is that Pan Am railways, a company worth 700 million dollars, was inconvenienced for several hours in December 2019 by well-meaning citizens attempting to right the wrongs of decades of delay and denial, that that railroad industry paid for, then in these times you should uphold those decades of precedent of climate inaction and sentence me to whatever extent the law allows.
"I am prepared to bear whatever sentence you impose. And now you face the choice we all face: what is appropriate action by reasonable people at this moment in history? The choice is yours."
"These guys were really trying to stop the delivery of the coal train"
Judge Schulman's choice was to hand down stiff sentences.
The defendants appear to be nice people, he said, but told them, "I disagree with you."
Had they been merely trying to get their voices heard by holding a demonstration in a visible place such as the Mall of New Hampshire, he said, he might have been sympathetic. But as the trial went on, he said he finally realized, "these guys were really trying to stop the delivery of the coal train." And that was not acceptable.
Neither is it okay to compare the use of coal to the practices of "the apartheid south," he said. There, the "process didn't work and couldn't work."
"Robie's Bridge wasn't the Edmund Pettus Bridge in Selma," he added, noting the climate activists were "not greeted by the same type of police officers who greeted John Lewis," who was nearly killed by Alabama police in 1965 while marching for voting rights.
Judge says the system is working
Judge Schulman also took sides with the continued operation of Merrimack Station, which has been allowed by what he considers a functioning democratic system. "Only a fool would say that Vermont, one of the six states in the New England power grid, is in the grasp of big coal," he lectured. And New Hampshire has a large legislature which is close to the people and open to hearing diverse views. As much of a threat as global warming is, he said, lawmakers and regulators have "somewhere along the line" decided that it's okay to have a coal-fired power plant "as backup for the worst few days of the summer."
Since the system is not broken, he said, "This is not where civil disobedience is needed."
Calling the Robie's Bridge action "a deliberate attempt not to be heard, but to directly interfere with the delivery of the train," the nonviolent blockade was "a form of economic sabotage" and one being used by sponsoring organizations to raise funds. "I don't think that's appropriate," he said.
"I don't think there's a reason anybody should go to jail today," Judge Schulman announced, but he said he would hand down sentences to discourage further illegal acts. He identified Jay O'Hara, a founder of the Climate Disobedience Center, as the "mover and shaker" and therefore deserving of the stiffest sentence. Johnny Sanchez, who was removed by police from a girder over the railroad bridge, was also deemed a more serious offender than Dwinell-Yardley or Flynn.
The judge sentenced O'Hara and Sanchez to six months in jail, suspended unless they violate "good behavior" restrictions in the next five years. Dwinell-Yardley and Flynn received 4-month sentences, suspended for three years.
In addition, O'Hara was fined $2,000 and assessed $480 in penalties with $500 of the fine and $120 of the penalty suspended based on "good behavior." The others were fined $1,500 and a $360 penalty with $500 of the fine and $120 of the penalty suspended.
Telling the defendants, "you should be out of the breaking the law business," Judge Schulman also ordered them to refrain for the period of their sentences from colluding with others, conspiring to commit, or soliciting others to engage in any further illegal activity, even in other states. Nor are they allowed within 100 feet of the Bow power plant or on railroad property without authorization.
While he ignored the state's suggestion that the defendants pay a "public agency fee," he did decide the railroad company should be compensated for the 4 ½ hours in which the train was delayed. To that end, O'Hara was assessed $2,486 and the others $1,243, to be paid to Pan Am Railways.
"Our legal system doesn't seem to be able to respond to current circumstances. The urgency of climate collapse is terrifying, and yet the court's decisions today is focused on protecting profits for companies in the fossil fuel industry," commented the Rev. Kendra Ford of Portsmouth in a No Coal No Gas news release. "The judge seemed more concerned that these non-violent activists disrupted profits than the fact that the continued use of coal is causing irreparable harm to the planet."
Meeting afterward with supporters under a big tree on the lawn outside the courthouse, defendants and their lawyer expressed frustration that the judge had not identified with their cause and the sincere beliefs which motivated them. They appeared willing to pay their fines, but whether they will be deterred from further acts of civil disobedience remains to be seen.
"It is our duty to stand up"
The scene at Concord District Court that morning was less contentious. Elhuni, Hackett, Robertson, Brokenshire, and James Graham had occupied the Executive Council chambers at the State House on June 24, 2021, the day House and Senate members were casting their final votes on the biennial budget. The group took particular exception to a provision which had been slipped into the budget aiming to bar teachers from addressing systemic racism and patriarchy.
That measure plus a ban on late-term abortions and a requirement that those seeking abortions submit to an invasive ultrasound procedure prompted the group to call on Governor Chris Sununu to use his veto power.
"I will stay here until the Governor either confirms he will veto this budget, or I will get arrested. That's how strongly I feel," Hackett said at the time.
Hackett and the others were arrested by state police and charged with criminal trespass. Graham's paperwork apparently disappeared; he was dropped from the case but showed up in court Friday to support his friends.
Following negotiations between their attorney, former Executive Councilor Andru Volinsky, and State Police prosecutor Charles O'Leary, the four activists agreed to be found guilty without trial and be sentenced to a $100 fine, which would be suspended if they managed to spend the next 24 hours on "good behavior." In 18 months, they can apply to have the crime reclassified from a misdemeanor to a violation.
The budget with the controversial positions was, in fact, signed into law by Governor Sununu and has continued to draw attention. As Hackett and Elhuni pointed out in statements delivered in court, the "divisive concepts" provision is being challenged by two lawsuits.
"All the legal stuff aside, the divisive concepts ban is an immoral attempt to further whitewash our history," Hackett said on Friday. "For example, the 'bounty' system created by the Department of Education that encourages neighbors to turn on neighbors. If we don't get our act together, New Hampshire will suffer and our children will suffer," added the Laconia resident.
Efforts to repeal the provision were defeated in the House and Senate this year. The policy "has had a chilling effect across our state on teachers' ability to teach an honest and accurate history without living in fear of losing their teaching license," said Elhuni, a Concord resident who at the time of the demonstration was serving as Movement Politics Director for Rights and Democracy.
The abortion restrictions have already been partially overturned by the legislature. But with Roe v. Wade about to be overturned, the issue continues to draw intense attention.
"Now we see the right to an abortion under attack, it is our duty to also stand up. The same people who are attacking public education are the same people attacking abortion rights as well. So we will resist all forms of oppression," Elhuni said.
She spoke at an abortion rights rally later that day by the State House steps.