ARNIE ALPERT, Active with the Activists
Arnie Alpert is a retired activist, organizer, and community educator long involved in movements for social and economic justice. Arnie writes an occasional column Active with the Activists for InDepthNH.org.
In his classic 3-volume work, The Politics of Nonviolent Action, Gene Sharp listed 198 methods of nonviolent action, broken down into categories like "protest and persuasion" and "economic non-cooperation."
"Nonviolent obstruction" is method 172, in the "physical intervention" category. That's what members of the No Coal No Gas campaign were doing when they walked onto a railroad bridge over the Merrimack River in Hooksett on December 8, 2019.
It was a frigid morning, and a train carrying 80 carloads of coal was on its way to Merrimack Station, New England's last major coal-fired power plant. The activist group was determined to stop the coal from getting to the power plant, sited on the banks of the Merrimack upriver in Bow. After several hours on the bridge, the climate activists were arrested, and the train resumed its journey to Bow.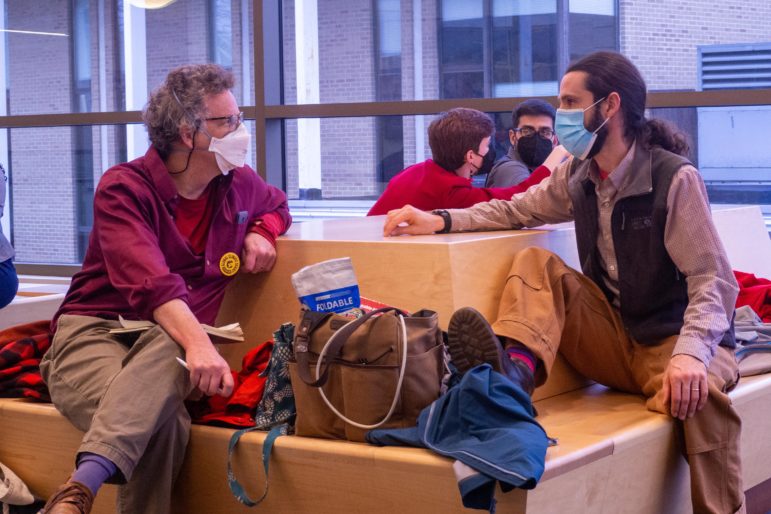 Five of the people who were arrested and later found guilty in District Court appealed their convictions. This week they brought their cases before a jury at Merrimack County Superior Court in Concord. Charged with criminal trespass and criminal trespass on railroad property were Johnny Sanchez of Orono, Maine; Jonathan "Jay" O'Hara of Portland, Maine; Emma Schoenberg of Burlington, Vermont; Dana Dwinell-Yardley of Montpelier, Vermont; and Daniel Flynn of Portland, Maine. Sanchez faced an additional charge of resisting arrest.
On March 24, after a three-day trial, a jury found Sanchez, O'Hara, Dwinell-Yardley, and Flynn guilty on both counts. They will return to court for sentencing on May 13.
Schoenberg was acquitted on both counts, as was Sanchez on the resisting arrest charge.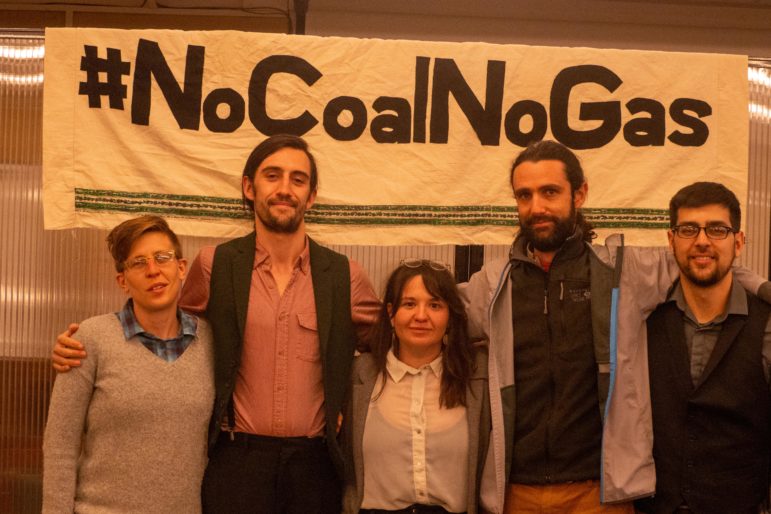 The "Elements" of the Crime
Defense and prosecution lawyers, together with Judge Andrew Schulman, gave lengthy presentations about the "elements" of each crime for which the defendants were accused. But to the defendants, the element that was most important was carbon, number six on the periodic table. It is carbon, after all, that is chiefly responsible for warming the atmosphere. And it was an effort to resist and reverse catastrophic climate change that brought the activist group to Robie's Bridge in Hooksett on that cold December morning.
"I was doing lots of things to stop the climate crisis, under the impression that if everyone does their little bit, we'll all be OK," said Dwinell-Yardley. "But then I learned that the coal plant emits as much CO2 emissions in one hour as the average person does in 26 years." That turned the graphic designer into an activist dedicated to shutting the plant down.
The train blockade wasn't the first action by No Coal No Gas. The group had previously entered Merrimack Station property to remove the coal "bucket by bucket" if that was what was needed to prevent its combustion. Sixty-seven people were arrested, buckets in hand, on September 19, 2019. No Coal No Gas has also shown up at the offices of the Connecticut investment firms which own Granite Shore Power, the owner of Merrimack Station. They've demonstrated outside the headquarters of the ISO New England, a Holyoke, Massachusetts-based organization whose regulation of the regional power grid is responsible for keeping the Bow plant remaining in operation. They've protested coal-plant subsidies built into electric rates. Seventeen more climate activists were arrested last November while blocking a roadway into the plant.

On the day of the coal train blockade, Jay O'Hara said, the group was "determined to do what we could to both physically stop that coal that was coming." But their goal was something bigger.
O'Hara's been at it for years. As he explained to the jury, Jay and a buddy took a lobster boat into Mount Hope Bay in 2013 to prevent a barge from delivering 40,000 tons of coal to the Brayton Point power plant in Somerset, Massachusetts, then the region's largest coal-fired plant. They succeeded in delaying the shipment for only six hours, but several months later the plant's owners announced plans to shut it down. Cause and effect? Maybe, maybe not. But for O'Hara and other climate activists, it was an indicator that bold, nonviolent protest could ignite "a robust movement that was capable of working for the changes at the scale and urgency that is needed to address the climate crisis." Or, as Emma Schoenberg says, "It's not just about shutting down a coal plant, it's about creating a community that can withstand climate change and take collective action to show what is possible."
No Coal No Gas had been planning the coal train blockade for some time. When they heard a coal-laden train was moving through Massachusetts on its way to Bow, one group of protesters set up blockades on the tracks in West Boylston and Ayer on December 7, 2019. The next day, when the train turned northward up the Merrimack Valley, another group went to Hooksett.
After calling in a warning to B&M Railway's dispatchers that there would be people on the tracks and verifying that the coal train had stopped two miles short of the Merrimack River crossing in Hooksett, members of the group walked onto Robie's Bridge. Two of them, both experienced rock climbers, shimmied up a girder and hung a "No Coal No Gas" banner from the bridge's superstructure. Others stood on the bridge, calling across and singing with supporters on a nearby pedestrian bridge.
It wasn't long before the protesters were joined by State Police, Hooksett Police, and B&M Railway's own police. Emma Schoenberg identified herself as the group's police liaison and was quickly hand-cuffed and put in a cruiser. It was a couple hours before the others were finally warned that they, too, would be arrested if they didn't leave.
Johnny Sanchez, of Orono, Maine, was strapped to a girder where the banner was hanging when police arrived. Raised on the Ohkay Owingeh Reservation in New Mexico, Sanchez says, "The fundamental ways I think about climate change are from growing up in an arid area, experiencing fires, droughts, and food scarcity." A Dartmouth grad with a masters in sustainable agriculture from the University of Maine, Sanchez says climate change "is an unmitigated disaster and we should be doing everything within our power to stop it."
As he explained, when the police first told him to come down from the girder, Sanchez refused. Later, when he said he would come down, police ordered him to stay put. He was eventually brought down by members of the Manchester Fire Department, then charged with resisting arrest.
Daniel Flynn said after he verified the train had stopped, he joined the others on the bridge. He is part of No Coal No Gas, he says, "because I feel like it has an impact and meaning beyond myself, which is something we strive for in addressing climate change. I think a lot about how the choices we make today are going to impact generations from now."
The "elements" of the crime.
For the prosecution, the case was not about coal, not about climate, and not about the generations to come. Instead, it was just about the "elements" of the crimes for which the defendants were standing trial. There were four key legal questions in a criminal trespass case, they said. Were the defendants on the property? Were they "licensed or privileged" to be there? Did they know they weren't allowed to be there? And did they refuse to leave when ordered by an authorized person? The elements of trespass on railroad property are similar.
With regard to the resisting arrest charge, the key question was whether Sanchez had physically resisted the officers who sought to place him under arrest. All three crimes are misdemeanors.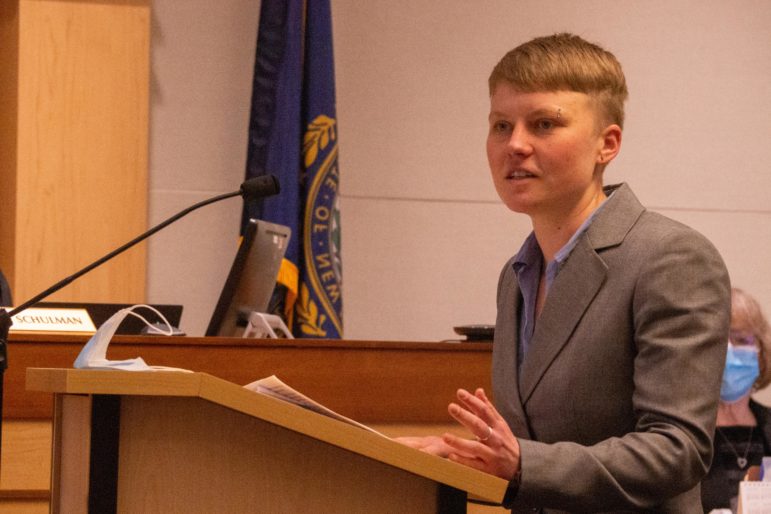 The defendants, who all testified under oath, were not shy about stating they had been on the bridge. But as to whether they knew they were not "licensed or privileged" to be there, defense lawyer Kira Kelley used her closing argument to tell the jury what was in their minds.
"My clients believe that catastrophic climate change is driven by the combustion of fossil fuels and in particular coal. My clients understood," she told the jury, "coal is a particularly disastrous fossil fuel in terms of the amount of emissions it produces and the magnitude of its proportional contribution to climate change."
In other words, the element that mattered most was carbon.
"That is the belief my clients had in their hearts and minds when they stepped out on that bridge. That is the license to be on that bridge," she said.
"These kinds of actions," Kelley went on, "are the things with the capacity to ignite sparks, to reach people who either didn't care before, didn't feel like they had an ability to make a difference, or didn't feel they could plug into anything greater." Hoping to ignite a spark in the minds or hearts of the jurors, she said the story of the coal train blockade is about "everyday people feeling informed and empowered to act from conscience."
Whether the jurors got the message is unclear. After several hours of deliberation, they returned to Courtroom One and announced their verdict.
Asked what she thought the jury took away from the trial, Schoenberg said, "I hope they're at the next rally, holding a sign."
Rally by rally, blockade by blockade, bucket by bucket, person by person, that's how No Coal No Gas aims to address catastrophic climate change.
Arnie Alpert lives in Canterbury.