Prices start at $600 a month.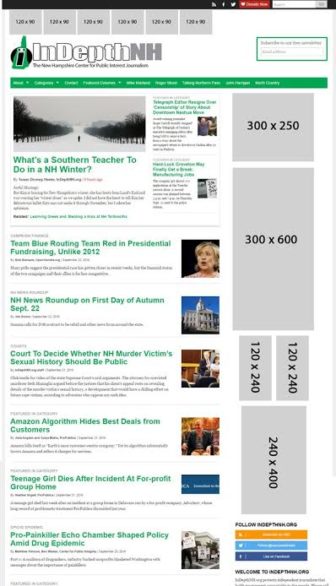 By partnering with InDepthNH.org through one of our many underwriting opportunities, you too are conveying a message of trust, reliability, social responsibility and quality. You may decide on a paid ad. Or you may want to support one of our columns or Mike's cartoons, or a combination of both. Our development coordinators will work with you to find out what best fits your needs. Prices start at $600 a month, or $6,000 a year, for the size 300 x 250 at left. Underwriting Mike Marland would be $1,000 a month for a minimum of six months.
Our tax-deductible underwriting opportunities also provide you with an effective and affordable channel to continue to brand your business or organization in a positive manner, introduce a new product or service or announce a special event and all the while helping to save journalism in New Hampshire.
These are some of our columns that we are actively seeking underwriters for.

Susan Dromey Heeter's column "Joyful Musings" tackles life head-on with humor, honesty and grace. She doesn't skimp on the spirituality or philosophy as she shares her journey with her readers in a deeply personal way.

John Harrigan's column "View from Above the Notches" showcases the talent of one of the state's best-known outdoor writers. Harrigan has been dedicated to newspapering for five decades now and is all the wiser for the experience. Even Harrigan's rants read like poetry.

Associate Publisher Roger Wood produces a podcast called "Roger Wood Indepth" covering news and life in New Hampshire. Wood is a well-known, award-winning radio, television and newspaper journalist with more than 30 years of experience. He has written and produced features for many radio stations and networks.

Monica Drahonovsky's "Monica Reads" offers book reviews from a seasoned and enthusiastic reader that encourage folks to go get a book whether they hurry to their local bookstore or library, but she is careful not to give the plot away. They are fast and fun columns to read her choice of new and sometimes old well-worn books.

Veteran journalist Bob Charest writes "Why Should You Care NH" in which he explores issues that involve technology and privacy in every-day life. Bob is also a consultant and editor at InDepthNH.org