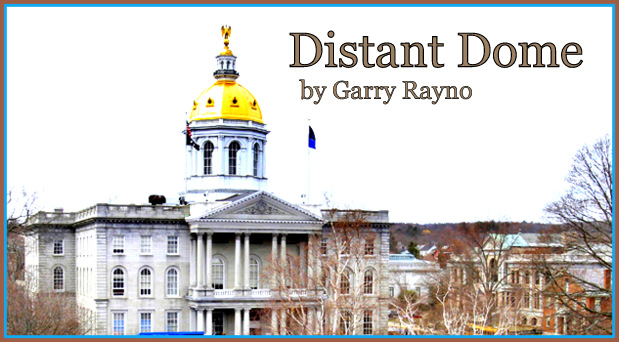 By GARRY RAYNO, Distant Dome
In the past when an election was over and the winners declared, nearly everyone accepted the results because "the people have spoken" and moved on.
Today people continue to insist — without any evidence — the 2020 presidential election was a sham and the former guy, Donald Trump, should still be president although 7 million more people voted for current President Joe Biden.
All because of the old adage if you tell a lie enough times you will convince people it is true, and consequently elections since 2016 have been contested and litigated making many barristers wealthy, but to no avail.
Ignoring Voters
The just completed elections around the country continue the facade and some Republicans in Ohio have taken things a step further, they want to take away court authority to review cases related to the constitutional amendment passed by 57 percent of voters to protect a woman's right to have an abortion up to 22 or 24 weeks of pregnancy and beyond to protect the life and the health of the mother.
That is something the New Hampshire legislature has refused to do although local polling would indicate a vast majority of state residents would support such a measure.
But a group of Ohio legislators claim there was "foreign election interference" in the vote and want to block the courts from enforcing or ruling on the new amendment.
"To prevent mischief by pro-abortion courts, Ohio legislators will consider removing jurisdiction from the judiciary over this ambiguous ballot initiative," the lawmakers said in a statement. "The Ohio legislature alone will consider what, if any, modifications to make to existing laws based on public hearings and input from legal experts on both sides."
The vote by the people of Ohio created a constitutional right that the lawmakers now want to subvert because they don't agree with it.
"Issue 1 doesn't repeal a single Ohio law, in fact, it doesn't even mention one," state Rep. Bill Dean said in the statement last week. "The amendment's language is dangerously vague and unconstrained and can be weaponized to attack parental rights or defend rapists, pedophiles, and human traffickers."
Ohio's Republican Senate President Matt Huffman said there would be future ballot campaigns to replace the amendment.
Ohio currently has a six-week abortion ban approved in 2019.
The group appears to believe elections are only legitimate if their side wins and illegitimate if their opponents win.
Gerrymandering
Ohio, like many states, have gerrymandered most of their political districts to give Republicans an advantage.
Ohio is one of four states where their Congressional maps were rejected by the courts due to either racial or partisan gerrymandering before the 2022 elections.
The other three states are Alabama, Georgia and Louisiana, but the four were allowed to use the maps anyway unlike in years past when the rulings would have required new maps before the 2022 election.
The maps likely gave Republicans an extra five to seven seats in the US House, which currently has a Republican nine-vote majority.
To date, Alabama has refused to redraw its maps and in Louisiana, the appeals court recently backed off its ruling to draw new maps and instead gave the state legislature time to do that before the upcoming 2024 election.
In New Hampshire, challenges to the state Senate and Executive Council maps have yet to reach a conclusion.
Biden Subpoenas
Last week, the US House Oversight Committee issued subpoenas to the president's son, Hunter, and his brother, Jim, and a business associate as part of its impeachment inquiry into the president.
One of the members of that committee is US Rep. Jim Jordan, R-Ohio, who ignored a subpoena from the House's Jan. 6 Committee during its investigation of the insurrection at the Capitol.
Jordan was one of five House Republicans who ignored subpoenas including former House Speaker Kevin McCarthy, R-California, Scott Perry, R-Pennsylvania, Andy Biggs, R-Arizona, and now former US Rep. Mo Brooks, R-Alabama.
All but Brooks was referred to the House Ethics Committee but no action was taken.
After the Biden subpoenas were issued several members of the House Oversight Committee said if they did not appear, they would ask for contempt of Congress charges against the three.
It appears there are two sets of House rules, one for Republicans when they are in charge and the other set of rules, which they can ignore when they are the minority.
Legislature's Quandary
New Hampshire is not without its own problems when it comes to two sets of rules.
Take the case of former Rep. Troy Merner, R-Lancaster, who did not live in the district he represented last session even before the 2022 election. He also was a selectman in Lancaster as well when he no longer lived in that community and had to resign that position.
State officials were informed by a Lancaster election official in March that Merner did not live in the district, but it took six months for the Attorney General's Office to reach that conclusion.
Determining where Merner lives should not be difficult for an agency that does much more complicated and less opaque investigations.
Merner was allowed to serve during the entire session until he resigned after a Sept. 18 attorney general's letter to House Speaker Sherman Packard saying Merner did not live in his district and that he was under criminal investigation for unlawful voting and accepting mileage payments.
The letter said Merner had not lived in the district since Aug. 26, 2022, well before the primary and general election last year.
The state constitution says in plain English you must live in the district you represent. There have been many representatives over the years who resigned because they moved out of their districts. The Attorney General's Office did not have to investigate before they resigned.
The questions are why did it take so long to determine where Merner lived and who knew and when did they know he did not live in his district.
There has been plenty of speculation but no proof that House Republicans knew of the problem but sought to protect their one- or two-vote majority. By doing so, they allowed Merner to affect key legislation last session including Education Freedom Account bills that were killed or passed by one vote with Packard having to vote, something the speaker does not do unless it is to pass, kill or tie the vote to kill the bill.
But when former House Minority Leader and former state Senator Peter Burling of Cornish sought information and communications through a right-to-know request between the Republican leadership, Merner and other information from the attorney general's investigation, he was refused with the office saying it is an active investigation and the information may never be made public due to privacy laws and concerns.
What?
If there were people in the Republican leadership that knew Merner did not live in his district, and they did nothing, they broke the oath they took on Organization Day to uphold the state constitution.
Their constituents deserve to know if they are trustworthy or if they put party over state and country and then they can vote accordingly.
Burling has been joined in his quest to uncover the actions of House leadership by former state Sen. Mark Hounsell who lives in Conway.
Maybe they can shed a little light on the situation and help the state's voters learn a little more about the folks who represent them in the legislature.
And also voters should know if there are two sets of rules in Concord, one for Republicans when they are in majority and another when they are not.
Selective morality is not good for democracy at the state, the local or the national level.
Garry Rayno may be reached at garry.rayno@yahoo.com.
Distant Dome by veteran journalist Garry Rayno explores a broader perspective on the State House and state happenings for InDepthNH.org. Over his three-decade career, Rayno covered the NH State House for the New Hampshire Union Leader and Foster's Daily Democrat. During his career, his coverage spanned the news spectrum, from local planning, school and select boards, to national issues such as electric industry deregulation and Presidential primaries. Rayno lives with his wife Carolyn in New London.