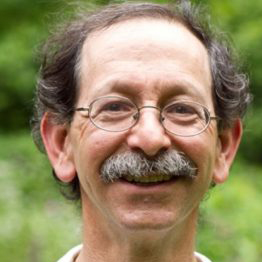 Arnie Alpert is a retired activist, organizer, and community educator long involved in movements for social and economic justice. Arnie writes an occasional column Active with the Activists for InDepthNH.org.
By Arnie Alpert, Active with the Activists
ROCHESTER—Six weeks after informing company executives of their intent to form a union, workers at the Starbucks store in Rochester voted 10 to 4 on Tuesday to be represented by Workers United, a national union, in negotiations with the Seattle-based coffee giant.
It is the first New Hampshire Starbucks to unionize.
The election, held under the supervision of the National Labor Relations Board (NLRB), was held at the Starbucks Granite Ridge Marketplace store from 1:00 to 5:00 pm on Tuesday. The ballot box was opened just after 5:00 pm, with the vote count broadcast over a Zoom link. With just 14 ballots, vote counting took only a few minutes.
"I feel amazing," said Tanner Armstrong, a barista from Farmington who monitored the vote count. "I got to announce it when we left the building. I feel powerful. I feel great."
"I feel effervescent," added Haley Bogardus, a barista who was one of the union drive's leaders.
Many issues motivated the union drive, explained Haley's sister, Holly Bogardus, a Starbucks barista since 2016. "There's just been a lot of issues, kind of nonstop," she said. "There's been a lot of harassment in different forms, there's been a lot of ignoring problems, ignoring safety concerns, ignoring people's personal comfort."
The local union drive echoed similar efforts at hundreds of Starbucks stores in recent years, prompted by complaints about wages, hours, benefits, and the company's failure to treat its workers with respect. Nationwide, the union campaign is backed by Workers United, an offshoot of the Service Employees International Union. Its Starbucks Workers United website acts as a portal for baristas nationwide to learn about unionization and review proposals regarding the right to organize, health and safety, wages and benefits, and other provisions which could be incorporated in union contracts.
Holly Bogardus said the tipping point in Rochester was the company's callous response when a young worker died in an auto accident on Route 11 on his way to work last February. "Starbucks' response was just grotesque," she said. At the grief counseling session she attended, she said "the counselor asked us to raise our hands if we had driven on Route 11 yet. And then she said that we should all really do that as soon as possible to conquer that fear so that you can get back to work."
Managers have responded badly to issues faced by workers with disabilities and other health issues, she said, and have failed to respond when workers were treated badly by customers. "We're not asking for much. We just want to be respected and feel safe," Bogardus said.
Armstrong and the Bogardus sisters were among 11 Rochester Starbucks workers who signed a letter to the company's CEO on April 3 listing numerous grievances and expressing their intent to unionize. When the company refused to recognize the union on a voluntary basis, the workers filed a petition with the NLRB to hold an election. Since then, the workers have been talking it up among themselves and last Saturday held a "Sip-In" at the Rochester store for community members to show support.
Julie Machado of Portsmouth was one of the customers who stopped by with her laptop on Saturday while her daughter was in a production of "Mean Girls" across town. It was her first time at the Rochester store. She didn't know about the union drive or the Sip-In when she walked in, but was quick to give it her support when she found out.
Her husband has done restaurant work for decades, Machado said, and commented, "I think all of our hospitality industry needs to have some sort of protection to help them get the health care that they need, the support that they need to help them be able to have a retirement or to not have to physically work their bodies out until they can no longer work anymore."
All full-time and regular part-time baristas and shift supervisors who were on the payroll period on April 16 were eligible to vote in an election.
When the results were announced, Holly Bogardus said, "We're just thrilled. We're beyond words." But with their union officially recognized, the battle may have just begun.
Since opening its first store in Seattle in 1971, Starbucks has expanded to more than 35,000 stores worldwide, with hundreds of thousands of employees. Along the way, it has earned a reputation for disregarding labor law and in particular, its obligation to bargain fairly with its unionized workers. An April 25 letter issued by Ronald K. Hooks, Regional Director of the NLRB's Seattle office, accused the company of multiple violations of its obligations to bargain in good faith. In two rare cases where bargaining sessions were actually held, both in upstate New York, he said Starbucks "bargained with no intention of reaching agreement" and submitted proposals "that are predictably unacceptable to the Union, demeaning and otherwise undermining the Union's chosen representatives."
The agency says it has issued 94 complaints covering 335 charges of unfair labor practices against Starbucks, including in Buffalo, where the NLRB found "egregious and widespread misconduct demonstrating a general disregard for the employees' fundamental rights."
Senator Bernie Sanders has called Starbucks' response to the nationwide union drive, "the most aggressive and illegal union-busting campaign in the modern history of our country."
According to the NLRB, of the 391 union elections it had supervised as of May 19, 305 had resulted in certified union victories. Yet in not a single case has the company agreed to sign a collective bargaining agreement, otherwise known as a union contract.
Starbucks has objected to union proposals for "hybrid" bargaining sessions with some people physically present and others online. Thus far, none of the company's Unfair Labor Practice claims over the issue have been accepted by the NLRB, according to Andrew Tull, senior manager of corporate communications for the company. In fact, according to press reports, the NLRB has ruled that Workers United's proposals for hybrid bargaining were "not unreasonable, burdensome, or in bad faith."
Holly Bogardus, who works as a Special Education teacher in a Rochester elementary school when she's not serving coffee at Starbucks, knows what their new union is up against. "We're going to join those other unionized stores that say we want Starbucks to sit down because this is a problem nationwide," she said. Bogardus says Workers United is there to help, while the company, which has its own anti-union website, calls Workers United a "third party," meddling in the affairs of the company and its employees (who it calls "partners").
Patrick Bruce, an organizer with Workers United who was at the Rochester Sip-In on Saturday, said it's a "worker-driven movement," not one instigated from outside. "The catalyst for these movements is that the workers love Starbucks, they want to stay at Starbucks, and they want to make Starbucks as good as it can be."
"We're just going to do our best to support our partners and the partners nationwide in this," Bogardus said. "We're going to keep putting the pressure on and just keep advocating for other stores who maybe haven't unionized yet, but want to. I think the more voices we can add to this, the better our chances are of making them listen." She added that they might form a regional committee with a unionized Starbucks store in Biddeford, Maine.
"We respect the right of all partners to make their own decisions about union representation, and we are committed to engaging in good faith collective bargaining for each store where a union has been appropriately certified," said Andrew Tull, the Starbucks spokesperson, in an email shortly after the election results were announced. "Looking forward, we remain engaged and ready to bargain in-person with the unions certified to represent our partners according to longstanding NLRB precedent."
In a follow-up phone call, he explained the steps what would precede bargaining, including official certification of the results, appointment of union representatives to serve as negotiators, and agreement on a date and a neutral place to meet.