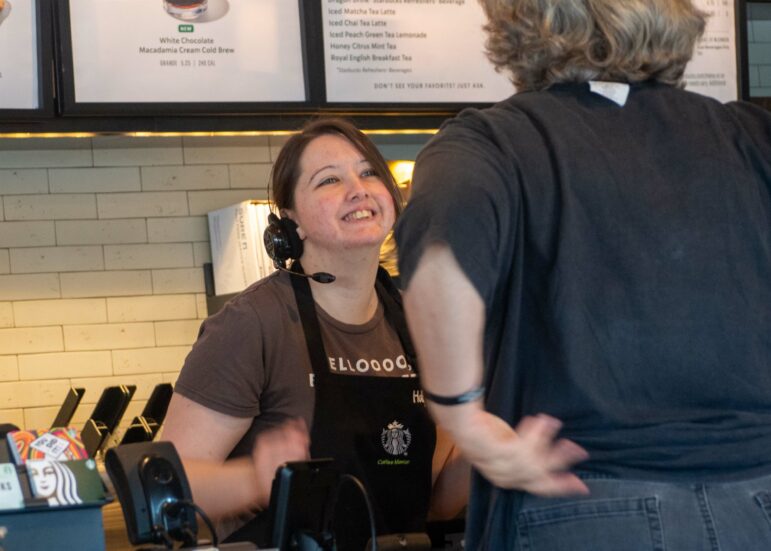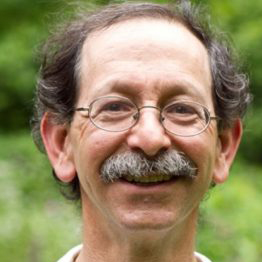 Arnie Alpert is a retired activist, organizer, and community educator long involved in movements for social and economic justice. Arnie writes an occasional column Active with the Activists for InDepthNH.org.
By ARNIE ALPERT, Active with the Activists
ROCHESTER—It was a busy Saturday afternoon inside Starbucks at the Granite Ridge Marketplace on Farmington Road in Rochester.
Baristas scurried behind the counter taking and filling orders while others unpacked boxes and arrayed products on racks. Customers sat by themselves or at tables in groups of two or three, while others milled about, chatting, coffee cups in hand.
But it wasn't a typical Saturday.
In the middle of a long table in the middle of the room sat Haley Bogardus, a Starbucks barista who came in on her day off. By her side were two rolls of stickers bearing the logo of Starbucks Workers United (SBU), the national group leading a unionization effort that has already reached more than 300 stores.
They called the event a "Sip-In," held three days before the local Starbucks workers will vote on whether their union will be legally recognized. Alongside the regular customers, union supporters filtered in and placed their orders.
Sue Veal, a Rochester resident, is one of the regulars. "I like the coffee," she said. "And I like the people that work here." She also likes the idea of unionization, which she said "protects workers from unforeseen situations when times are good and when times are bad. It levels the playing field for all the employees."
The union drive at the Rochester Starbucks, New Hampshire's first, went public in early April when 11 workers sent a letter to Laxman Narasimhan, the company's new CEO, outlining their grievances and calling for the company to recognize their union. When the company refused, they filed for an election with the National Labor Relations Board. The election will take place at the Rochester store on Tuesday, May 23, from 1 to 5 p.m.
In their letter, the workers identified a long list of specific grievances, including abusive conditions, discriminatory treatment, and inadequate equipment. "We love our jobs," they wrote. They want better wages and benefits, but above all they want respect and a voice in how the store is run.
Isa Colon, one of the letter's signatories, said she's worked at Starbucks for only a month or two, but joined the union effort based on what she had heard from co-workers. "As soon as I came in, on my first day, my coworkers were friendly. They were comforting. They always have my back," she told me during a break. "You can't help but love it here."
Colon's mom, Luz Colon, was there to support her daughter and the union. "I think they're doing the right thing," she said. "They are in there fighting for what they believe in."
"I spent a number of years working in the fast-food industry," said Chuck Grassie, a Rochester State Representative who wore an SBU sticker while sipping his beverage in the middle of the room. "Starbucks is a good company. But the thing is, that you've got to treat your workers better."
Abby Lamothe read about the Sip-In on Instagram and drove up from Greenland. She grew up in a union family and remembers picketing with her dad when the Teamsters went on strike at UPS in 1997. "I only want the same for others that are looking for that same protection and representation," she said.
Rev. Tom Gardner from the First Congregational Church of Farmington heard about the Sip-In from a colleague, Rev. Gail Kinney, who leads the NH Faith and Labor Coalition. Workers deserve a "good quality wage and quality working conditions," and if unionizing can help them get there, he said, "that's something that I want to support."
Haley's sister, Holly Bogardus, a barista who is one of the leaders of the unionization effort, is confident that the election will go their way. But she knows there's a big step between getting the union recognized and signing their first collective bargaining agreement. In fact, with 314 unionized Starbucks stores at last count, the number which have signed contracts is zero.
It's "the most aggressive and illegal union-busting campaign in the modern history of our country," said Senator Bernie Sanders, who two months ago summoned former Starbucks CEO Howard Schultzto testify to theSenate Committee on Health, Education, Labor & Pensions. The National Labor Relations Board formally accused the company of labor law violations in April.
According to Tasting Table, "The NLRB alleges Starbucks came to the table with 'no intention of reaching an agreement' with the union. In support of its allegations, the NLRB cites incidents where company management proposed terms it knew were unacceptable to the union, as well as demeaning and undermining treatment of union representatives."
Holly Bogardus is undaunted. "I think, really, our best option is for stores to keep unionizing to keep putting pressure on and keep showing them that there are systemic problems throughout," she said during a break. "And it's hitting every state. It's everywhere."
Laura Pasquine was drinking a white chocolate hot chocolate and winding a skein of yarn with help from her friend Abby Lamothe, who had told her about the Sip-In. "I'm just a Rochester resident that wanted to show support," she said. It was her first time at the local Starbucks. Asked how unionization would affect her views of the chain, she responded, "Definitely more friendly to Starbucks."