By ROGER WOOD, InDepthNH.org
In 2004, then Senator Judd Gregg announced that the James McIntyre Federal Building in downtown Portsmouth would be handed over virtually free to the city of Portsmouth for its use by the citizens.
Federal employees there were transferred to other facilities in the city and the building was declared a surplus by the General Services Administration. A new federal building planned for construction at Pease International Tradeport was never built.
The City Council decided to invite a development firm to work with the city in a future plan to develop and rehabilitate the aging building. They awarded the job in a partnership to a Portsmouth firm, Redgate Kane. The idea was to allow the company to derive profits from future development on the 2.1 acre site.
The city would also benefit, although without a firm financial agreement. Since then, the project has been through several designs and one firing by the council of the development partner Redgate Kane. That company threatened to sue the city for breach of contract, but was given $2 million to settle any litigation. Another council rescinded the firing and continued the partnership to this day.
The project has been approaching 20 years without any development whatsoever, and the pro forma financial details have so far not been made public. Project estimates have reached as high as $147 million dollars. Now the City Council has asked for $150,000 to defray current costs, without specifying what they would be. Most recently the Council held a public hearing on City Manager Karen Conard's request for the money. Podcast producer Roger Wood reports from that hearing.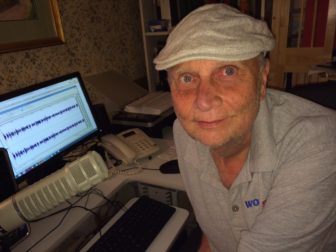 McIntyre Building
Roger Wood is an award winning radio, podcast, newspaper and television journalist, with over 40 years of experience in the media. Roger has spent his entire professional career in New Hampshire. Roger currently serves as associate publisher and podcast producer at InDepthNH.org. In 2021 and 2022, he was recognized by the New Hampshire Press Association for his work in news podcasts. Prior to that he was honored for his work in broadcast radio news and public affairs. He has produced news and special feature reports for InDepthNH, New Hampshire Public Radio, NPR, and other public and commercial radio stations. He also produced spot news for CBS Radio. He has produced and narrated some 50 audiobooks and has written three novels. Roger has also moderated political forums for Seacoast Area Chambers of Commerce in Senate, gubernatorial and congressional races. He has also facilitated public policy discussions locally and statewide. Roger and his wife Elaine, parents of three adult children, reside in Portsmouth with their cat Sebastian.
Roger Wood
Associate publisher
Podcast Producer
Indepthnh.org