By SUSAN DROMEY HEETER, Joyful Musings

In deference to the coronavirus, I muse joyfully on the preparations I have taken should quarantine be imminent: I ventured to New York City for 48 hours and packed in as many shows as possible.
And I traveled alone, gloriously solo. My husband is not a fan of Manhattan (hi, Dan, I still love you deeply) and my 17-year-old daughter had no interest in traveling to NYC this frigid February. Stellar traveling friends were unavailable, but truth be told, I love the art of solitary travel.
I enjoy my own company, can talk with anyone, anywhere, always create a safe environment for myself and, well, enjoyed the reprieve from a myriad of responsibilities and questions from anyone but myself. Ah, hello, Susan – it's been awhile since I've seen you! How goes it? Want to get some cheesecake?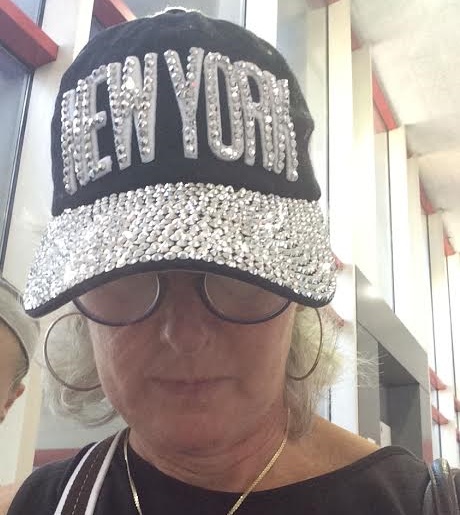 And, yes, it went deliciously well. My Ash Wednesday began with Live with Kelly and Ryan – with guests actor Elisabeth Moss and chef Guy Fieri.
Waiting in line was the best part – I stood with two mothers from New Canaan, Conn., in the city for the day and who told me of their upcoming trip to Europe.
One mentioned Brugge, Belgium, a venue I'd traveled to a lot when I lived in Holland and I laughed at my memories of guests I'd had and our treks to Brugge.
It's a lovely city, the lace is astonishing but if I never go again, I'll be okay. The conversation just made me laugh and grateful I've had the joy of travel.
The show itself? Fun, light, amazing to see the amount of people it takes behind the scenes to put together a program. It also made me jealous to see Kelly get makeup touch ups throughout the commercial breaks. I would like that between my high school classes, a bit of a touch up, a spritz of hairspray, a stroke of gloss to my lips.
After the show, I found the Holy Innocents Church in Manhattan where I got my ashes and went to mass. I love the prayer pause and finding solace and peace amidst the vibrancy and noise of a city. I also deeply appreciate a quick service; this one was 20 minutes.
I scored rush tickets to the matinee of The Minutes starring Pulitzer Prize winner Tracy Letts and Armie Hammer and went at 2. I met Letts after the play and asked what he'd be doing between shows. He remarked, "Probably grab a bite to eat and take a walk." I was hoping he'd respond with something more glamorous like, "Writing another Pulitzer winning play and meeting with Meryl Streep."
Alas, The Minutes is one to see. It aligns with Shirley Jackson's "The Lottery" and it has stayed with me in a chilling and profound way.
In New York Theatre.com, the summary reads:
"A town's proud history, the legend of a local hero, the coveted privilege of reserved parking: nothing is sacred during the town council meeting at the heart of Tracy Letts' new play. This razor-sharp comedy turns from hilarious to chilling as petty policy matters give way to the truth boiling just beneath the surface of the town's historical mythology."
Following The Minutes I dined in Times Square at my favorite restaurant: one of the myriad of venues where two slices of pizza and a can of soda is $3.99. Perhaps "dined" is not quite the right word, perhaps "grabbed a bite to eat a la Tracy Letts" is more accurate. But, truly, I never travel to NYC without a tight budget and nothing beats a good slice of pizza, a Diet Coke and watching tourists navigate the great white way. Pure joy.
My dessert was wicked, literally, Wicked at the Gershwin Theatre. I scored a comp ticket from the USO of Metropolitan New York which supports active duty, retired military members and their dependents. Thank you, USO. My seat was stellar. I sat next to a young mother and her 8-year-old son who were visiting from West Point. It was the little boy's first Broadway show and he sat on a pillow and looked as entranced as I during this phenomenal performance. Wicked is simply, well, wickedly good, wickedly entertaining, and a wickedly glorious way to end an Ash Wednesday.
Finally, my last show was The View with guest Edie Falco on Thursday morning. And, again, my favorite part was standing in line and talking with a freshman at Fordham University and her mom. The young woman spoke of the shows she's seen while living in Manhattan – and sleeping out with her friends to get into SNL and Late Night with Seth Myers. She and her mom were delights, so alive, so vibrant, so interesting.
And The View? Whoopie Goldberg, Joyce Behar and Edie Falco remind me of all of my friends: strong, educated, opinionated women. You know who you are.
And perhaps you'll join me in my next excursion to NYC – apres Coronavirus, apres winter. But do know traveling with me is not for the faint of heart; I never plan, I wait to see what I get into for free or for cheap I stick to a very strict budget and my meals rarely involve forks.
I muse joyfully you're preparing for your quarantine as joyfully as I: wash your hands, get lots of sleep, drink lots of water and enjoy your own Broadway. 
Susan Dromey Heeter is a writer from Dover who recently let her hair go au natural white. Writing has been her passion since her English majoring days at the University of Massachusetts in Amherst. Dromey Heeter has lived in The Netherlands, Alaska and currently basks in all things New England, including the frigid winters. An avid swimmer, Dromey Heeter's great passion is to bring back body surfing as most children have no idea how to ride waves without ridiculous boogie boards.
The opinions expressed are those of the writer. InDepthNH.org takes no position on politics, but welcomes diverse opinions. email nancywestnews@gmail.com