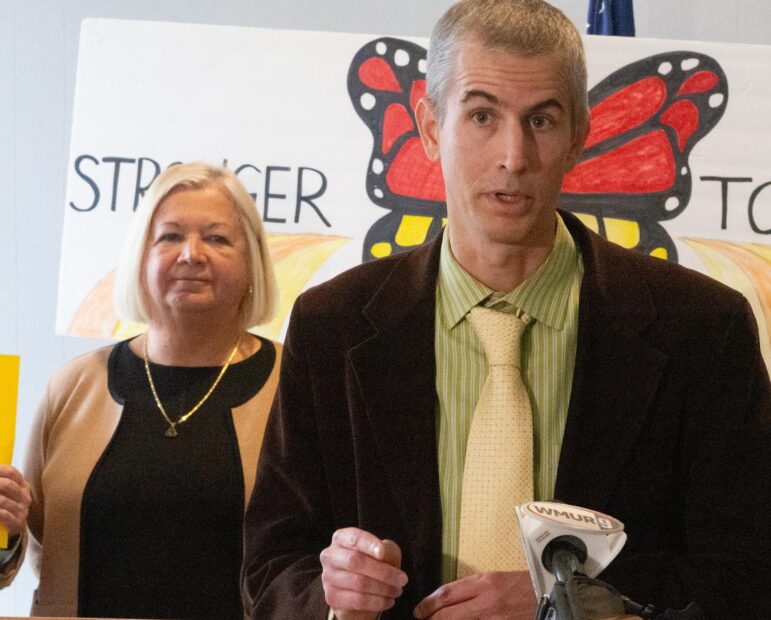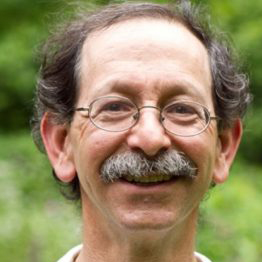 Arnie Alpert spent decades as a community organizer/educator in NH movements for social justice and peace, including a year as a member of the Clamshell Alliance office collective.  Officially retired since 2020, he keeps his hands (and feet) in the activist world while writing about past and present social movements.
By ARNIE ALPERT, Active with the Activists
CONCORD—Immigrants' rights advocates gathered in the Legislative Office Building lobby Wednesday to criticize Gov. Chris Sununu's plan to have New Hampshire police look for unauthorized immigrants near the Canadian border and to release a letter asking the U.S. Department of Homeland Security to deny the state's request for state and local law enforcement officers to be given the authority to enforce immigration laws.
At issue is what the governor calls the "Northern Border Alliance," which would spend $1.4 million to cover 10,000 patrol hours by local law enforcement, county and state police and Fish and Game officers near the state's 54-mile border with Canada. At his own news conference a week ago with Attorney General John Formella, Sununu claimed the federal government has failed to secure the border, which he alleged has seen an upsurge of illegal crossings, including by people on the terrorist watch list.
But the immigrant rights advocates repeated their own assertions that the state has failed to provide any statistics backing up their claim. "There's no facts to justify the allegations in support of the Government's program," said Frank Knaack of the ACLU, which has asked the state to provide data backing up the governor's allegations but received nothing in response.
Citing a statement made by Attorney General Formella at an Oct. 5 conference that his goal is to make "to make New Hampshire the least hospitable place out there for hate crimes," Grace Kindeke of the American Friends Service Committee (AFSC) said statements like those of Governor Sununu create an environment in which hate groups thrive. "It is crucial that the people of New Hampshire receive clear and accurate information about what is really happening at the NH border," she said. "Inaccurate representations easily fan the flames of fear and anger and resentment, and inevitably will lead to a rise in anti-immigrant sentiment, as well as other harms that harm all members of our communities, but particularly those that are perceived to be immigrants or people of color," she said.
By manufacturing a border crisis, Kindeke said the Sununu is contributing to "an environment where hate crimes are more likely to occur."
When he proposed his budget in February, Sununu leveled his assertions about the northern border and asked for funds to create the Northern Border Alliance. In mid-March, he submitted a request to Homeland Security for state law enforcement officers to be authorized to enforce federal immigration laws under a program known as 287-g.
The House rejected the governor's request for the $1.4 million northern border force when it approved a budget in March. But the funds were put back in by the Senate and included in the final version signed by the governor at the end of June.
In its letter to Homeland Security Secretary Alejandro Mayorkas, leaders of the ACLU, AFSC, Granite State Interfaith Action, Rights and Democracy, the NH Immigrant Rights Network, and NH Alliance for immigrants and Refugees said the governor's 287-g proposal should be rejected. The governor's request, they said, "is premised on the assertion that there is a 'crisis' at the along the New Hampshire-Canada border. There is no data to support such an assertion."
In March, while the governor's budget proposal was under consideration, then-Commissioner of Safety Robert Quinn testified before a Congressional committee that New Hampshire had experienced "an increase in illegal crossings." In a subsequent interview, he called it "a slight increase." But the advocates say the state has failed to provide any evidence of increased crossings in the state's small stretch of border.
"American Civil Liberties Union of New Hampshire (ACLU-NH) submitted state public records requests to Governor Sununu and the New Hampshire Department of Safety seeking data around any unauthorized crossings along the New Hampshire-Canada border during this four-month time period. Both entities responded that they did not have any responsive documents," the letter said.
"We have seen no evidence to support any of these statements concerning New Hampshire's border," they said.
"Stop fear mongering. Stop putting us in the bad light," Eva Castillo of the NH Alliance for Immigrants and Refugees said. "Immigrants want to come here for the chance of a better life, just like Governor Sununu's and Attorney General Formella's predecessors came here looking for a better life. So let's just make New Hampshire the friendly place it's supposed to be and stop this fear, this manufactured crisis, every time that we have some type of election here."