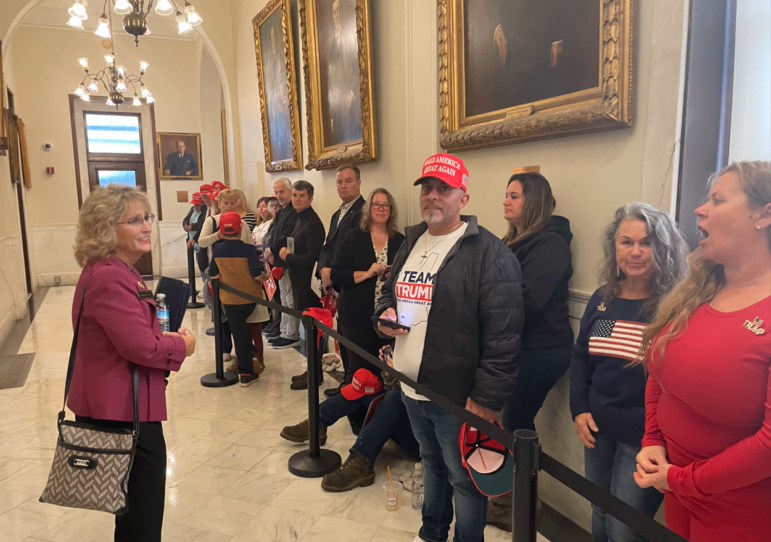 Rep. Jeanine Notter, R-Merrimack, talks with folks who lined up inside the State House to see former President Donald Trump. Paula Tracy photo
By PAULA TRACY, InDepthNH.orhg

CONCORD – The Republican frontrunner, former President Donald Trump, filed as a candidate for the Republican Presidential Primary in New Hampshire Monday saying if elected he would bring down utility prices for Granite Staters by building a pipeline.

He signed a poster, as other candidates did for the office which reads, "Vote for Trump and solve your problems."
Trump took a few questions from the media and said New Hampshire has the single highest utility rates in the nation and "we will cut 'em down by less than half. It will be done so quickly and so easily," he said by building a pipeline through a very poor area of New York state which would welcome such a pipeline.

"They want it so badly because of jobs. Your numbers would come down as soon as that opened or before that happened, actually and yet they never got it approved. And we had it just about approved.
"What happened to your energy costs under Biden is just incredible. Then you look at your food cost, everything else, it will all come down. We will bring the inflation rate down," he assured.

Hundreds of supporters lined the hallways and outside the State House after clearing tight security as Trump went to the Secretary of State's office on the second floor of the State House arriving at 2 p.m. and filed the necessary paperwork to run for a third time in the Granite State's First-in-the-Nation Primary.

He said he continues to be a strong supporter of the state's place voting first in the primary and that New Hampshire has a great tradition of participation in the electoral process.

Marlena and Jamie Burns of Nashua came although they could not get into the State House, and were rewarded for their persistence. Marlena got a selfie photo with the 45th president.

"We want him to win," said Jamie Burns as Trump signed red MAGA hats with a Sharpie for an overflow crowd as he proceeded to his motorcade, before heading back to Manchester-Boston Regional Airport with a large contingent of national and local reporters.

Accompanying him at the desk for the signing of paperwork was Corey Lewandowski, who was 2016 campaign director for Trump and continues to be a political operative.

Trump told the press he is well ahead in the polls, where he is not doing as well in New Hampshire as he is nationally and a recent St. Anselm College poll shows him losing to Democratic President Joe Biden by 12 percent here.

He refused to endorse a Republican Speaker for the U.S. House of Representatives saying only he is looking at all nine candidates.

"I've spoken to just about all the candidates and they are terrific people," he said. "There is only one person who can do it all the way. And you know who that is, Jesus Christ. If Jesus came down and said, 'I want to be Speaker,' he would do it. Other than that I haven't seen anyone who can guarantee it. But at some point we will have someone pretty soon."

Some questions turned to his legal troubles.

Asked if he is concerned that he will not be covered by attorney-client privilege in the Georgia election case with former Trump attorney Sidney Powell, he said he was not.
"We did nothing wrong," he said. "This is all Biden indictments, impeachments," he said of the current Democratic President.
"This is all about Biden. He can't do anything right. The only thing they know how to do is cheat on elections and election fraud. This is all Biden stuff. All these indictments that you see. I was never indicted."

In fact, Trump has been indicted on 91 various counts.
Trump said of "indictments "I practically never heard the word. It wasn't a word that was registered. This is dirty politics. This is a third world country. This is Banana Republic, they call it. It never happened here. Why? because I protested the election you got indicted? It's ridiculous. And look at the documents case. I am covered by the presidential records act. Biden isn't, and now its turning out that Biden's got a real problem with those documents. A real problem. We did nothing wrong, he did," he said.

Trump said he will be releasing "some numbers next week that will make your head spin," but did not elaborate on what those numbers relate to.

Before Trump signed up to be on the ballot there were 23 total candidates registered including seven Democrats.
Vermin Supreme, a perennial candidate, is expected to register to be on the ballot again this Friday but was busy with the boot on his head and megaphone outside the State House, heckling Trump as he headed toward the motorcade.

Trump was the last of the major candidates to sign up to be on the ballot in New Hampshire, although there is still time for Biden to sign up, by the end of the business day on Friday. However, he has to either send it in the mail by Thursday or appear in person Friday.

However, he is not expected to be on the ballot due to a battle New Hampshire has waged with the Democratic Party which wanted New Hampshire to hold off on the first-in-the nation primary.
It refused and that was supported by both Democrats and Republicans in New Hampshire.

A punishment has not been determined. The primary selects the state's preference for the two parties' candidates at the convention and the general election next November decides who the voters want as President.
While the Secretary of State has not selected a date for the primary, it is expected to be held in January.
New Hampshire Democratic Party Chairman Ray Buckley held a press call prior to the signing in which U.S. Senator Maggie Hassan, D-NH joined in saying that another Trump Presidency would be disastrous.
Hassan said Trump is "incapable of bringing us together" and has shown by his words and actions that he is dangerous.

"Trump's behavior makes clear that he will not tolerate those who disagree with him and that he is willing to use intimidation, threats of violence and in some cases violence itself to impose his agenda on our country, even if most Americans don't agree with him," Hassan said.

Hassan noted a few recent statements including suggestions of the executive of the joint chiefs of staff, complimenting the Lebanese Shia Islamist Hezbollah Party and calling Russian President Vladimir Putin "savvy and a genius" for invading Ukraine.

She said Democratic President Joe Biden, who is running for re-election, stands in stark contrast to Trump, and led bipartisan efforts including a new infrastructure law and is leading the world on issues in Ukraine.
She said work on climate change, reproductive rights, and helping Israel and Ukraine remain unfinished business which will require bipartisanship.

"A man who believes he is above the law, who promotes violence rather than problem-solving, who encourages America's adversaries, and who is willing to impose an extreme agenda on the American people by denying the results of free and fair elections cannot be president. The stakes of this election are high," she said.

During his one-term presidency, Buckley said Trump promised to help the state's manufacturing sector and when in office he did the opposite and holds the worst jobs record of any president since the Great Depression.

He said Trump's most recent statements that he would pull the country out of NATO show how dangerous he is and how helpful he could be to Putin.

"He alienated our adversaries while heaping praise on bad actors," Buckley said.

Trump failed to acknowledge the opioid crisis as a national emergency.
"It's no wonder Trump's own general said he is too dangerous and unfit to be commander in chief, especially in a moment like this," he said.

Buckley predicted New Hampshire knows just how high the stakes are and will probably reject him for the third time in a row.
As a former president, Trump got about the highest level of security and fanfare that a normal sitting president might enjoy, including Secret Service and a police escort between Concord and Manchester.