In this latest podcast, Roger Wood talks with Sylvia Dow. She heads up a nonprofit organization that creates supportive housing for adults in the Upper Valley.  Their newest project will break ground shortly in downtown Hanover.
https://soundcloud.com/roger-wood-914351181/visions?si=fc35355bb9ff4f2f9054ffe977c5e371&utm_source=clipboard&utm_medium=text&utm_campaign=social_sharing
Sylvia Dow
Sylvia Kluge Dow, founder and Executive Director of Visions for Creative Housing Solutions, is a visionary leader. Mother of two daughters with developmental disabilities and a former special educator, Sylvia has been a lifelong, passionate advocate for people with disabilities in the Upper Valley and beyond. In 2014 she was the primary force behind the founding of Visions for Creative Housing Solutions, a nonprofit that offers an innovative model for supported housing for adults with developmental and similar disabilities. Sylvia's work and the efforts of Visions have been featured in multiple publications, including feature articles in Image Magazine and Challenge NH. Among her many accolades and awards, Sylvia received the "NH Impact Award" from the NH Center for Nonprofits in April, 2021.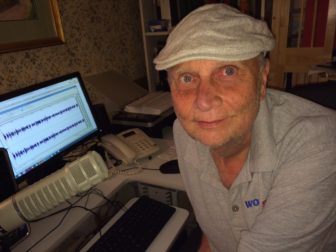 Roger Wood is an award winning radio, podcast, newspaper and television journalist, with over 40 years of experience in the media. Roger has spent his entire professional career in New Hampshire. Roger currently serves as associate publisher and podcast producer at InDepthNH.org. In 2021 and 2022, he was recognized by the New Hampshire Press Association for his work in news podcasts. Prior to that he was honored for his work in broadcast radio news and public affairs. He has produced news and special feature reports for InDepthNH,
New Hampshire Public Radio, NPR, and other public and commercial radio stations. He also produced spot news for CBS Radio. He has produced and narrated some 50 audiobooks and has written three novels. Roger has also moderated political forums for Seacoast Area Chambers of Commerce in Senate, gubernatorial and congressional races. He has also facilitated public policy discussions locally and statewide. He has three adult children and four grandchildren. Roger and his wife Elaine, reside in Portsmouth with their cat Sebastian.
Roger Wood
Associate publisher
Podcast Producer
Indepthnh.org