WRITING ON THE FLY
By GEORGE LISET
When I was younger and drowning worms or casting lures, freshwater fishing season was usually from the middle of April until the middle of October.
Some states out west have an open season where you can fish all year long using a single non-barbed hook and using catch and release. In New Hampshire, the state has a few rivers that are open all year with a catch and release provision.
Fortunately, three of those rivers are on the Seacoast. Parts of the Cocheco, Lamprey and Isinglass are open thanks to the efforts of groups like Three Rivers Stocking. If you are on the New Hampshire Fly FaceBook group you know they just stocked some big fish in some of these rivers.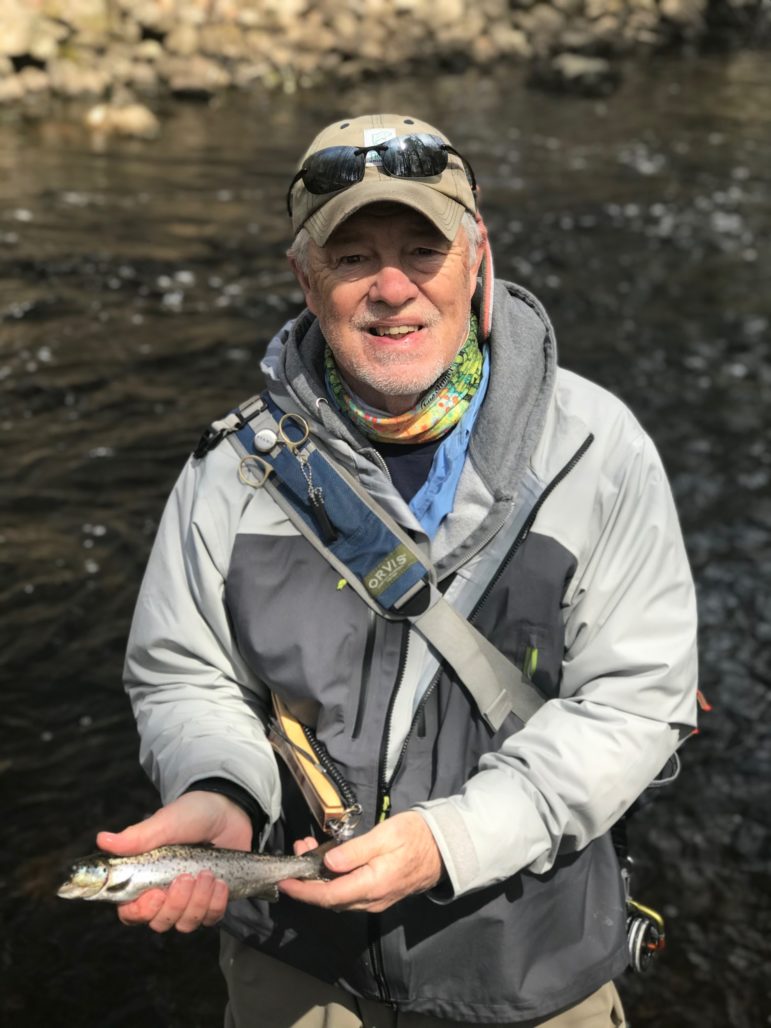 Last year one of my resolutions was to fish at least once every month which I accomplished. I actually fished at least twice during the winter months and at least once a week during the warmer months. I had just washed my waders and cleaned some of my lines when I heard that Three Rivers had just stocked my local river. I used a little self-control and decided to take a little break until January before I get back out. Then I saw some pictures of big fish and my self-control went out the window. I have found that there are few different groups of fly fishers. There is the fair-weather group that only fishes from April to October. Then there are the hardcore fly fishers that hit the rivers all year. The third group are also hardcore, but choose to fly fish during season and then ice fish during the winter.
I find myself in between the fair weather fly fishers and those who are hardcore river fishers. I'll go out during the winter months if it is above freezing and the wind isn't blowing twenty miles an hour. My reason for that is that I do not want to invest in neoprene waders which are a must if you are a serious hardcore guy. I have a couple of friends that I know are out on the river in all weather. At one section of river that I drive by to check out to see how much the river has iced over I can see my friends fly fishing, looking like the snow suit kid in Christmas Story.
I admire their determination and tenacity, and almost feel guilty about not being out there with them, but I don't enjoy being cold. When I fish in the winter months I can usually layer and stay out for an hour, maybe two if it is not too windy and the day is close to forty degrees. When it is really cold on the river, all I can think about is sitting by the fire reading fly fishing books.
    For those who only fish in fair weather, I admire your self-control. I guess I am too addicted to being outside and catching fish. All those years I would be at work and thinking I should be on the river fly fishing. Now I am! I know there will be a day when I may not be able to fish all seasons and that will be alright. For now, I'll make an effort to be out as much as I can. So if you see an idiot out on a cold day without neoprene on, that will probably be me.
 George Liset of Dover is an award-winning outdoor writer and avid fly fisherman who shares insights of his time on the water exploring New Hampshire streams and rivers as well of those around New England. George is a graduate of Wheaton College, Illinois, and the University of New Hampshire. His column Writing on the Fly has been honored by the New England Press Association and the New Hampshire Press Association.