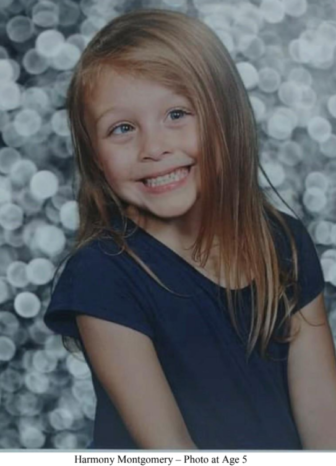 By NANCY WEST, InDepthNH.org
Attorney General John M. Formella released new information in the disappearance of Harmony Montgomery Monday, narrowing down the time she was last seen after her family was evicted and living in cars in Manchester.
The police investigation narrowed the window of Harmony's disappearance to from about Nov. 28 to Dec. 10, 2019. She was five years old at the time, according to Formella's news release.
Also Monday, Harmony's step-mother Kayla Montgomery pleaded not guilty in Hillsborough Superior Court to upgraded criminal charges related to accepting food stamps for Harmony when she wasn't living in the household.
Montgomery's lawyer Paul Garrity asked that she be released on personal recognizance bail and said she may be eligible for the Cynthia Day substance abuse treatment program in Nashua.
But Assistant Attorney General Jesse O'Neill said he wanted bail continued at $5,000 cash because she may be more of a flight risk with the upgraded welfare charges and "because of where the case is going."
He didn't get into details of the criminal investigation into Harmony's disappearance.
Kayla Montgomery told police that Harmony's father, Adam Montgomery, 31, had taken her to live with her mother in Massachusetts around Thanksgiving that year.
Judge Amy Messer's order said "bail will remain as set at $5000 cash or surety, however it shall convert to personal recognizance upon entry into and successful completion of the Cynthia Day program. The Court will also impose significant additional conditions."
According to police, Adam and Kayla Montgomery, together with two common children and Harmony were evicted from 77 Gilford St. in Manchester on Nov. 27, 2019.
Multiple individuals have reported seeing Harmony with Adam and Kayla in the following days, however, by about Dec. 6 to 10, 2019, Adam and Kayla apparently had only their two common children, and Harmony was no longer with them.
"This information leads police to believe that it was sometime during this window of approximately Nov. 28 to Dec. 10, 2019, that Harmony Montgomery disappeared," the release said.
Witnesses told police that during that time, Adam, Kayla, and the children were homeless and living out of cars, possibly in the North End of Manchester. One of the cars was a silver 2010 Chrysler Sebring, and the other was a dark blue 2006 Audi S4.
Adam Montgomery is being held on preventive detention, accused of child endangerment, custody interference and second-degree assault for giving Harmony a black eye in 2019.
Manchester Police asked that anyone with information call or text the 24-hour tip line dedicated to Harmony's rescue at 603-203-6060, in particular anyone who saw or interacted with Adam Montgomery, Kayla Montgomery, or the children during the time frame of approximately Nov. 28 to Dec. 10, 2019, or who saw either of the vehicles in question during that time. Any information, no matter how small or insignificant it may seem, may contribute to the overall investigation, the release said.
Authorities released stock pictures of the car but said the actual condition of the cars in 2019 was worse than depicted. In addition, the Sebring's rear license plate was askew. (See below)