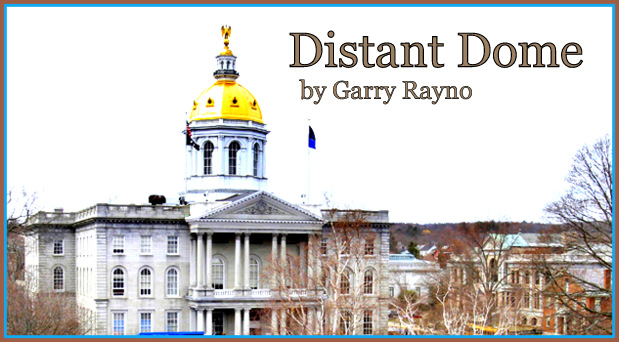 By GARRY RAYNO, InDepthNH.org
Elections have consequences is an adage that has been repeated often since the 2020 election in New Hampshire and nationally.
That statement could not be more apparent at the State House — with one big exception — which flipped from blue control to red with Gov. Chris Sununu easily retaining his position.
The 180-degree shift in the majority and political philosophy happens from time to time and occurs occasionally in the Granite State the last 20 years with its move from solidly red to solidly purple.
And it is also true your individual actions have consequences, good and bad.
It is an argument you hear frequently these days on social media or groups like the Lincoln Project which continually call for the current U.S. Attorney General and Department of Justice to bring the ringleaders of the Jan. 6 insurrection to justice.
If justice is not served, they say, those who instigated the violence and destruction at the Capitol Building will do it again, and with far greater consequences for democracy.
Similar editorials and articles said similar things about the disruption at the Executive Council meeting which cancelled the meeting after Health and Human Services officials felt threatened and left the Institute of Politics under State Police protection.
From the New Hampshire Journal to the Union Leader, editors wanted to know why the protestors who disrupted the meeting were not arrested instead of shutting down the meeting.
And both criticized Sununu for failing to take action that would have allowed the meeting to continue.
Soon the Attorney General announced an investigation to determine if laws had been broken during the protest, when most people over 50 years old remember Seabrook protestors being arrested at council meetings and even at one of former Gov. John H. Sununu's inaugurations.
Just recently protesters were arrested when the State House closed and they refused to leave. They were protesting the $13.5 billion state budget the governor had signed including an abortion ban, prohibiting critical race theory being taught, and a new education voucher system among other hot button issues.
Why were extremists on the right allowed to go free after disrupting the council meeting over two contracts totaling $27 million in federal money to boost the state's lagging vaccination program, many people asked.
Where were the consequences for their actions is a legitimate question to ask just as it is about the masterminds of the Jan. 6 insurrection attempt in Washington, D.C.
Likewise concern has been expressed about some New Hampshire lawmakers not following CDC, state and legislative protocols that would lessen the risk of spreading COVID-19 now that committee meetings are in-person if a lawmaker wants to participate and vote.
Speaker Sherman Packard addressed the issue in the most recent House calendar writing "Please continue to help us maintain a risk-mitigated and healthy working environment by staying home if you are experiencing any symptoms of illness. This is our first line of defense."
He also notes that while face masks are not mandated they are strongly encouraged, and he calls for members to treat each other, staff and the public with courtesy and to respect personal decisions on mask use.
One representative last week, Nicole Klein Knight, went public with her belief the lax attention to public health protocols in a sub-committee meeting in late September led to her contracting COVID-19, despite being vaccinated, and spreading it to her family.
The person who was at the sub-committee meeting, and was later found to be infected, Rep. Kevin Verville, had attended the meeting after a rapid test negative result and also attended a Rockingham County delegation meeting about the same time.
A test several days later revealed he had COVID-19 and he informed the Speaker's office.
The House members attending the delegation meeting were notified, but Klein Knight and some others at the sub-committee meeting were not.
That is a breakdown in the health protection system and it ought to concern every member of the legislature, staff and the public who attend these meetings
The House has been very secretive about members who have had COVID-19, although the duly elected speaker Dick Hinch died from the virus before the work of the session began.
The Senate has been more open about its members who have had COVID-19, despite the often quoted HIPPA restrictions that are often misinterpreted.
Klein Knight said some House members come to the committee meetings not feeling well and there are no consequences for their actions.
But the issue of accountability goes beyond just COVID-19 protocols.
Other House members signed a petition asking the last election to be declared null and void, and for the state to secede from the union and become its own sovereign body.
And one representative, Michael Sylvia, requested a proposed constitutional amendment be drafted for the 2022 session declaring the state's peaceful independence from the United States to become a sovereign state.
The CACR is also sponsored by eight other Republican House members including Raymond Howard, who with Sylvia and seven other House members, sought the state's independence through a petition filed with the Secretary of State's Office in late December.
Slyvia has said he is introducing the proposed amendment due to the federal government's actions to deal with the pandemic including vaccine mandates.
During this year's House session, several attempts were made to oust the eight representatives who signed the independence petition, but were either called out of order or voted down.
While Sylvia has filed his proposed amendment, a bill request has also been filed establishing a process to oust legislators who violate the section of state law dealing with insurrection, rebellion or giving aid or comfort to enemies of the state.
The House or Senate would be able to remove the representative or senator if he or she violates the law, according to the bill introduced by Rep. Bill Marsh.
He said the bill is intended to offer a procedure to remove lawmakers who participate in an insurrection and other specific actions against the state.
The bill also prohibits anyone from holding state office if they participate in an insurrection or rebellion against the federal government.
A two-thirds vote by the U.S. House or U.S. Senate would be needed to allow the person to hold state office.
Under the bill, "an 'insurrection or rebellion' shall include action intended to separate New Hampshire from the United States, and 'aid and comfort' shall include any action facilitating such intent."
Marsh said he has a number of House members as co-sponsors and is working to add several senators.
The bill, if it were to become law, certainly would mean consequences for those who seek to have New Hampshire leave the union, while many debate whether it is more patriotic to object to government actions or to hold those people responsible.
But in either case, there should be consequences for a person's actions, and that has been missing in many recent situations.
Garry Rayno may be reached at garry.rayno@yahoo.com.
Distant Dome by veteran journalist Garry Rayno explores a broader perspective on the State House and state happenings for InDepthNH.org. Over his three-decade career, Rayno covered the NH State House for the New Hampshire Union Leader and Foster's Daily Democrat. During his career, his coverage spanned the news spectrum, from local planning, school and select boards, to national issues such as electric industry deregulation and Presidential primaries. Rayno lives with his wife Carolyn in New London.