By DAMIEN FISHER, InDepthNH.org
A group of white supremacists is threatening a Nashua state representative, and now there are calls for the New Hampshire Attorney General to investigate the hate group.
Nashua's Manny Espitia, a state representative and current president of the New Hampshire Young Democrats, earned the ire of members of the Nationalist Social Club, a well-known hate group also known as NSC 131, after he posted photos of NSC 131 graffiti he found in his Nashua neighborhood on social media.
"No person should ever be threatened because of race, ethnicity, nationality, or their identity," Espitia wrote on Twitter after being threatened. "I will continue to fight against racism in our world. I won't stop because of Neo-Nazis."
Members of NSC 131 responded to Espitia's post on their Telegram channel that Espitia's time is close to an end.
"Anyone w/ a name like 'Manny Espitia', State Rep or not, has no moral right to throw shade at any true (White) Nationalist New Hampshirite. You have no right to be here, you're an occupier here & the days of these types trampling on New England are coming to an end," an anonymous NSC 131 poster wrote.
House Democratic Leader Rep. Renny Cushing, D-Hampton, sent a letter Friday to newly installed Attorney General John Formella and Acting United States Attorney John Farley seeking to open an investigation into the hate group.
"I interpret this statement as a direct threat by a white nationalist against an elected official who is a person of color. I ask that your offices swiftly investigate and alert local authorities of this group's presence in our communities," Cushing wrote.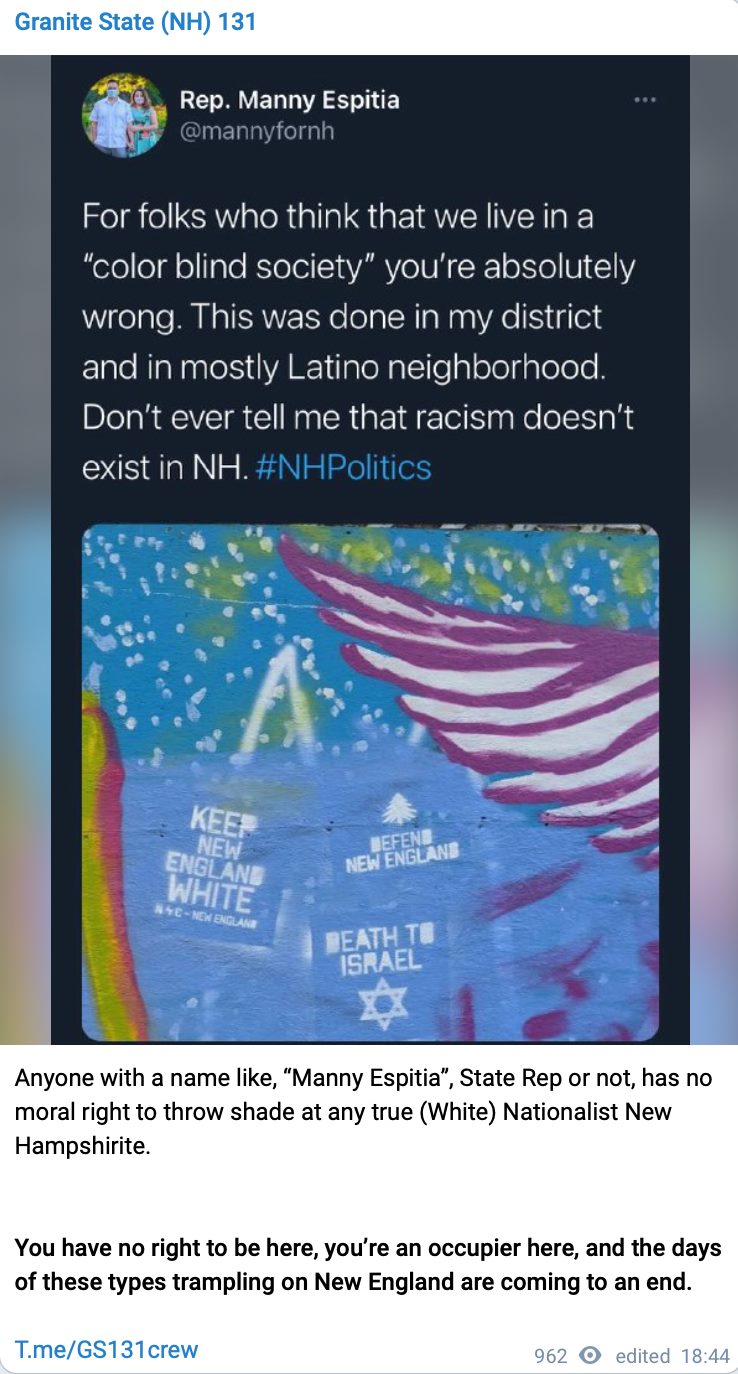 Cushing is not alone in being concerned about the hate group. House Speaker Sherman Packard, a Londonderry Republican, condemned the group in a statement released Friday, though he did not join in Cushing's call for action.
"I am extremely disturbed by the abhorrent treatment of Representative Manny Espitia (D-Nashua) by NSC-131," Packard said. "There is no place for hatred in New Hampshire and groups like these do not represent the fabric of our communities. New Hampshire is one of the best places to live, and we will continue working together to ensure that it stays that way. In this state, we believe that everyone belongs here."
NSC 131 was founded in eastern Massachusetts and its members are tied to violent Neo-Nazi groups like The Base, Aryan Strike and Patriot Front. The group has off-shoot charts in Europe and some southern states. NSC 131 graffiti has been spotted all throughout southern New Hampshire, and the group took the brazen step to hold a recent protest in front of Nashua's city hall.
The group is virulently anti-Semitic, and calls for expelling Jewish people from the United States. The group also calls for violence against Jews and minorities.
"110 and never again. Jews have been expelled from 109 countries make America 110. Any nationalist of action will agree, 110 and never again," on NSC 131 poster wrote on Telegram.