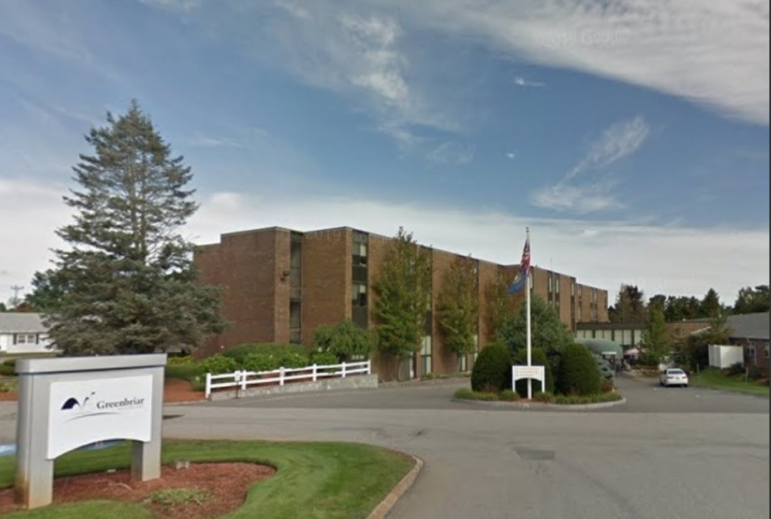 InDepthNH.org examines what is being done to make sure any COVID-19 second wave is kept away from our state's most vulnerable nursing home residents.

See how your nursing home rates in the quality ranking list published by Medicare.gov, along with the statistics on coronavirus infections in each facility. We also examine recent inspection reports for each nursing home, listing infractions that inspectors found on site visits. (We list nursing homes via the star system, one star for much below average to five stars for much above average).

We report The Politics of the Pandemic. And the story of the lone nursing home in New Hampshire that requires special attention from overseers.
Special Focus Facility in New Hampshire
By BOB CHAREST, InDepthNH.org
Of the 74 nursing homes in New Hampshire, the Center for Medicare and Medicaid Services (CMS) rates one as Special Focus Facility on its website, www.medicare.gov.
The nursing home, Greenbriar Healthcare in Nashua, has been singled out for extra attention.
Each state has nursing homes designated for extra attention because of more problems seen in inspections than are seen at other facilities, sometimes more serious problems that could include harm or injury to the residents, and sometimes a pattern of serious problems is noted.
That puts nursing homes in the state on the Special Focus Facility list. In addition to Greenbriar Healthcare in Nashua, seven other facilities in New Hampshire have been flagged as candidates for the "Special Focus" program because of concerns over their history of violations. CMS assigns facilities points based on the past three inspections. The more deficiencies, and the higher the severity, the more points are assigned.
A Special Focus Facility does not necessarily equate with a nursing home that has experienced a COVID-19 outbreak, as four of those on this list have not had outbreaks reported by the state.
Here are the seven New Hampshire facilities named in a Sept. 30, 2020, report as Special Focus Facility candidates:
Bedford Hills Center, Bedford
Clipper Harbor, Portsmouth
Derry Center for Rehabilitation and Health, Derry
Exeter Center, Exeter
Oceanside Skilled Nursing & Rehabilitation, Hampton
Pleasant View Center, Concord
Ridgewood Center, Bedford
The one thing all of these nursing homes have in common is that they are all ranked as one star (much below average) by CMS.
CMS provides federal funding to many long-term care facilities in New Hampshire and performs inspections to assure resident safety. These inspections are usually performed annually, but in the case of the Special Focus Facility, these inspections are performed every six months. Each state's survey agency is responsible for choosing the facility based on the candidate list. The nursing home either graduates from the SFF program or is terminated for Medicare and Medicaid funding.
These reports are public information. The star system (one star for much below average, to five stars for much above average) for our report is the OVERALL QUALITY ranking. Those who want to see more detailed rankings of staffing, health inspection and quality of life measures may go to Medicare.gov.
Please also see our related story, "Where We Got Our Information," to decipher how nursing homes compare on staffing minutes.
See https://www.cms.gov/files/document/sff-posting-candidate-list-september-2020.pdf for more information on Special Focus Facilities.
*
Greenbriar Healthcare
55 Harris Road, Nashua
No. certified beds: 290; Recent census: 155 (6/24/2020)
Owner: For profit registered on the N.H. Secretary of State's website as 55 Harris Road Operator LLC
No. residents with confirmed Covid-19*: 201
No. staff with confirmed Covid-19*: 36
Resident deaths due to Covid-19*: 39
Fines in past 20 months*: None
Staff hours per resident*:
Registered nurse: 21 minutes
Licensed Practical Nurse: 58 minutes
Nurse's Aides: 95 minutes
COVID-19 Inspection: 5/13/2020, 6/9/2020, and 6/24/2020, in compliance
Specific inspection reports:
Greenbriar is listed as a facility that has shown improvement, on 9/30/2020, after 14 months on the Special Focus Facility list.
10/28/2019: During tour of the third floor, the shower room located behind the nurse's station had black-like tar in 3-inch strips around the outside edges of the shower unit where the walls meet the floor. Also several tiles were broken. Unit manager said they are to be remodeling the shower units at some time but was not sure when.
A unit had a strong and pervasive urine-like odor which lasted until almost noontime. Observation on 10/23/19 at approximately 11:45 a.m. on the dementia unit revealed a strong urine-like odor in the left hallway.
Residents who smoke must do so on the sidewalk off facility property. Resident who declined smoking cessation programs had no measurable smoking care plan, including safety goals and ongoing assessments, smoking cessation opportunities.
Registered nurse said residents who smoke are to come to the nurse's station to sign out, pick up their cigarettes and lighter and leave the facility grounds to smoke. The residents then return to the nurse's station, sign back in, and turn in the cigarettes and lighter. If there is no staff covering the nurse's station upon return of the resident, then the resident keeps the smoking paraphernalia with them until they can find a staff member they can give them to.
Another resident goes out to the bus stop to smoke. He/she does not smoke in the building, and that smoking materials are kept in his/her drawer. It was observed that resident keeps the cigarettes on his/her person. That resident's care plan has the following items listed: Discourage resident from providing smoking items to other residents, educate and remind resident to check self out when leaving facility property and inform staff/nurse as needed, offer 1:1 education with respiratory therapist on adverse effects of smoking and support for smoking cessation, offer resident a smoking cessation program, and smoking policy is reviewed with resident and/or responsible party.
A resident's current care plan failed to document a nutritional problem or potential nutritional problem regarding the actual weight loss that resident had. LPN confirmed that the resident had a significant weight loss and that it was not documented on the care plan.
Another resident had a pressure ulcer on their coccyx, which resolved on 10/16/19. Review on 10/28/19 of current and resolved care plans revealed that there was no care plan in place for the pressure ulcer and no care plan for dressings changes to the coccyx area.
A resident's gastrostomy tube was not flushed in between the administration of 8 medications.
The facility failed to ensure that weight loss was monitored and weights obtained for two residents.
The facility failed to monitor behaviors for a resident taking antipsychotic medications.
The dish machine was not maintained in working order. The gauge showed the high temperature dish machine failed to reach its max temperature of 180 degrees. Staff ran the dish machine five times and the gauge never reached over 165 degrees. On review of the month's temperature logs it revealed several days where the dish machine failed to reach its minimum temperature of 180 degrees. The vendor was called and validated that the gauge was broken but the dish machine was running to temperature.
Residents complained that the food is not served at appetizing temperatures and not served cold.
A test tray showed food temperatures at unacceptably low levels, with an entree at 107 degrees and the vegetables recorded at 115 degrees. Documentation showed that on all days of survey the food carts were being dispensed late to all units during all three meals daily because of a shortage of dietary staff.
Infection control was not maintained in regards to hand hygiene during medication administration.
*