By PAULA TRACY, InDepthNH.org

CONCORD – The Executive Council approved DraftKings to be the single vendor of sports betting in New Hampshire at its busy pre-Thanksgiving meeting Monday.
The meeting included Executive Councilor Russell Prescott, R-Kingston, saying he won't run again, a unanimous vote that will zero out the Merrimack tolls on Jan. 1, a turkey named Joanna being pardoned and school children bringing Christmas decorations for Gov. Chris Sununu.
Also at the State House, Secretary of State Bill Gardner announced that he has selected Feb. 11, 2020, as the date New Hampshire voters will go to the polls in the first-in-the-nation primary.
DraftKings, the Massachusetts-based company, received three votes in favor with Executive Councilor Andru Volinsky, a Concord Democrat and gubernatorial candidate opposed, and Executive Councilor Debora Pignatelli abstaining citing a conflict of interest with her husband's law firm.
DraftKings has half a million people in Massachusetts already in their databank "and we are going to benefit," said Charlie McIntyre, executive director of the New Hampshire Lottery Commission.
The legislature approved sports betting last spring and the governor signed it into law. It allows for up to 10 locations throughout the state and no more than five mobile betting operations. The cities of Berlin, Claremont, Franklin, Laconia, Manchester and Somersworth voted in favor of sports book locations during city elections earlier this fall. New Hampshire towns will be able to place the question on their Town Meeting warrants in spring 2020.
It will be up to DraftKings and the lottery commission to decide on locations based on the pool of willing municipalities. The state will get 51 percent of the gross revenue.
Prescott won't run
Executive Councilor Prescott announced he will not seek another term for the District 3 Executive Council saying he will focus on his company and his family.
Prescott said he values the job and has enjoyed it.
"I am going to dedicate myself to doing a good job for the rest of this term," Prescott said.
Between 1997 and today, he has been running as a candidate every single fall of even-numbered years and he looks forward to having more time to dedicate to his family and his business, both of which have grown over time.
Mindi Messmer, a former state Representative who ran unsuccessfully as a Democrat for Congress, announced earlier this month her intention to seek the District 3 Executive Council seat.
She said she thinks it is really important to make sure money is spent in a way that represents New Hampshire's values and that people confirmed to head state agencies also reflect that value.
Messmer said the Transportation 10-year plan needs to incorporate climate change impacts.
She went to the University of New Hampshire, once lived in Portsmouth and is now a resident of Rye. District 3 includes Portsmouth, Salem, Pelham, Hampton Falls, Plaistow, Atkinson, Derry and Windham.
Merrimack tolls
Come the first day of 2020, there will be no more tolls to pay on the F.E. Everett Turnpike at Exit 11 in Merrimack.
The 75-cent per vehicle toll in both north and south directions was reduced to zero at the Executive Council meeting. There will be lost revenue "but we can absorb it," said Transportation Commissioner Victoria Sheehan.
The council voted unanimously to support the measure and it also had the support of Republican Gov. Sununu who said previously that he felt that the toll disproportionately impacted residents of Merrimack.
Councilor Pignatelli, a Nashua Democrat, thanked the governor for his support of the measure, something she said she started working toward in 2004.
The matter first came up over a month ago when Pignatelli charged Sununu with misrepresenting her position on eliminating the tolls among her constituents. She claimed Sununu told people that she "loved the tolls" and wanted to increase the charge, which she said she did not.
Sununu said that she was mistaken.
The actual tollbooths will remain but there will be no charge as of Jan. 1, 2020.
House Republican Leader Dick Hinch, R-Merrimack, was pleased the Executive Council voted to zero out the Merrimack tolls.
"By bringing in roughly only $800,000 in net revenue each year, these tolls ended up being essentially a tax that only Merrimack residents paid as they tried to get to and from work," Hinch said.
Home heat funds
The state also accepted $24 million for home weatherization and fuel assistance from the federal government. An estimated 20,000 households will be helped this winter with money to fix a furnace, have a house weatherized and get fuel assistance to those who qualify for help.
10-year highway plan
The council completed its last meeting on the state's 10-year highway planning process. Included in a letter that will go to the governor and the legislature is a set of ideas and priorities that include a continued emphasis on developing a commuter rail line from Concord south.
It also is taking advantage of the low-interest rates to bond for additional projects for local bridges and roads, said Volinsky, the chairman of Governor's Advisory Commission on Intermodal Transportation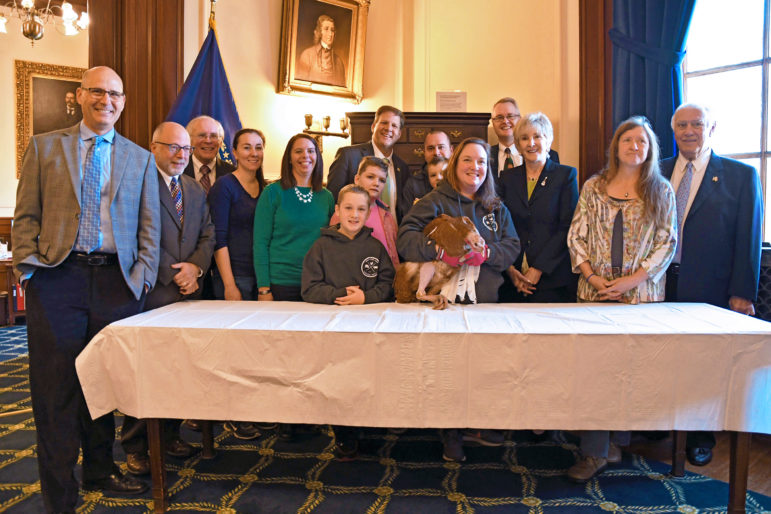 Turkey pardon
The Executive Council unanimously pardoned an 18-pound female turkey from Birch Rise Farm owned by the Osgood Family of Sanbornton named Joanna. The two-year-old bird, a heritage breed known as a Red Bourbon will live out her days with a few other gobblers at the Crotched Mountain school.
Kate Osgood and her son, Hunter, attended the council meeting to hand the bird over to officials at the school. Hunter said he was going to miss her.
Christmas décor
Matthew Thornton Elementary School fourth-graders from Londonderry, and East Rochester Elementary school fifth-graders brought decorations for the Governor's Christmas Tree.
"If I could pass a law about (prohibiting) putting up Christmas decorations before Thanksgiving, I would do it," said Sununu.
Councilor Ted Gatsas, a Manchester Republican, said his wife put up the lights Sunday night. The Gatsases do white lights. Sununu said his family made the transition to colored lights a few years ago and they like them.
Vaccine registry
The council voted to table and further consider a contract related to getting a new vendor for creating a registry for child vaccinations.
There were more than a dozen people at the meeting holding signs that read, "No Federal Funding for Vaccine Registry."

More emergency beds

Health and Human Services Commissioner Jeffrey Meyers thanked Portsmouth Regional Hospital's owners, HCA, for immediately putting forward eight beds at two locations to help those in need of care within the Division of Behavioral Health.
Currently, people are waiting in emergency rooms across the state for one of the state's 164-beds to open. Four beds will be at Parkland Hospital in Derry and four will be at Portsmouth. They will provide a temporary place for up to 10 days.