By David Lovlien Jr.
Growing from Granite
I was wearing white pants, brown chukka boots, and a light-blue checkered Tommy Hilfiger button-down. I checked out my friend Erica Perkins who looked awesome wearing high heels, a gray skirt, and a white blouse with purple designs that matched her curly violet hair.
"We look good," I said as we strutted across the parking lot to the C & J Bus stop in Portsmouth.
We approached the ticket desk. "Could I get a round-trip ticket to South Station, please?" Erica and I were headed to Boston to visit our friend Felicia Valarese who attends Suffolk University.
I couldn't wait to see Felicia. We graduated from Coe-Brown Northwood Academy together and Erica from Dover High School. We were good friends.
This was my first big city experience on my own, with friends, without a parent or older person guiding me. I was totally independent.
"Are we there yet?" I whined on the bus.
Soon, we could see Boston's gorgeous sky line and got off the bus at South Station.
I called Felicia on my cell phone, "I'm here. Where do I go?" She had class until after 7 p.m.
Erica knew where we were headed because she had been to Boston before. Starved, we snacked at Five Guys Burgers and tried not to ruin our appetites before dinner in Chinatown. We indulged in greasy burgers anyway, then headed to Boston Common.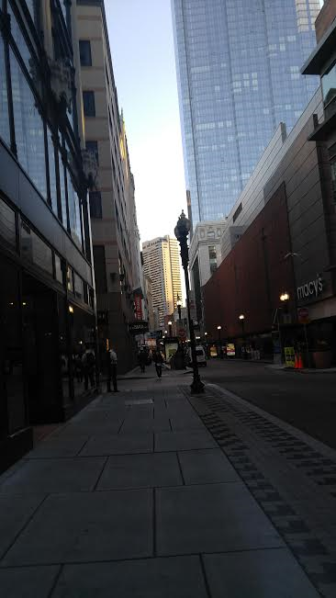 "Wow. Look at that car." I couldn't contain my enthusiasm. It was a black, two-door Bentley. Gorgeous. Erica was indifferent.
"Erica, that's a Bentley." Some people just don't get fancy cars.
We arrived at Boston Common to wait for Felicia. Erica sat on a separate bench to surprise Felicia, who didn't know she was coming. I heard a voice cry my name, "Dewey."
It was Felicia running towards me, right by Erica at first until Erica jumped up to join the special hug of old high school pals.
We dodged traffic crossing the street to Suffolk University's dorms. After signing in with security, we took the elevator the eighth floor. We entered her suite and met Felicia's suite mates. "Wow, this is really nice."
The bustling streets of Boston, people from all over the world crowding the sidewalks heading this way and that. We could see it all out the massive window in her dorm room.
Cars raced down the road. Horns blared. People rushed past each other, all in a hurry. "Alright, so what's a good restaurant?"
The world was our oyster – or at least our dancing shrimp – as we looked for a Thai restaurant.
"Look! There's a vegan Thai restaurant," Erica said. A debate over meat ensued. Luckily, I won and we kept walking.
Fluorescent lights lit up the sky as we savored the smells and sights of Chinatown. We found our Thai place with a blue fountain outside where people could toss a coin and make a wish.
We sat down at our table looking out an open window right next to the street. Felicia and I ordered the yellow curry and shared a plate of dumpling puffs, and Erica ordered some sort of soup with vegetables and tofu with a side of spring rolls.
"This is so good. I haven't had Indian food since like the sixth grade," I said.
"Dewey, this is Thai," Erica corrected.
"What's the difference?" I said. She explained and we all had a laugh.
We talked about college and what we want to be when we grow up. I guess we are not quite there yet. We chowed down and then took on Boston by foot.
"It's like old times but different, and new," Felicia said.
We ran around the city all night doing silly things, just enjoying our freedom. We devoured cannolis we bought at an old bakery and stood staring in awe at the amazing architecture of Faneuil Hall.
"I think I want to transfer here, Felicia," I said.
She told me about the terrific law program at the school and said the courthouse and Massachusetts Bar Association were a stone's throw away, knowing I plan to become a lawyer.
"You've got me," I said, knowing then what to wish for next time I toss a coin in the Thai restaurant's blue fountain.
David Lovlien Jr. is a high honors graduate of Coe-Brown Northwood Academy who is a freshman at Great Bay Community College in Portsmouth. David is an active member on the New Hampshire Legislative Youth Advisory Committee and plans to become a lawyer. He writes a regular column, Growing from Granite, for InDepthNH.org.