By PAULA TRACY, InDepthNH.org

These past few weeks have been incredibly stressful for everyone.
As our world changes in a profound way, from social interactions to social distancing, from events and activities to isolation in some cases and boredom, from financial comfort to job loss, from peace and happiness to worry about sickness and keeping the frail, the elderly the vulnerable safe from a menacing a global pandemic, it seems too much for the soul.

One thing we do have going for us, New Hampshire is the outdoors.

It is still there, still beautiful, and full of wonder. And until further notice, it is still accessible.

While ski resorts have all closed across the state, along with schools, restaurants, bars, public buildings and access to our loved ones in nursing homes, the snow is still in the woods, the waterfalls are full of rushing water, and the paths behind your house and hiking trails are great for a short or long hike.

This column, which is about skiing, will continue but it will be about ways to access the outdoors and marvel in its beauty and ways to stay sane.
Last week, I went to Jackson on my way to a story in Berlin on how that community is coming together to help feed children due to the closure of schools.
While I found that experience uplifting, I benefited greatly from a quick visit to see Jackson Falls on the Wildcat River.
I was early for meeting my old friend Ellen Chandler for a cross country ski on the trails at Jackson Ski Touring Foundation.
Though Jackson is technically closed for the season and not selling trail tickets at its headquarters at 153 Main St., it is grooming occasionally on a courtesy basis in its Prospect Farm trail system and has 35 percent or more than 45 kilometers of trails still open to help maintain your sanity and physical well-being.
If you go, bring someone else with you but practice safe distancing of six feet or more apart. The two groomed classic tracks are about eight feet apart.
You can get out for a bit of kick and glide along these trails, which before the snow predicted for this week, had a base of about four to 10 inches.
Ellen is the executive director of Jackson Ski Touring and has been working behind the desk for much of the past few weeks, so for both of us, it was a wonderful break to get out for a two-hour ski.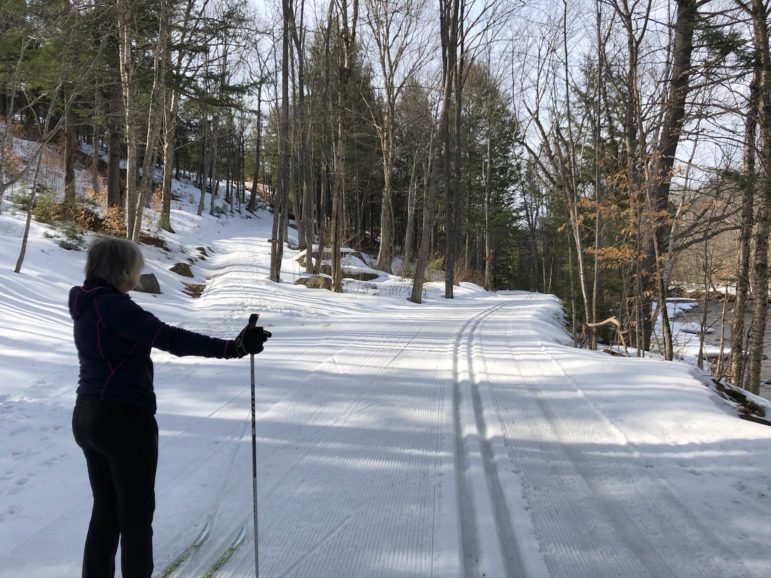 We met in the parking lot at the Red Fox restaurant along Route 16 where Jackson has been able to expand its trail system thanks to the owners of the restaurant and reconnect an old trail to the Ellis River trail system. The groomer had been out the night before and the trails were gorgeous, with a range of conditions.
We had wonderful corn snow in the wooded areas, a bit of spring slush in the open fields, some mashed potatoes and one "portage" where we had to take off our skis and walk across the mud and grass, as you might have to with a canoe around a set of rapids or a dam.
What amazes me about Jackson is its variety of trails and the willingness of property owners to allow access.
It is that working together that helps to make great things in this state, country, and world and Jackson is certainly a wonderful example of the possibilities when we all pull together.

While they are not charging for skiing, you can make a donation online or look forward to next year and buy a season pass at https://www.jacksonxc.org/.
InDepthNH.org's Paula Tracy learned to ski at Pats Peak in Henniker in 1972 and has been looking for ways to fit it into her work life ever since. Her first ski column First Tracks was for the Salem (Mass.) Evening News. She then wrote one for the New Hampshire Union Leader and later for WMUR. Paula now writes A Winter Run for InDepthNH.org when she is not busy on her State House reporting.
InDepthNH.org is New Hampshire's online nonprofit news outlet. More information by emailing nancywestnews@gmail.com