By PAULA TRACY, InDepthNH.org
CONCORD – Democratic leaders will meet with Gov. Chris Sununu Friday to try to reach agreement on a state budget for fiscal years 2020 and 2021, Sen. Lou D'Allesandro, D-Manchester, confirmed Thursday.
The state has been funded by continuing resolution, but if no agreement is reached by Oct. 1 and the continuing resolution isn't renewed, that could mean a government shutdown, D'Allesandro said.
"And nobody wants that," D'Allesandro said.
Sununu vetoed the compromise $13.3 billion budget on June 28 citing the familiar red flags of tax increases and a structural deficit.
On Wednesday, the three Democratic Executive Councilors blocked Sununu's nominee to be chief justice of the New Hampshire Supreme Court, Attorney General Gordon MacDonald, by a 3 to 2 vote. That prompted Sununu to withdraw his nomination of PUC Chairman Martin Honigberg to become a Superior Court judge even though it was a likely 5 to 0 win for Honigberg.
D'Allesandro said the two aren't connected although the negative rhetoric has been heating up between Democrats and Republicans.
After the Executive Council meeting, Sununu brushed away questions about whether there is essentially political warfare in Concord following the budget veto and other issues now simmering between the two political parties.
"Everyone is coming together to the table to get things done," Sununu said.
He mentioned the meeting with key legislators including D'Allesandro, who is "leading the charge" to get to a budget deal.
D'Allesandro, a longtime Manchester Democrat who is known to have a good relationship with the governor, attended the council meeting in Littleton Wednesday and was acknowledged by the governor during the meeting.
Sununu said,"If there was this division that you are talking about, I don't think the Democrats would be coming in later this week to discuss this."
Of the differences on the budget, Sununu said: "A lot of it has to do with the mathematics. We'll get it done."
The Democratic Party was critical of Sununu and posted a video of him auctioning off a veto at a July 4 GOP fundraiser. On Thursday, the NHDP sent out an email parody that pretends to be Sununu auctioning off more vetoes on EBay. see below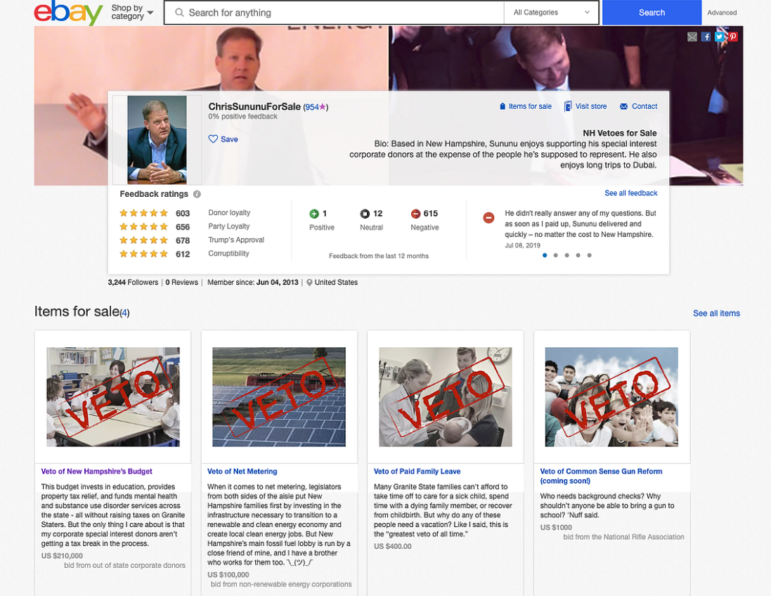 Holly Shulman, spokesman for the Democratic Party, said the fake mock up was a collaborative effort.
"And while this site is a parody of course, Sununu's special interest agenda is a serious concern for all Granite Staters who are being sold out by the governor each and every day," Shulman said.
About the compromise budget, House Minority Leader Dick Hinch said, "Democrats can't help themselves. In order to spend as much money as they can, they notoriously get creative with their revenue projections to make it look like they've produced a balanced budget, when, in fact, they are spending money we can't reasonably expect to come in."
The meeting at 2 p.m. Friday with the governor will include members of the conference committees, Senate President Donna Soucy, House Speaker Steve Shurtleff and chairman of the House Finance Committee. D'Allesandro chairs the Senate Finance Committee.
"We were never that far apart," D'Allesandro said.
The budget was vetoed although the difference between what Sununu proposed in February, $13.1 billion in total spending, and what the legislature's committee of conference produced, $13.3 billion, is a $200 million or 1.5 percent difference.
Sununu had insisted that the family leave act was a tax and also focused on business tax rates, which Democrats say are "stabilized" at 2018 levels, while Sununu says that is a tax increase because the rates went down in January under the last budget plan.
"I don't know what the governor wants," D'Allesandro said.
Without a budget, communities and real people suffer, he said.
The budget is the immediate concern to people like David Atkinson, a math teacher for North Stratford Public School. He held a sign to protest the lack of a budget deal outside the Executive Council meeting Wednesday.
He said he is a long-time Republican, supported Sununu, but cannot support him now.
"It's unfortunate that the bipartisan effort that our legislature worked hard to do, supporting our students and our kids, especially in rural poor districts like I am from, he just kind of vetoed it and threw it out," Atkinson said.
Berlin Mayor Paul Grenier said Sununu has lost his support because of the budget veto as well.
"I don't think the governor could look me in the eye and tell me how good this veto is for Berlin," Grenier said.
The city will have to terminate badly needed employees and as for the schools, he is not sure how many jobs they will lose come August if there is no resolution to the budget impasse, he said.
"We're likely talking 10 to 15 positions," he said. "I am angry and disappointed. He turned his back on Berlin." Even though he is a Democrat, Grenier has supported Sununu in the past.
Nancy West contributed to this report.