Editor's Note: Welcome back Emma Simpson and Tori Tucker, creators of The Gay Agenda, after your summer break. We missed you. InDepthNH.org and Manchester Ink Link co-publish The Gay Agenda.
By Emma Simpson,
Tori Tucker
The Gay Agenda
We're back! Back in Keene, back with InDepthNH, and ready to roll with The Gay Agenda.
It feels so good to be back in Keene, not just just because we're settled in a new apartment (with our new cat), but because while we enjoy being back home on the seacoast, we missed seeing our gay friends, a majority of whom live in Keene.
So many times over the summer break, we found ourselves saying "we miss our gays." (a term which is obviously used in jest and with affection) but in all seriousness, it is so nice to be surrounded by a loving queer community of friends.
Just last week, Keene State held its annual activities fair: an outdoor fair where student organizations on campus set up a table and invite other students to join and learn about their groups.
While I tabled for my acappella group Chock Full O' Notes, Tori (though now alumni) came to visit me and walked around for a while saying hello to old friends. She recalled to me how she had seen the KSC Pride organization table as a freshman four years ago, before she had come out to her friends and family.
Now, though neither of us is an official member of the group, we are acquainted with a large number of those who run it, and she happily went over to say hello and greet our LGBTQ friends at the table, happy to see them all after a summer away from Keene.
Campus organizations like Pride and Outspoken, another LGBTQ based group on campus, are so important. Even just the knowledge that a Pride group existed on campus made me feel safer before I was ready to come out, because I knew that there was support for me should I ever need it, and Tori seems to feel similarly.
Spending time away from our LGBTQ friends this summer while we went back home to the seacoast to work made us realize even more how much we value these friendships with others in our community. There is such power in spending time with people who understand your experiences and how you move through the world.
Of course we love all of our friends and family, but being understood without tireless explanation brings such a feeling of relief. Simple understanding can go such a long way.
We are really enjoying being cat moms, and even though we are both very busy we are very much looking forward to continuing our writing for InDepthNH this year. Stay tuned for our next column, which will take a look at recent anti-LGBTQ administration and potential legislation.
---
The Gay Agenda is co-published by InDepthNH.org and Manchester Ink Link.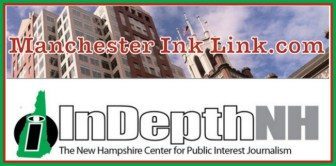 Tori Tucker and Emma Simpson write the column The Gay Agenda together for InDepthNH.org
Tori Tucker was born and raised in Portsmouth, New Hampshire. She graduated recently from Keene State College with a major in English-Writing, with minors in music and German. 
Emma Simpson is a Women's and Gender Studies major at Keene State College. She is the vice president of her campus a cappella group and involved with Planned Parenthood as a volunteer.
Don't forget to sign up for InDepthNH.org's  free weekly newsletter every Friday here.