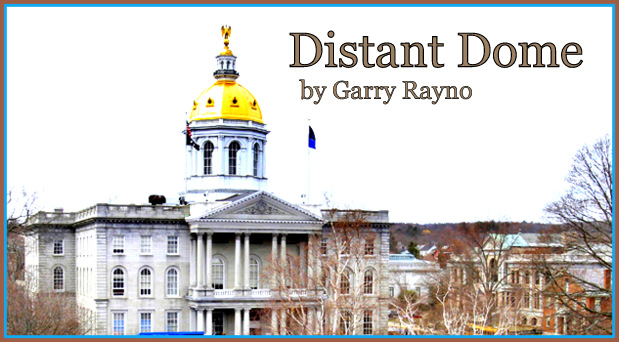 By GARRY RAYNO, Distant Dome
New Hampshire faces a growing problem with an aging workforce, the dearth of affordable housing and child care, and the high cost of higher education.
While this problem permeates the state, one area feeling the greatest pinch and with overarching implications for the future is the teacher and education support staff shortages that plague public school systems.
A legislative committee has been studying the teacher shortage dilemma for nearly two years and is set to approve its final report on Monday but has run into some headwinds from the Senate leadership about its recommendations for dealing with the "divisive concepts" language inserted into the state's two-year budget plan in 2021 because it faced likely defeat in the House on its own.
The committee's final report outlines the problems school districts face and recommends a number of options including changing some state requirements like the number of background checks needed and better reciprocity with surrounding states for teaching credentials.
The report notes the major reasons more graduating high school students are not drawn to the teaching profession and the reasons teachers are leaving the profession for a more financially rewarding and less stressful career.
Like a report released last week by the New Hampshire Fiscal Policy Institute on the state's meager investment in higher education and what that means for the state's future workforce, New Hampshire teachers are paid significantly less than the national average, and in New England paid less than all other states except Maine, which is targeting higher first-year teacher pay to begin addressing its problem.
How bad is the situation? Research by Reaching Higher NH says teacher pay in New Hampshire ranks 20th nationally, averaging $61,849, which is about $3,500 less than the national average.
In New England, Massachusetts' average teacher salary is $86,000, Connecticut $79,000, Rhode Island $75,000 and Vermont $62,000. Maine's average teacher salary is $57,000.
The average first-year teacher salary in New Hampshire is $39,737, $2,000 less than the national average and lower than all states but Maine which recently passed a bill mandating a minimum teacher salary of $40,000.
The committee's report notes a significant problem facing a new educator, with an average starting salary of $40,478, which is much less than $56,727 per year, the average cost of living in the state.
The Reaching Higher research also notes the disparity between what school districts pay is enormous, making it impossible for property poor communities with high poverty rates to retain good teachers, who are often lured away with much higher salaries and benefits by property wealthy school districts.
And the organization notes there is a growing "teacher pay penalty" of about 19 percent comparing an educator's pay to what his or her counterparts outside the field earn.
The committee's report notes these issues and the declining number of high school students who seek a career in education, particularly in the critical areas of math, science and special education.
"New Hampshire's educator pipeline and enrollment in educator preparation programs is significantly decreasing over time. The number of individuals graduating with a degree in teaching from the University System of NH has gone down," the report notes. "Issues around the overall cost of a program, unpaid student internship requirements, and starting wages of graduates versus other professions are widely viewed as primary drivers of this decline."
Information showing which universities and colleges produce teachers, indicates the three university system schools, the University of New Hampshire, Plymouth State University and Keene State College produce the vast majority of teachers. What the report doesn't say is that the three colleges have some of the highest tuition costs of any state system in the country.
Low salaries and high post secondary education costs are not the only reasons for the teacher shortage in the state.
The report's first finding is "The teacher shortage is real and is motivated by several factors. Top concerns are stress/burnout, student behavior and discipline, school culture, and low salaries. In 2022, the number of teachers was lower than in 2010."
The committee members note the turnover rate for school administrators is high, which also contributes to constant changes in "school culture."
But the good news is that "educators renewing their credentials remains (over the last three years) at the highest level seen in 13 years."
While the traditional education pathway to teaching have slowed, alternative avenues have produced a greater number of potential teachers, particularly the Career and Technical Education (CTE) Centers' Careers in Education Programs, which begin with students in high schools, as well as the development of "grow your own" programs for teachers not cannabis.
The report notes the traditional teaching certificate route is very costly due to student teaching requirements and often means moving, and having to quit their jobs, to go unpaid and to incur debt for the opportunity to teach, the report notes.
The committee is recommending the legislature continue targeted incentives to help school districts with teacher pay.
"However, the most recent budget increases state aid to local school districts by more than $169 million over two years, targeted education aid to towns with greatest need, and increased per-pupil state aid to education by more than 31 percent over the next decade," the committee writes. "Districts should be encouraged to use this increase in state education assistance to attract and retain teachers in the classroom, rather than on administrative costs."
The committee also recommends establishing a rural and underserved area educator incentive program for higher education and additional money to help districts with recruitment targeting historic shortages for math, science and special education, improving low performing areas, and a salary bonus or loan forgiveness for those attending in-state institutions and practice in shortage areas, and in rural, underserved or high poverty districts.
And the committee recommends increased funding for poor and rural districts so they can better compete with property wealthier districts for the best teachers and grow your own programs.
The members also suggest improving state retirement system benefits for teachers to help with retention and the Department of Education should use state and federal resources to support mental health services for educators.
So what is the problem with this report?
This section:
"The committee heard testimony that fear in the teaching of controversial topics and critical thinking skills due to the passage of HB2 in 2021, has placed an unhealthy pall over teaching, and consequently influencing attrition and retention of teachers. In reviewing this legislation, the law does not restrict or prohibit discussing, as part of a larger course of academic instruction, the historical existence of ideas and subjects. In response to testimony and to better assist instructional staff in addressing controversial topics and critical thinking skills, it is recommended that professional development and post-secondary teacher preparation institutions offer instructional support on how to address controversial topics while encouraging critical thinking skills with pupils."
The additional support and instruction in teacher preparation is one of 11 recommendations the committee makes in its report, which had unanimous approval when the five-member committee met last week.
The simple recommendation should not be something that undoes all the work the committee has done over the last two years to address a significant problem plaguing New Hampshire public education.
To begin with, to say critical race theory is being taught in public schools is a manufactured issue to drive voters to the poll, and the situation was not helped by Education Commissioner Frank Edelblut putting up an online form to report teachers and Moms for Liberty offered a bounty for the first teacher found guilty of violating the new law.
Like way too many things these days, the provision is a marker in the culture wars and there is little compromise.
We'll see if New Hampshire is not like Washington as many lawmakers like to claim or if it too has fallen into the throes of tyranny by the minority.
Garry Rayno may be reached at garry.rayno@yahoo.com.
Distant Dome by veteran journalist Garry Rayno explores a broader perspective on the State House and state happenings for InDepthNH.org. Over his three-decade career, Rayno covered the NH State House for the New Hampshire Union Leader and Foster's Daily Democrat. During his career, his coverage spanned the news spectrum, from local planning, school and select boards, to national issues such as electric industry deregulation and Presidential primaries. Rayno lives with his wife Carolyn in New London.