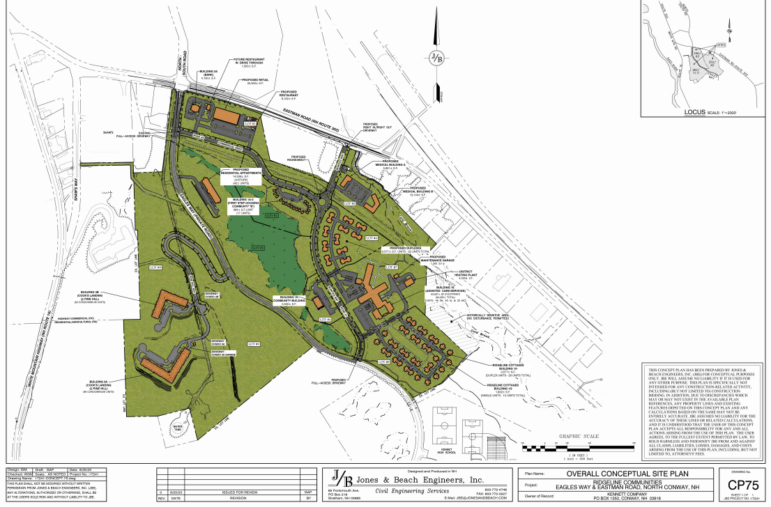 The latest site plan for Ridgeline Community
North Conway, NH – Continuum at North Conway LLC announced the successful acquisition of 126 acres of land from the Kennett Company, marking a significant milestone in the development of Ridgeline Community.
Ridgeline Community is North Conway's new premiere mixed-use community. Plans are to build 55+ cottages, First Step housing, ski condos, commercial leasing, medical office buildings, plus memory care and assisted living facilities. The project is now moving forward, pending final approvals from the Conway Town Planning Board.
"We are excited to have reached this stage of the project. Acquiring the land and securing the DOT permit were crucial steps in our journey to create Ridgeline Community," said Joe Hogan, Member/Manager of Continuum at North Conway LLC. "The deal has closed and we are moving ahead. Now that we've bought the land, we are working towards final approval for our subdivision plan. The town already gave us conditional approval and now we have a few more things to do to satisfy the terms of the permit. We are diligently working to satisfy those remaining terms."
The anticipated groundbreaking could begin as soon as December 1, 2023, according to AJ Coleman's & Sons, project contractor. Phase 1 of the development includes the construction of 17 units of First Step housing on Lot 2. First Step housing is the first priority of the project, to meet the timeframe required of the $3 million affordable housing grant received as part of the state's InvestNH program. Fifteen of these one-bedroom, 600-square-foot homes are to be offered for rent to people who earn 80 percent or less of the area median income.
Valley real-estate veteran Bayard Kennett has joined Ridgeline's real estate agency of record, Coldwell Banker Lifestyles. Kennett will provide valuable insights and consultation on the commercial sales aspect of the project.
Kennett, on behalf of the Kennett Company, expressed his enthusiasm for the project, saying, "We are very pleased with the outcome, and we know that this is something my predecessors wanted to see happen. It's a win-win. It's really something that will benefit the Valley and people who want to retire here, those who need medical facilities, residential housing, and senior housing. It's a very beneficial project for the Valley. Joe's experience with elder care and medical facilities is a great benefit to the community."
Continuum is also making strides in preparing Lot 1 for commercial use. The company has entered into a purchase and sales agreement with Norway Savings Bank who will open a new branch on the 8-acre commercial lot.
The development also has plans for an environmentally friendly biomass plant, located behind Lot 7. That project has already received $1.4 million in grants, ensuring the development's sustainability and contribution to the local community. Hogan stated, "We are open to discussions about our biomass plant providing heat to other organizations to the extent possible."
Lot 7 will also be home to future memory care and assisted living facilities that will be operated through the Continuum Foundation, a 501(c)3 non-profit organization that counts local healthcare professionals as trustees, including Sandy Ruka, RN, Executive Director of Visiting Nurse Home Care and Hospice, and Sue Ruka, RN, PhD, of Memorial Hospital.
Hogan continued, "We are committed to seeing the Ridgeline Community through to completion. We are dedicated to creating a thriving and vibrant community that will benefit the region for years to come."
For further information and updates on the Ridgeline Community development, please visit their website at www.ridgelinecommunity.com.