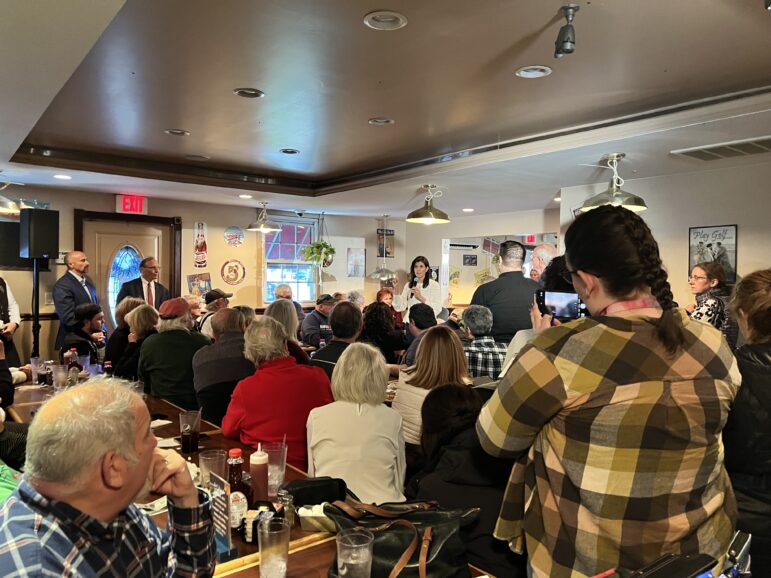 Nikki Haley speaks to a packed diner in Londonderry. Ani Freedman photo
By ANI FREEDMAN, InDepthNH.org
Nikki Haley's supporters packed the Poor Boy's Diner in Londonderry Thursday afternoon to hear the Republican presidential candidate speak, with Gov. Chris Sununu introducing her to the crowd.
Haley, the former governor of South Carolina and former ambassador to the U.N., covered a slew of issues, from foreign policy and national security to immigration at the northern and southern borders. The crowd was a mix of undecided voters and committed supporters, as Haley tried to appeal to them all with a clear message that the Biden administration and Congress are not getting enough done.
"Our world is on fire," Haley said. "What has Congress done for you lately?" Haley asked the crowd. "Nothing."
At 12:30 p.m., Haley entered alongside Gov. Sununu as "Eye of the Tiger" played over the speakers. Sununu introduced Haley, stating that there is one issue for Republicans in 2024: winning.

"Trump cannot get there," Sununu said. "Nikki is leading the charge."
"We want a candidate that's substantive, a candidate that's conservative," Sununu said. "Someone that fulfills on the commitment of that conservative agenda."
Haley began with a jab at the federal government's substantial debt. "What's happening in D.C.? They're spending like drunken sailors," Haley said.
Much of Haley's speech focused on criticizing the federal government. She remarked on Sununu's work to stop illegal immigration at the northern border, with an emphasis on the growing national problem of fentanyl overdoses. She then moved on to veterans, as the wife of a veteran herself.
"It is shameful how we deal with our veterans," Haley said.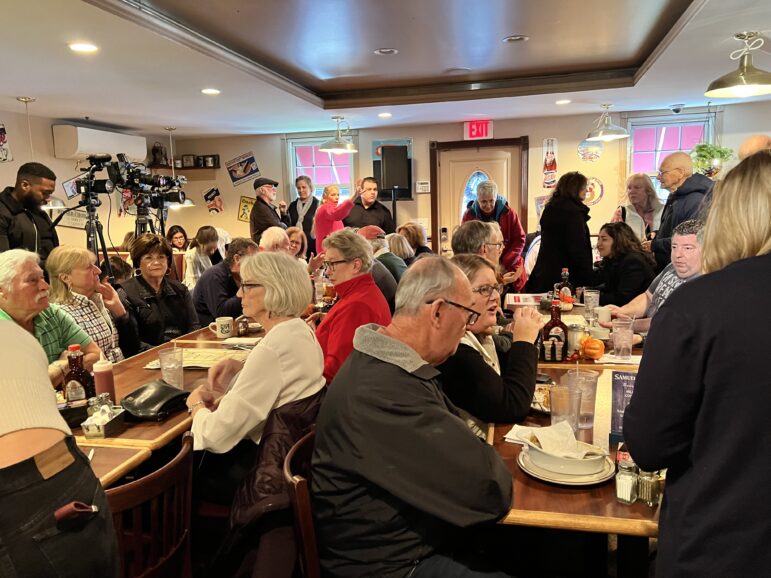 Above, prospective voters gather at the Poor Boy's Diner in Londonderry to hear Nikki Haley speak. Ani Freedman photo
As Haley criticized Congress for inadequately supporting veterans once they return from deployment, she brought up her firm support for term limits and competency tests for those over age 75.
"The Senate is the most privileged nursing home in the country," Haley said.
Haley continued her critiques of Congress, pivoting to spending.
"Why is Congress the only one that refuses to balance the budget?" Haley asked. She stated that she would eliminate the federal gas and diesel tax and put money back into the middle class, while allocating money to the military to address the issues at the border and the wars in Europe and the Middle East.
"Stop the gender pronoun classes that are happening in the military," Haley said, as the crowd cheered in response.
Mirroring the recent culture wars that have unfolded in local school districts like Goffstown, Haley called for "complete transparency in the classroom."
"No parent should ever wonder what's being said or taught to their children in the classroom," Haley said.
Haley implored for the end of "national self-loathing" in schools. "Our kids need to know to love America," Haley said, claiming that kids are being told America is a racist, rotten country.
"I was elected the first female minority governor in history," Haley said. "America is not racist, we're blessed."
As Haley wrapped up her speech, she turned to Gov. Sununu: "Are you ready to endorse me yet?" Haley asked.
"Getting closer every day," Sununu responded.
Waitresses navigated the chaotic space with hot plates of food weaving between Haley's supporters. One of those supporters was Elijah Antunes, a college student out of Boston looking to start a career in politics.
He believes Haley is what the country needs to unite it during divisive times, hoping that she will be able to persuade the more moderate swing voters.
"She's relatable, very patriotic, and uniting," Antunes said. He admired how Haley speaks about men, women, and different ethnic groups, which he liked to hear as a Colombian.
Cathy Ristaino, a Londonderry native, said foreign policy and the immigration at the border were the most important issues to her right now, and felt Haley would be strong in addressing those.
"She's no nonsense," Ristaino said. "This country is ridiculous," she said, referring to the current state of the Mexican border. She's hoping Haley will "bring some normalcy back to this country."
For the third time in her speech, Haley left the crowd with the message, "Our world is on fire."
The New Hampshire Democratic Party released the following statement on Haley's visit on Thursday:
"Every time Nikki Haley visits New Hampshire, she reminds Granite Staters just how eager she is to push the MAGA agenda if elected: tax handouts for the ultra-rich, a nationwide abortion ban, and a continuation of the disastrous Trump administration foreign policy agenda that she championed as UN ambassador. If Haley thinks Granite Staters will vote for her extremism in 2024, she's sorely mistaken."