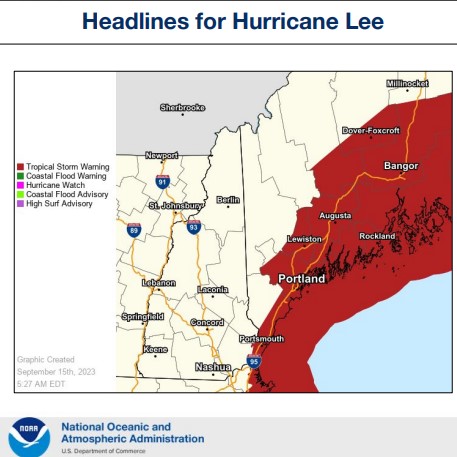 Above, National Weather Service tracking of Hurricane Lee
A tropical storm warning is in effect for coastal New Hampshire due to Hurricane Lee, according to Andy Pohl, a meteorologist with the National Weather Service in Gray, Maine. Pohl provided the following forecast for New Hampshire:
High winds are going to be the primary threat in New Hampshire with the strongest near the Seacoast with 35 to 40 miles an hour sustained winds by midday Saturday. The rest of the state will likely see 25 to 30 mph sustained winds with gusts 45 to 50 mph. Winds will gradually increase Saturday morning through the day and decrease by Saturday night.
Very little rain is expected in New Hampshire and flooding isn't likely anywhere in the state. The eastern half of the state will get about one-tenth of an inch of rain and slightly more on the Seacoast.
There will be very large surf on the coast with some splash-over, but no flooding expected.
Outages
As Hurricane Lee makes its way north with an uncertain track, Eversource said it continues to closely monitor several forecasts and prepare accordingly. The energy company is ready to respond to any power outages caused by the storm's high winds that are expected to impact New Hampshire primarily on Saturday.
Eversource is positioning line and tree crews across the state as well as bringing in additional lineworkers to assist with the restoration and get power back on its customers as quickly and safely.
"We've been watching Hurricane Lee for more than a week and there is still some uncertainty with the forecast and its track. The high winds Lee could bring combined with the saturated ground from all the recent rain that has loosened tree roots have the potential to bring down trees and limbs onto electric lines and equipment causing outages," said Eversource New Hampshire President of Electric Operations Doug Foley. "We've gone through our storm checklists, and we're fully stocked with utility poles, wire and other necessary materials. Crews will be staged around the state with a heavy emphasis in the areas expecting the highest winds, particularly the Seacoast and other eastern areas of the state – so they're ready to restore power as soon as it's safe to do so."
Customers are encouraged to also prepare for the storm by assembling or restocking a storm kit, which should include essentials like flashlights, batteries, water, non-perishable foods, pet food and any needed medications. In addition, make sure cell phones and devices are fully charged, create an emergency plan with family members and prepare to check on elderly neighbors and friends.