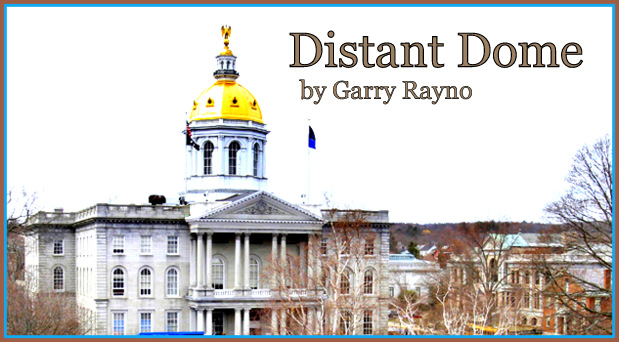 By GARRY RAYNO, InDepthNH.org
For many years, almost for three decades, Sen. Lou D'Allesandro of Manchester has unsuccessfully proposed bills legalizing casino gambling in New Hampshire.
Casino gambling was one of the first proposals studied to increase funding for public education after the Claremont education lawsuit was decided by the state Supreme Court.
Then Gov. Jeanne Shaheen touted expanded gambling as the best source of new revenue to address the court's decision that the state has a constitutional obligation to provide an adequate education to every child in the state and to pay for it.
The second Claremont decision prevented the state from using widely varying property taxes from paying for it and the wheels nearly came off the state legislature.
Initially the solutions came down to either expanding gambling or instituting an income tax, although neither was acceptable to one body or the other or the governor, which is why the current system of multiple sources of revenue is hung together with piano wire and chewing gum and under constant litigation. And you could say why the legislature remains out of compliance with the court's two main orders in the Claremont lawsuit.
D'Allesandro and others did not stop proposing casino gambling over the years even after it was rejected by the House during the debates over increased school funding to address the Claremont decisions.
As different legislatures studied gambling and proposed meaningful plans — particularly one from Rep. Dick Ames of Jaffrey — the House has never passed a bill legalizing casino gambling as one of the state's revenue producers.
Over the years surrounding states have approved legalized gambling as Massachusetts, Connecticut, Rhode Island and Maine jumped on the easy money bandwagon. Vermont does have sports betting, like New Hampshire, but no casinos.
New Hampshire may never have legalized casino gambling, but it might as well have as gambling parlors have proliferated in every nook and cranny of the state.
But these gambling establishments, which grow in number by the day, now in closed department or grocery stores in malls in Nashua, and Newington are no different than the casinos in Nevada or New Jersey or Massachusetts, or anywhere else.
The legalized gambling proposals voted down by the legislature, usually the House, had two to four locations around the state.
Now there are more than a dozen would-be casinos in all four corners of the state from Seabrook to Berlin to Keene to Nashua with some areas having more than one facility.
While they may not be the size of the ones in Nevada, they provide almost all of the same opportunities to lose your money from craps tables to one-armed bandits and poker tables galore.
This is not gambling that provides a significant revenue stream to the state, but it does provide revenue for state charities, including in full disclosure, for the NH Center for Public Interest Journalism or InDepthNH.org.

By law, charities are to earn 35 percent of the gross from the gaming, and the state takes 10 percent for education.
But these gambling establishments, which grow in number by the day, now proposed in closed department or grocery stores in malls in Nashua, and Newington and one proposed for Conway are no different than the casinos in Nevada or New Jersey or Massachusetts, or anywhere else.
Last year, charities earned about $15 million from the gaming, on gross revenue of $54 million, with the state's take a little more than $5 million.
While that leaves $30 million of the gross and some of that goes to pay off the winners.
The gaming halls must be fairly lucrative for the owners as more and more are proposed and existing ones are being expanded like in Lebanon and Nashua.
Currently there are new proposals for Conway, Nashua, Newington and one new Concord facility recently won city approval.
What could go wrong? These gaming parlors are helping the state's charities, and bets are regulated by the state.
This year, lawmakers passed and Gov. Chris Sununu signed a bill increasing the wager limit from $10 to $50 and the amount a player can spend on one game from $150 to $2,500.
That is not just robbing the piggy bank for a night of fun.
The state has been criticized for its lax oversight of the industry, but others say less regulation is needed if the gaming parlors here are to compete with the casinos in Massachusetts, Maine, Connecticut and Rhode Island.
The Legislature this year established a commission to look at charitable gaming in the state and what affects recent changes in law have provided.
Rep. Laurie Sanborn, R-Bedford, was named chair, although her husband owns the Concord Casino and was approved to open a new larger facility on Loudon Road.
But she resigned last month and the larger facility and Concord Casino are at risk, as the Lottery Commission and state Attorney General are alleging former Sen. Andy Sanborn fraudulently used nearly $844,000 in federal COVID relief money to buy three racing sports cars, pay rent going out years for the facility he owns on Main Street and other allegations.
The Lottery Commission and Attorney General declared the former Senator unfit to hold a license for charitable casinos or to employ workers at the facilities.
Reading the complaints filed against the Concord Casino you learn that prizes were lowered during games, there were discrepancies in donations to charities, there was a sliding scale for rent charge to charities, surveillance cameras were inoperable at times or had wrong time stamps and table game dealers making errors.
You have to wonder what more state regulators needed to see to act, because they did not move against Sanborn until the $844,000 in federal COVID money was added to the mix to say he should not be a license holder. He can appeal the decision.
The gaming parlors' benefiting charities pack hearing rooms to support the current arrangement and are among the biggest opponents to legalized expanded gambling.
Everyone involved needs to be honest and acknowledge charitable gaming is a major industry in this state and growing by the day. An industry this size doling out $15 million to charities needs a little more oversight than the beautician's board provides for hairdressers.
Gambling is still gambling and with the higher wager limits, a couple of nights at gaming parlors can suck up a paycheck and with it the mortgage payment or funds to pay the heating bill.
Some people will become addicted to gambling whether it is from a legalized casino the size of Wynn's in Boston or at the relatively small Concord Casino.
And someone addicted to gambling will likely need state taxpayers' help to kick the habit if he or she can.
Concerns have also been raised that the current owners are a private club keeping others out unless they want to buy their way in.
And the organizations buying in are larger and larger.
The industry is here, and as lawmakers realized this session, a broader look at what is happening or not happening or recent changes in laws is needed or the state can lose control.
The commission has held only an organizational meeting and with Sanborn out as chair, no more appear to be scheduled. Time is of the essence, if legislation is to be proposed for next session and debated that gives the state better oversight of the charitable gaming operations which touch a lot of people and organizations.
Garry Rayno may be reached at garry.rayno@yahoo.com.
Distant Dome by veteran journalist Garry Rayno explores a broader perspective on the State House and state happenings for InDepthNH.org. Over his three-decade career, Rayno covered the NH State House for the New Hampshire Union Leader and Foster's Daily Democrat. During his career, his coverage spanned the news spectrum, from local planning, school and select boards, to national issues such as electric industry deregulation and Presidential primaries. Rayno lives with his wife Carolyn in New London.