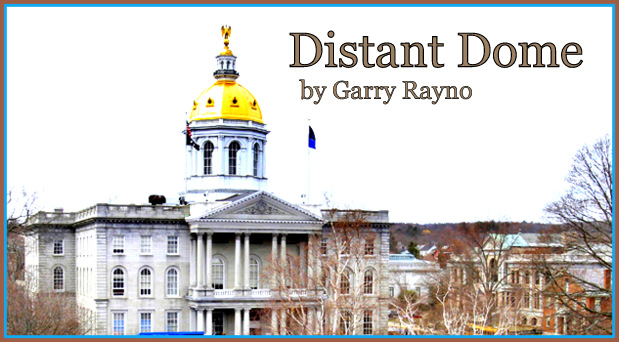 By GARRY RAYNO, Distant Dome
Did you know it was white people who ended slavery? Or that slavery was commonplace in the world as far back as the third century?
Would you want your child hearing Candace Owens normalizing slavery when he or she goes to the website of the company the state is likely to approve for an on-line course on financial literacy?
And the key question is why would the state want to be associated with a known far-right, propaganda organization seeking to indoctrinate its children?
Education Commissioner Frank Edelblut tried to "whitewash" the organization's financial literacy course, which all high school students are now required to master before they graduate, at last week's State Board of Education meeting. The commissioner pushed board members to approve the course offered by PragerU Kids, a controversial non-profit with a track record of producing misleading information about climate change, slavery and race, history of fascism, immigration and LGBTQ individuals.
The board to its credit, although it is likely to approve the Prager application at its next meeting in October, pushed back and wanted more information about the course such as worksheets, assessment methods and a kind of promise to establish a separate website for the New Hampshire course so students would not have to search through videos like "A Short History of Slavery" by Candace Owens, or "Get the Truth about Climate" or "Light in the Darkness" by Tim Ballard of Sound of Freedom fame.
PragerU was established in 2009 by conservative talk radio host Dennis Prager and radio producer and screenwriter Allen Estrin. It uses conservative pundits and activists along with Republican National Committee members to tout its conservative philosophy in its videos it offers free to schools.
On its website, PragerU Kids says it teaches "American Values" while "Woke agendas are infiltrating classrooms, culture and social media."
Some of its videos were restricted by YouTube and Google due to their content including in 2020 when YouTube took down two anti-trans videos featuring Owens for violating their hate speech policy.
The company is not an academic institution, does not offer degrees nor is it accredited, but claims to have experts who oversee their education videos, but who is to know.
Edelblut pushed the board to adopt the application saying it is more robust than another financial literacy program the board approved for a quarter credit, although educator after educator told the board that morning the program lacked sufficient competencies to ensure students mastered the information and was but a vehicle needing more hands on involvement from teachers and accountability to replace what districts are developing themselves.
Kearsarge Regional School District Assistant Superintendent Michael Bessette said using PragerU instead of a locally developed curriculum, is like going to McDonalds and claiming you are going to a four-star restaurant.
This is a quick hit replacing quality, Bessette said.
"It may be convenient, but you are replacing something of high quality with something of low quality," he said. "You are doing a disservice to my children and all school children."
Last year a law passed adding financial literacy to state high school graduation requirements in a bill — touted by Edelblut — that would have significantly reduced the state's minimum standards.
The bill was changed to retain most of the minimum standards and added the financial literacy requirement, something long advocated by those in the state's financial field.
The upcoming school year is the first requiring the new standard although schools have long included curriculum on financial literacy in civics and economic content areas, but not all.
Options are available beyond the PragerU video course of 15, five-minute videos taken on line with one assessment at the end of the course. Department officials reviewing the application were concerned the competency requirement was inadequate and would allow students to Google the answers without having learned the subject matter.
Several board members expressed similar misgivings, but numerous speakers at the board's meeting said the real issue is Prager's reputation, its political philosophy and goals. Why did the state want to be associated with the organization many asked.
This appears to be an attempt to give Prager a foot in New Hampshire's public education door through a non- or less-controversial course on financial literacy and then open the door a little wider down the road to more of its free content. This was the process used when Edelblut gave Prenda a multi-million dollar contract to "catch up" students who fell behind during the pandemic and then could be expanded.
However, too many school districts failed to use the program that was investigated by Arizona because it did not use certified educators and its operating method did not allow for regulations to ensure it was meeting its goal.
Edelblut eventually significantly reduced the contract.
The Prager course is one more front in the war on public education starting with the education business tax credit and now full blown with the Education Freedom Accounts pushed by the local arm of the Koch Foundation, Americans for Prosperity.
A recent Tweet from the organizations urged parents to attend an information event explaining all the options under the Education Freedom Account program which has grown in two years to $30 million a year.
If you listened to the commissioner or the AFP you would think public schools in New Hampshire are not meeting the needs of students, when the state system had been in the top two or three spots in the country not that long ago.
Since the current administration took over, it has gone down several rungs of the ladder, but still is among the top 10 in the country in numerous rankings.
Aligning the state with Prager is not going to increase its national standing except with the far-right contingent.
Edelblut and some legislative leaders appear to be hellbent on turning New Hampshire's public education system into the Florida or Texas of the North.
The two states have agreed to use the PragerU Kids and Brandon Ewing of Prager told the board last week it is also negotiating with Montana.
Putting New Hampshire on their client list would give the non-profit organization a Northeast state to tout its appeal to other states.
But how many people in New Hampshire want to be included in the Prager client list?
My guess is not a majority and probably not more than 25 to 30 percent would want their children exposed to the misinformation the organization espouses.
The political right likes to talk about the indoctrination by the left in public schools but the evidence is always someone's niece or a friend's friend who experienced it.
Prager would open the schools to real indoctrination, but the same people who complain today and want their children in homeschools or religious private schools, think this would be a good direction.
That is hypocrisy and nothing else. And it was hypocritical of Edelblut to lament the politicization of the application, when it was a political act to bring Prager's application and what the organization represents to the board.
The board is stacked with school-choice advocates on the right side of the political spectrum so it is doubtful Prager will be dismissed at the board's next meeting in October.
Voters should remember this when the 2024 general election happens and send politicians who want to turn New Hampshire into Florida North to warmer climes.
Garry Rayno may be reached at garry.rayno@yahoo.com.
Distant Dome by veteran journalist Garry Rayno explores a broader perspective on the State House and state happenings for InDepthNH.org. Over his three-decade career, Rayno covered the NH State House for the New Hampshire Union Leader and Foster's Daily Democrat. During his career, his coverage spanned the news spectrum, from local planning, school and select boards, to national issues such as electric industry deregulation and Presidential primaries. Rayno lives with his wife Carolyn in New London.