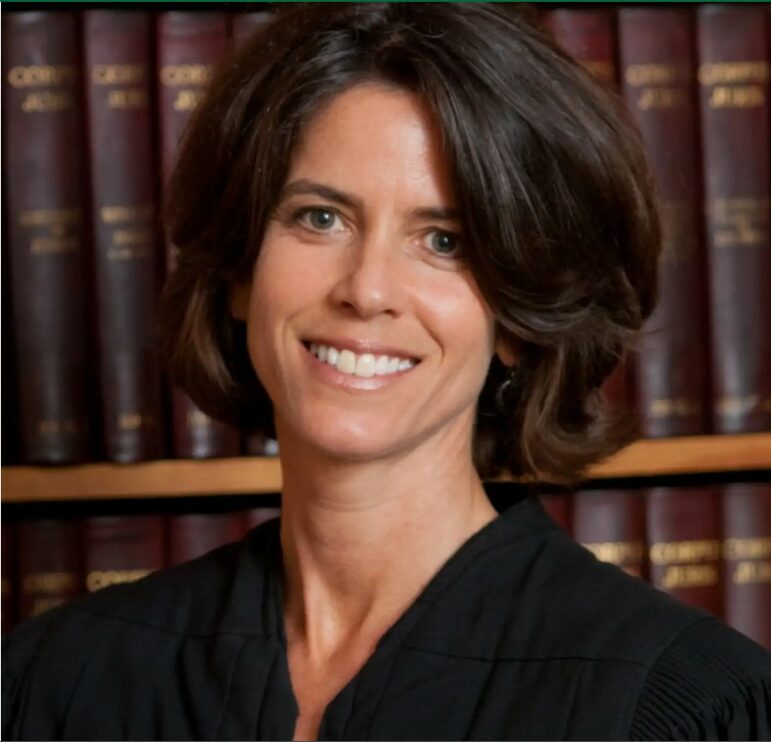 Superior Court Chief Justice Tina Nadeau announced she is retiring.
By PAULA TRACY, InDepthNH.org

DOVER – Superior Court Chief Justice Tina L. Nadeau announced in a letter to Gov. Chris Sununu that she is retiring effective Sept. 29.

The Executive Council accepted her resignation at its meeting Wednesday in Dover's Rotary Arts Pavilion with three councilors praising her long-time service to the state.

Also, after initially tabling it, the council reconsidered and voted 3-2 to hire Strafford County Attorney Thomas P. Velardi, as an Assistant Attorney General, at a salary level of $125,000.

Velardi, who has served as a Democrat and elected official for 16 years, will begin work with a focus on acting as a liaison for county attorneys at the Department of Justice beginning  Oct. 6, for a term ending Dec. 29, 2026.

Executive Councilor Joe Kenney, R-Wakefield, sought to table the motion saying the public had not been given any time to consider the loss of an elected public servant.

Councilor David Wheeler, a Republican from Milford, said he would not vote for anyone who was elected to office before their term expired.

Councilor Cinde Warmington of Concord, the lone Democrat, opposed the motion to table and voted to support the request, and voted to confirm along with Executive Councilors Janet Stevens, R-Rye, and Ted Gatsas, R-Manchester.

Gov. Chris Sununu said it is not up to the public to decide a person's chosen career path and disagreed with Kenney.

The council also confirmed Carleton B. Simpson of Hampton to the Public Utilities Commission for another term following a public hearing at a salary of $134,446.
The governor nominated Lori Weaver of Concord to a four-year term as Commissioner of the Department of Health and Human Services after she filled out the term for Lori Shibinette, and will earn $161,791 if confirmed.

NADEAU DEPARTS
Nadeau wrote that she was grateful for being able to work "toward positively affecting the lives of people struggling with mental health and substance use issues who have become involved in the criminal justice system."
Also in her July 5 letter to Sununu, Nadeau said she was grateful to work on issues of temporary and supportive housing for hundreds of drug court participants who completed their prison sentences.

A former homicide prosecutor and legal counsel to former Gov. Stephen Merrill, Nadeau was also a justice of the Superior Court.
Her father Joseph Nadeau was also a long-term justice and served as Chief Justice of the Superior Court before becoming a justice of the state Supreme Court.
"I plan to continue public service as a senior active judge, as a member of several national and regional boards and as a volunteer in my local community," Nadeau said.
Three members of the council thanked Nadeau and praised her work, including Councilors Warmington, Stevens and Kenney.
Stevens said Nadeau was nationally recognized for her work and led during a difficult time during the pandemic.

SPECIAL ELECTION FOR NASHUA SEAT
A precept for a special election was accepted for Hillsborough County District 3 (Nashua) with a filing set for July 24-28, a primary for Sept. 19 and a special election Nov. 7.

HAMPSTEAD GETS PAYMENTS IN LIEU OF TAXES
Though it was not included in the recently passed state biennial budget, the council approved $178,000 for the Town of Hampstead to address impacts when the state bought the private hospital.

KSC GETS $4M CONTRACT FOR CHILDCARE ADVANCEMENT
The council approved a contract with Keene State College worth $4.4 million to develop strategies to strengthen the state's early childhood childcare and out-of-school child care options.
The contract uses federal funds to provide services to build capacity for childcare providers across the state.

$7M EQUIPMENT LEASE CONTRACT TABLED
Following concerns raised by Councilor Wheeler, the council agreed to table a $7.3 million lease contract for the Department of Transportation for 67 loader backhoes for five years.

DOVER OBSERVES ITS 400th
The first permanent European settlement in New Hampshire and the seventh oldest community in the United States is Dover, N.H. which is celebrating its 400th anniversary this summer.

The Governor and Executive Council held the first of its summer meetings on the road Wednesday at Dover's Rotary Arts Pavilion, honoring the community's rich history and congratulating it on its many successes over the years.
While St. Augustine, Fla. holds the title as the oldest European settlement in the U.S., Dover is older than Boston and New York City.

The Plymouth Colony in Massachusetts predates the settlement of Dover by only three years.

Councilor Kenney of District 1 was the host of the meeting in his district.

The day began with a breakfast meeting at the Woodman Museum and moved to the Rotary Arts Pavilion where members of the community participated.

An invocation was offered by Father Abouna Jebrael Moussallem, of St. George Maronite Catholic Church and there was a posting of the Colors by the Dover City Police Color Guard.

The National Anthem was sung by Dover's Shelli La Torre and Pledge of Allegiance by the Community Action Partnership of Strafford County Childcare Kids.


The musical performer for the event was Thomas Ruedig, a keyboard player and there was an appearance, in costume, of Revolutionary Councilor John Wentworth of Dover, played by Kevin Collins of the Garrison Players.
Recognition Awards were given to the Dover/400 Committee, Dover community volunteer Kathy Crompton and the Dover Community Action program.