Tyngsborough, Massachusetts: We had a hankering for ribs, so my significant other (SO) and I decided to try a new spot we had heard good things about called Smokey Bones in Tyngsborough, just past the Pheasant Lane Mall. A late lunch/early dinner got us there around 3:00 pm and set us up for a quiet dining room and early bird specials.
As soon as we walked in, we saw a pleasant atmosphere with an enormous wraparound bar where we preferred to dine instead of a table. The vantage point allowed us to see into the kitchen where "the meat" is cooked. There are 60 locations throughout the US, with Stoughton, Mass. as the only other location in the nearby area.
To our surprise, the attentive bartender told us that the restaurant had been there for twenty years. We don't get to south Nashua often and rarely into Massachusetts that way, but we found our way there on the recommendation of a friend. They steered us correctly.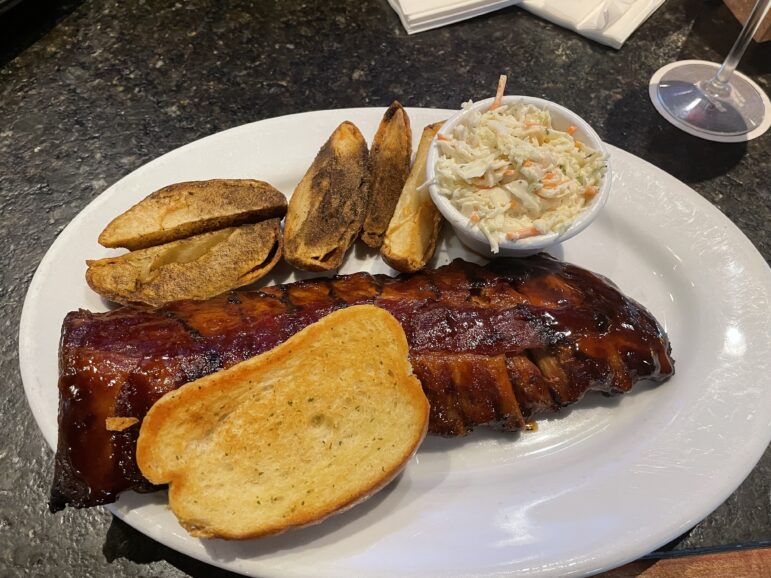 We knew we wanted ribs and discovered on the extensive menu a special that included a full rack of ribs, two sides, garlic bread, and a soda or a beer, all for $19.99. We both jumped in for the deal, with my SO choosing fire-roasted corn and natural-cut fries for their sides, and I went with fresh-made creamy cole slaw and potato wedges. We went with the St Louis seasoned-style rib instead of a honey-style sauce. The ribs were cooked to a fall-off-the-bone perfection, and everything was so plentiful we had leftovers for a couple of meals. I must say that the potato wedges were a standout. If you like a crispy fried peel on your wedges, this is a must-try item. All in all, with two cocktails, the total for us was $81.00 with tip.

Smokey Bones Tyngsboro is located at 431 Middlesex Road and is open from 11:00 am every day until midnight most nights except Friday and Saturday, they're open until 1:30 am. They offer eat-in, in-store pickup, curbside, and delivery. Their website is smokeybones.com.