Editor's note: InDepthNH.org is exploring the vibrant restaurant scene in New Hampshire and will be bringing informational reviews to our new Arts and Entertainment section. Let us know what you think, and if there is a restaurant you want us to explore, please let us know. Our writers will be undercover.
Let's get this out front. The last time we ate at The Foundry was before the pandemic, and I remember the food was adequate but not exceptional. However, the food we were served on a recent night we dined was delicious. From appetizers of Caesar salad to the entrees and finally dessert. A winner on each course.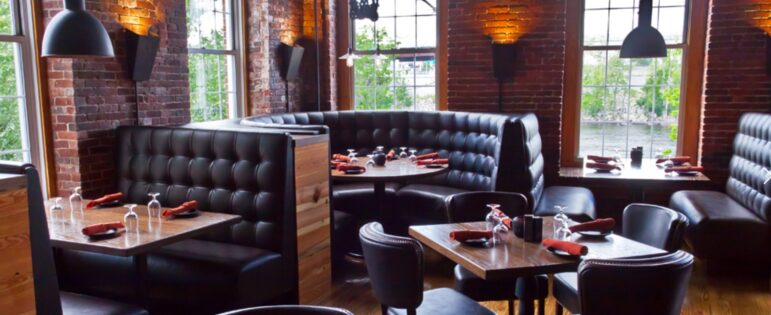 The night we dined at the "historic Manchester Mill Yard," as the website states, our party of four was seated at a table where we could peer through a booth to see the river. Dining is an experience that can be lovely, and everything you would hope for at a popular restaurant can also be trying. However, four adults seated at a table leave no room for comfort or spread. The table settings take up so much space that there's no room for purses. Under-table hooks should be mandatory for seating at a restaurant where one can hang their bag in a safe spot. The booth we were seated near, which would comfortably hold six diners, sat empty as we sat at the crowded table filled with side dishes, entrees, water, and drinks.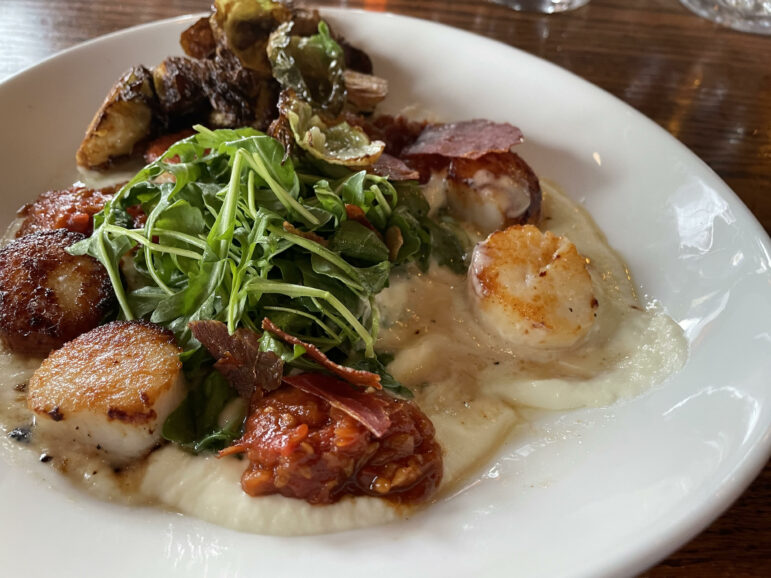 But, back to the food. The Executive Chef is listed as Jillian Shaw. To a person, we loved our choices. Two dining companions chose the pan-seared cod with fingerling potatoes. The cod was cooked beautifully, and the potatoes were a perfect starch to accompany the light fish. The other two diners chose the caramelized sea scallops layered on top of a corn cream sauce, sundried tomato, and peppers. The entrees were a hit for everyone. Added to the meal was one order of crispy Brussels sprouts. The size was plenty for all four diners to share. If you have childhood trauma when being forced to eat Brussels sprouts as a kid, these sprouts are not your mother's version. They were halved and charred on the outside and so tasty on the inside. I'd go back just to order these compact cabbage balls.
We finished the night with desserts choosing maple walnut cake and hot chocolate cheesecake. The two were enough for all diners to have a share. And to be able to split a dessert at the end of a tasty meal takes away all guilt.
Now to the misses part. Because the building is a former mill, the noise level is off the charts. There are no acoustics. My soft-spoken friend could, at times, not be heard. The dining room was packed and hardly a charming atmosphere. We had asked our waitperson for some bread for the table and never got any. It could be they have stopped adding bread to the beginning of a meal as many restaurants have as a way to save cost. And I've written about the importance of good coffee before, and the coffee we were served was cold as if it was poured from an old pot set aside from the burner.
All in all, the cost for four with appetizers, entrees, drinks, and desserts with a twenty-percent tip was $334.00.
The Foundry is located at 50 Commercial Street, Manchester, New Hampshire. They are open Monday through Thursday, 4 pm to 9 pm, Friday and Saturday, 4 pm to 10 pm, and Sunday for brunch only, 9 am to 1 pm. The website is foundrynh.com.