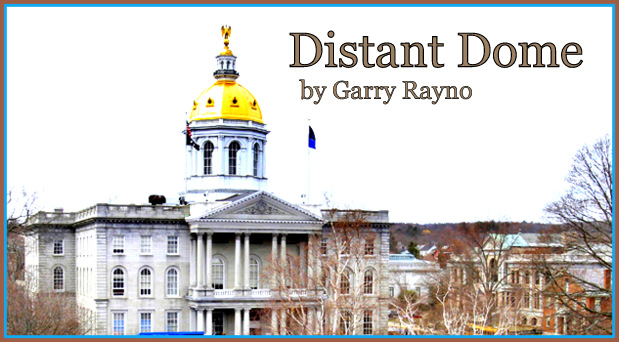 By GARRY RAYNO, Distant Dome
History is a funny thing.
For example, two communities claim to be the birthplace of the Republican Party, Exeter, New Hampshire and Ripon, Wisconsin.
Around here Exeter is thought to be the holy place, but almost everywhere else in the country — including Wikipedia — believe it was Wisconsin.
No one disagrees its founding was in opposition to slavery, but where it started, well even Jackson, Michigan was thought to be the birthplace for a long time. So, it is anyone's guess just where the Grand Old Party first emerged.
And the founding place for Aerosmith, which is about to begin its final tour, is also contested.
The Boston Globe and all things Boston, claim the band was formed in the city's Allston neighborhood.
But a case can be made that the band really formed at the Barn in Georges Mills, a section of Sunapee, and not in Boston.
Two bands played the Barn in the summers of 1968 and 69 and various other places around the Lake Sunapee region, the Jam Band and Just in Time.
Tom Hamilton and Joe Perry were in the Jam Band and Steve Tyler, Joey Kramer and Ray Tabano were in the other band.
They all moved to Boston in 1970 with the idea of making it big with Tabano being replaced by Brad Whitcomb.
But they all played together here and there in Sunapee before moving to Boston.
While the origins may be contested, people in Exeter, Ripon, Sunapee or Boston still feel pride about their place in history.
But some people may not feel pride, they may be embarrassed by the notoriety.
Aerosmith may be one of the greatest American bands selling millions of records and selling out stadiums around the world.
But their lifestyle may not be what you would want your child to experience as some of the members spent considerable time in rehab.
The same could be said about the Republican Party today as it is not the party of 50 years ago and has changed considerably since its founding as an anti-slavery organization.
Several state agencies work together to put up historical markers touting some bit of the state's history or recognizing state residents who went on to do great things.
I don't believe there are any historical markers for Aerosmith, but there is a historical marker in Exeter in front of what once was the tavern thought to be the birthplace of the Grand Old Party.
On Route 3A in Bow is a historical marker noting the birthplace of Mary Baker Eddy, an author and religious leader who founded the Church of Christ, Science in 1879, and the Christian Science Monitor and several other publications.
While Christian Science is a well-known religion, some find its teachings controversial.
But the marker remains near the home of her birth.
In Boscawen there is a historical marker and a monument to Hannah Dustin, a woman who was captured by Native Americans in Haverhill, Massachusetts and taken north to an island in the Merrimack River. At night she killed 10 Native Americans and scalped them and freed two others who were captive.
While there were few questions asked years ago about the monument, now it is considered controversial.
There are numerous other monuments to Native Americans and settlers' interactions, often not for the best, around the state.
In Canaan there is a historical marker for Noyes Academy, the first co-ed academy for black students.
But it was not long before the outraged local citizens forced the black students to leave and dragged the academy building down Canaan Street to the middle of town.
However, a number of the students went on to be black leaders including Henry Highland Garnet, who was the first African American to preach in Congress.
A new historical marker installed in Concord will be removed because of concerns raised by two Executive Councilors, Joe Kenney of Wakefield and David Wheeler of Milford, and backed by Gov. Chris Sununu.
The marker honors Elizabeth Gurley Flynn, "The Rebel Girl," who was born in Concord in 1890, and went on to be a noted union organizer, women's rights activist and a founder of the American Civil Liberties Union.
What could be the problem with any of those three accomplishments?
Well, the issue that had councilors upset was she was a member of the Communist Party.
"Wonderful, we are recognizing and honoring someone who joined the Communist Party and died a Soviet," Kenney wrote in an email to the council. "The same Soviets I fought against during the Cold War with patriotic Americans. This is Crap!"
At the council meeting last week, he called her "Unamerican" and a "Communist."
During her heyday, many unionists were members of the Communist Party as the polar opposite of capitalism. Many artists and musicians were also members, but as folk singer Dave Van Ronk used to say "communist with a little 'c.'"
Flynn was convicted in 1951 under the Smith Act which made it illegal to be a member of the Communist Party and jailed for 28 months.
Flynn went to the Soviet Union where she died, but was buried in Chicago.
"One thing I am doing right now is review who does have the final say, the authority when it comes to state markers on state lands and all of that. So we will review that whole process," Sununu told reporters after the Executive Council meeting. "I don't know whether it is the council that should have the final say or view or anything like that. It is something we can definitely talk about. But we are going to look at the process internally."
So now deciding on which historical markers will be a political decision?
Flynn was a controversial figure but so was Mary Baker Eddy and the Noyes Academy certainly is not New Hampshire's best foot forward.
History is not always comfortable, and really shouldn't be.
Scalping Native Americans is not a comfortable notion, neither is intimidating young black students, nor is the work Flynn spent her life doing to uplift, particularly textile workers in the mills of New England and around the country.
History should reflect what happened, not what we wished happened or what we want to hide from our children.
That is what is so troubling about the divisive concepts law passed two years ago and the rush to ban books someone doesn't agree with for whatever reason.
If we cannot be honest about our history and what was and was not done, we cannot learn from it, and we will keep repeating it and repeating it.
History should not be Groundhog's Day.
Garry Rayno may be reached at garry.rayno@yahoo.com.
Distant Dome by veteran journalist Garry Rayno explores a broader perspective on the State House and state happenings for InDepthNH.org. Over his three-decade career, Rayno covered the NH State House for the New Hampshire Union Leader and Foster's Daily Democrat. During his career, his coverage spanned the news spectrum, from local planning, school and select boards, to national issues such as electric industry deregulation and Presidential primaries. Rayno lives with his wife Carolyn in New London.