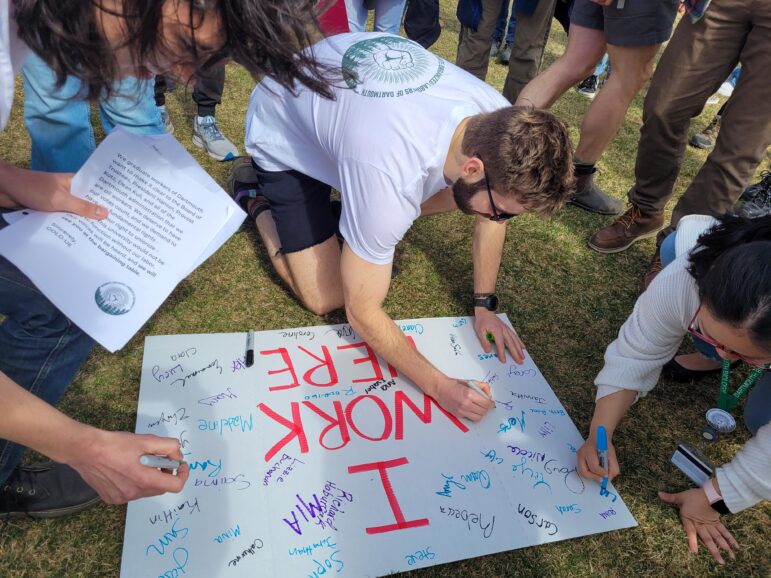 By ARNIE ALPERT, Active with the Activists
HANOVER—Smitakshi Goswami was looking forward to winter when she arrived at Dartmouth from India to pursue graduate studies in physics and astronomy. She dreamt of making snow angels, having snowball fights, and sending pictures back home. "But what I hadn't planned was a failure of heating supply," she says now.
Goswami was one of several speakers at a rally Tuesday, coinciding with an election to determine whether the college has to recognize and bargain with a newly formed union, the Graduate Organized Laborers at Dartmouth, known as GOLD-UE. As Goswami explained to about 100 people on the Dartmouth Green, she was living last year in Lebanon at Summit on Juniper, which she said had promoted itself as a luxury apartment complex for grad students. As the temperatures dropped outside, the heat went off in the apartments. "Not for a day, not for a week, but for two whole months. And this was in the United States, which I thought was the land of opportunities," she said.
It wasn't the landlord who stepped up to address the problem, nor was it the college. It was GOLD-UE that "pushed Summit on Juniper to take action immediately," she said. "They pushed and pushed until we got our heat back."
"This is why we need a union," she said several times.
The graduate student union was conceived in the fall of 2021. A year later, they affiliated with the United Electrical Radio, and Machine Workers of America (UE) and started collecting signatures on authorization cards. When Dartmouth refused to recognize the union and begin negotiations voluntarily, GOLD-UE petitioned the National Labor Relations Board (NLRB) to schedule and supervise an election.
Voting sessions were held Tuesday and Wednesday at Anonymous Hall on the main campus and in the Williamson Traditional Research Building at Dartmouth Hitchcock Medical Center.
Housing is at the top of many students' reasons for wanting a union. The stipends they receive are just too little to cover the rising cost of Upper Valley housing, they say.
Unions of graduate students have become more common in recent years. In fact, grad students at the University of Michigan are currently on strike, as are grad students at Rutgers. Tens of thousands of University of California grad students struck for more than a month last year, winning a settlement just before Christmas.
And at Dartmouth, a union of undergrad student workers won a contract with $21 an hour wages in January.
While the union was getting its supporters ready for the election, Dartmouth announced on April 3 it would challenge the status of students considered "graduate fellows." Diana Lawrence, Dartmouth's Associate VP for Communications, said the college had initially agreed with GOLD-UE about who would be eligible to vote. However, following an NLRB ruling in a case at MIT that graduate fellows could not be considered employees, they created a new list of who they thought could vote, excluding more than half of the college's 800 grad students.
"Dartmouth sent a Notice of Election to all students on the original list and encouraged all students receiving the notice to vote in the election, noting that any challenges would be resolved separately through the NLRB's established process, after the election," Lawrence wrote in an email.
GOLD-UE saw it as something of a trick. If hundreds of graduate fellows were to cast ballots only to be challenged by Dartmouth, resolution "could literally take years," said David Freeman, a grad student in the Math Department who organized the Tuesday rally. "The union wouldn't be recognized until all of them, or a critical number of them, were adjudicated. So, we are thinking that their strategy was to basically try and draw this out in court."
The union's response was to urge anyone on the college's list of graduate fellows to stay away from the polls, in spite of the fact that the union believes they should be in the union. The strategy appears to have been successful.
Aylin Garcia was walking by Anonymous Hall while the balloting was going on Tuesday morning. She wasn't going inside to vote. "I'm ineligible because I have a Dartmouth fellowship," she said with a smile. "And according to them, I don't count, which makes me laugh, because I do TA [Teaching Assistant] work for them. And I also recently published a paper, so I am doing active work, I'm doing research, and I'm teaching."
Chris Callahan, one of the union's principal organizers, had a similar attitude. He made national news recently for research demonstrating a link between climate change and home runs in Major League Baseball. The college's news bureau put out a news release on the story last week. "I made headlines for Dartmouth, and they told me I wasn't a worker," Callahan said on Tuesday. "We are encouraging people who Dartmouth will challenge to simply boycott the polls in favor of coming to our rally. And withholding their ballot as a form of solidarity with the people that are voting."
"Dartmouth seems to be blind to our needs," Smitakshi Goswami charged during the rally. "Now they say that they will challenge your votes. Challenge the votes of their employees, maybe not even recognize us as employees. If we are not employees, then who are we?"
Freeman and Callahan each expressed confidence that they would win a majority of votes.
After the rally on the Green, grad students clustered around a piece of poster board on the ground with big letters saying, "I WORK HERE." After they all signed, the troop of students headed across the Green to the President's conference room, where Freeman read a letter out loud.
"We want to make it clear to the Board of Trustees, President Hanlon, Provost Kotz, Dean Kull and all of the Dartmouth administration that we are all workers," he read. "We deserve to have our votes count, and we demand to have our fundamental rights, including the right to unionize, upheld. This university would not be able to function without our labor. Our voices will be heard, and we will be seeing you at the bargaining table."
With no one in the office to receive them, they left the letter on the floor and propped up their sign against the door.
When the polls closed Wednesday and votes were counted, 261 grad students had voted in favor of the union, compared to 31 who had voted no, with 13 challenged ballots, according to GOLD-UE. Since the contested ballots are too few to affect the outcome, the NLRB will not bother to rule on whether they were allowable.
"With our union now formally established, on OUR terms, we are excited to bargain for a contract that secures better living and working conditions for ALL Dartmouth grad workers," GOLD-UE tweeted.
Prior to the conclusion of voting, Dartmouth's spokesperson said, "If the vote results in the creation of a union, we look forward to engaging with the representatives of the bargaining unit."