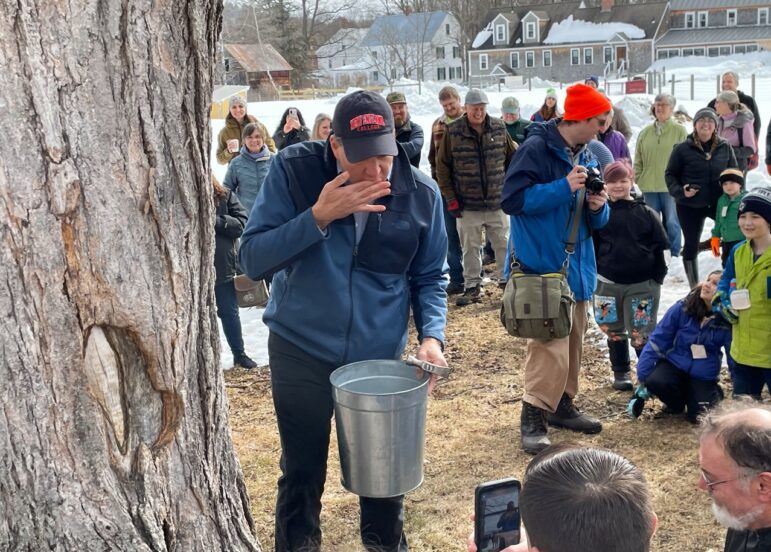 By PAULA TRACY, InDepthNH.org

TAMWORTH – Ahead of the upcoming NH Maple Weekend, March 18 and 19, when almost 200 sugarhouses in the state are open to the public, Gov. Chris Sununu tapped a century-old maple on the grounds of the Remick Farm Museum with students from the Madison Elementary School Monday.
Third grader Ari Gray stepped up to help the governor place the spile – or tap – into the stately maple in a field with cows overlooking the scene and geese flying overhead, while his parents and others from the school watched along with leaders of state government.
It took only a few seconds for all three holes to begin to drip sap, which the governor tasted by dipping his hand.
New Hampshire Maple Producers Association, Inc. is celebrating 80 years as a non-profit trade association this year and the tapping so far has been sweet in parts of the state that have seen the sap run.

Considered one of the first signs of spring, the season can last from 15 to 35 days but is largely concentrated in the month of March.
Each year, the organization enlists the help of the governor to tap a tree and bring the process to the public's attention. Last year, the governor went to Westmoreland to promote March as Maple Sugar Month in the state.
Kate Stanley, a teacher at Madison Elementary, and her husband Tim Robinson own Turkey Street Maples, a sugar house in Chocorua, New Hampshire and they have allowed the school's third and fourth graders to learn about the process which is unique to this corner of the world.

Attending, in addition to the students and their families, were Senate President Jeb Bradley, R-Wolfeboro, and Shawn Jasper, commissioner of the state Department of Agriculture.

The governor, who has a few taps in his backyard and who said he boils the sap down inside his house, told the children that he makes a mess and that there is no longer any wallpaper in his house. He said this was his first time tapping a century-old maple. Maple trees can live to be 400 years old and the state is blessed with an abundance of them.

First tapped by Native Americans, it's a $10 million a year business for New Hampshire and is part of the culture, identity, and heritage of the state and a top export. On average, the state produces 90,000 gallons of maple syrup each year.
https://www.loc8nearme.com/new-hampshire/tamworth/remick-country-doctor-museum-and-farm/7268591/

To find a maple sugarhouse near you that is open this weekend visit this site. https://nhmapleproducers.com/directory/categories/2023-maple-weekend/
To learn more about maple sugar visit https://extension.unh.edu/blog/2021/02/magic-sugar-maple