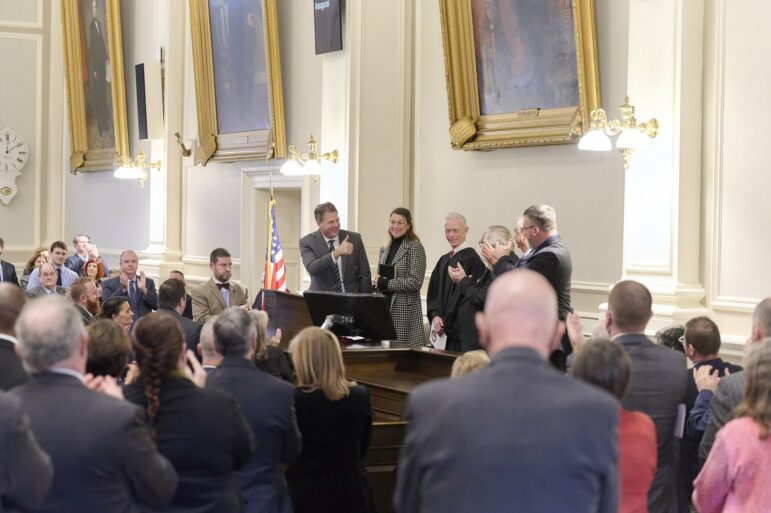 By PAULA TRACY, InDepthNH.org

CONCORD – Valerie Sununu is very busy these days being a mother to three growing kids, and that appears to be her life priority right now as her husband, New Hampshire's Gov. Chris Sununu explores a run for President of the United States.
If you want to know what is going on with her, don't look to CNN or even InDepthNH.org, or any media source: look at her public Instagram account.
While the state's 82nd governor is making the national rounds and talk shows, the state's first lady is staying put in the 603, and here's why: Her kids need her right now.

Mrs. Sununu tells her Instagram followers she is focused on her growing kids' needs, noting it won't be long before they are out of the house.
The seemingly shy, 46-year-old former Valerie Bondola, has limited her comments and political engagements to focus on kids over the years as New Hampshire's first lady.
Since 2017, she has kept a low profile but holds roundtables called "Building bridges with the Bridges" discussions at the Bridges House in Concord, named for Gov. Styles Bridges who donated it. But the name "bridge" has a double-entendre for her, with groups coming together to bridge issues on early childhood education or domestic abuse.
These are not press events. Mrs. Sununu did have a public availability last year in the gardens at the Bridges House where she promoted a pollinator garden to help out bees.
She has been known to support early childhood education and fight domestic violence. She is a supporter of the "Best Buddies" program https://www.bestbuddies.org/newhampshire/friendship pairing high school teens with and without intellectual and developmental disabilities.

Media events are rare for her. Even a CNN special recently as part of its "Being" series featured no interviews with Valerie Sununu. CNN's Dana Bash focused on introducing Chris Sununu to the nation in the Dec. 16, 2022 production. https://www.imdb.com/title/tt25009540/
And she declined a request for an interview with InDepthNH.org on Tuesday saying she is "not interesting enough for that!"

But her lively public Instagram account provides great, witty insight, music, poetry, and honesty with 498 posts, 1,953 followers, and 2,604 following.
The posts reveal a mother juggling demands while she herself is in demand publicly but has no interest in the spotlight.

She asked for patience and time in a post this past weekend.
"…at least a couple times a day, I'm saying 'no' to invitations to do really cool things. And I don't take it for granted, the opportunities of this position I am in. But, I'm not going to miss my kids. Like, I just am not going to miss it. And it's slipping away" she said. "So just be patient with me. I've got three kids and I will be down to one, responsibility-wise, in 2024."
While some believe Gov. Sununu will run for President in 2024, others think he is setting up for a run in 2028 or is simply promoting the state's successes as the media is willing to give him a microphone.
But the woman, whom the governor praises endlessly and credits for informing him on many issues related to children and the disabled, is seemingly running the other way from the microphone.

FIRST LADIES AND THEIR ROLES
Presidential first ladies have often come from the ranks of gubernatorial first ladies, and they have gone on to hold many important roles in this nation. Her own mother-in-law, Nancy Sununu was New Hampshire's First Lady and went on to Washington as the wife of George Bush's chief of staff John H. Sununu, the governor's father.
Other recent first ladies and two first gentlemen have either been active politically by their spouse's side or quietly kept out of the political limelight, like Valerie Sununu. None have been at home with two teenagers and a pre-teen.
Valerie Sununu is in a unique position compared to most people in the world because it is possible that she could someday become the nation's First Lady.
The basic job is as a ceremonial hostess at the White House.

The job has evolved over the ages starting with Martha Washington.
The Office of the First Lady now comes with an office staff, a chief of staff, a social secretary and a press secretary, even a floral director.
Of the 46 presidents the nation has had – all male so far – 13 have had non-spouses serve as "first lady," often relatives of the president.

Though not elected, First Ladies have held enormous influence in many ways – publicly and privately – and often have taken on roles supporting their own causes.
Eleanor Roosevelt was an outspoken Civil Rights and women's rights advocate, not totally in step with her husband and a bit farther left.

Jill Biden has focused on military families.
Melania Trump was about cyberbullying and Michelle Obama had "Let Girls Learn" be her slogan like Nancy Reagan's was "Just Say No" to drugs.
Hillary Clinton was about healthcare reform and Pat Nixon, volunteerism. Lady Bird Johnson was known for her environmental activism.

FROM CHELSEA TO THE CLASSROOMS
Valerie Sununu grew up in Chelsea, Mass., in the 1980s, which she described in a 2019 speech as "like a war zone," full of poverty and violence around her.

In a rare event, she was the keynote speaker on Jan. 25, 2019, at the New Hampshire College and University Council Forum on the Future in Manchester where she urged investment in early childhood education, with the governor in attendance, reflecting on her own childhood and education.
Schools, to her, were a safe haven, she told them, and it is there she found role models and a path forward, which even brought her back to Chelsea to be a teacher early in her career.
On her Instagram account, she talks about inspiring teachers in her life, recently recalling one who turned her lack of interest in mathematics, for example into an opportunity to learn about practical uses in engineering.

She got to college on a scholarship, went back and got a graduate degree, and focused her career on special education.

According to her brief bio for the National Governors Association, "Mrs. Sununu grew up outside of Boston in Chelsea, Massachusetts, and attended high school in Swampscott, Massachusetts. She received an academic scholarship to attend Simmons College in Boston. Mrs. Sununu graduated with both a B.A. in Spanish language and literature and a B.A. in special education. Her first teaching job was for the Chelsea public schools where she had the opportunity to give back to her hometown community. She then moved across the country to establish the inaugural inclusion program in the public schools of Mill Valley, California. Mrs. Sununu returned to the East Coast to attend Harvard University's School of Education where she earned her Ed.M. in human development and psychology in 2004…
"As First Lady, Mrs. Sununu works to raise awareness and increase funding for several causes that support education, childhood development, reading, local and small businesses, and addiction recovery. Mrs. Sununu currently serves as board president of the Friends of Bridges House (the New Hampshire executive residence).
"The first lady and Governor Sununu met in college and married in 2001. They have three children: Calvin, Edith, and Leonardo."

FAMILY FIRST NOT NECESSARILY FIRST FAMILY
Before politics was a thing for her husband, Valerie Sununu was raising kids and he was a businessman and engineer who led a group of investors to take over ownership of the Waterville Valley ski area. He became its chief executive officer and the day he announced that, she was at the press conference with a broad smile on her face.
The governor noted in his interview with Bash for CNN that when he was growing up he didn't want any part of politics and the scene in Washington, but he did decide to run for Executive Council and was elected, launching him on a path which led him to the governor's office.
Throughout that time Valerie Sununu has not often appeared publicly.

The public events she has done in recent months have been family affairs with everyone in the house dressed up and showing up.

The three Sununu children were all present at the State House this winter for Sununu's inaugural address and seated nearby when she held the bible at the rostrum and Sununu swore with one hand on it an oath to serve as governor.

The kids got to see their father get a bit teary-eyed in thanking Valerie Sununu for everything and it got a standing ovation in a packed Representatives Hall starting his fourth consecutive term as governor.

At the governor's inaugural ball at the Mount Washington Hotel in Bretton Woods, on Jan. 21, Valerie Sununu provided some colorful video on her Instagram account, dressed in a black dress, long black gloves, and all three kids in tow, dressed up, and ready to go to enjoy the dance.

Whatever is next for this family, Valerie Sununu will likely be there trying to stay out of the spotlight, looking out for kids, including her own as they get older far too fast.

"Being present for these moments of Momming isn't easy and sometimes I feel like speeding up the daily grind and the mundane stuff so I can get to my goals and roles in the world…but I am trying to cultivate a little wisdom, and I know in my bones: it's the mundane stuff I'm going to miss the most," she said on Instagram.