On Thursday, February 2, 2023, the New Hampshire Department of Health and Human Services (DHHS) announced 937 new positive COVID-19 test results between Thursday, January 26 and Wednesday, February 1.
For the previous week, DHHS announce 15 additional deaths related to COVID-19. We offer our sympathies to the family and friends.
There are currently 32 hospitalized patients being treated for COVID-19. In New Hampshire, since the start of the pandemic, there have been a total of 373,867 cases of COVID-19 diagnosed.
Current Situation in New Hampshire
New Hampshire 2019 Novel Coronavirus (COVID-19) Summary Report
(updated February 2, 2023, 9:00 AM)
| | |
| --- | --- |
| NH Total Case Count | 373,867 |
| New Cases for Previous Week | 937 |
| Deaths Attributed to COVID-19 | 2,949 |
| Total Current COVID-19 Cases | 1,105 |
| Current Hospitalizations Treated for COVID-19 | 32 |
New Hampshire Institutions Associated with a COVID-19 Outbreak (as of 2/2/2023)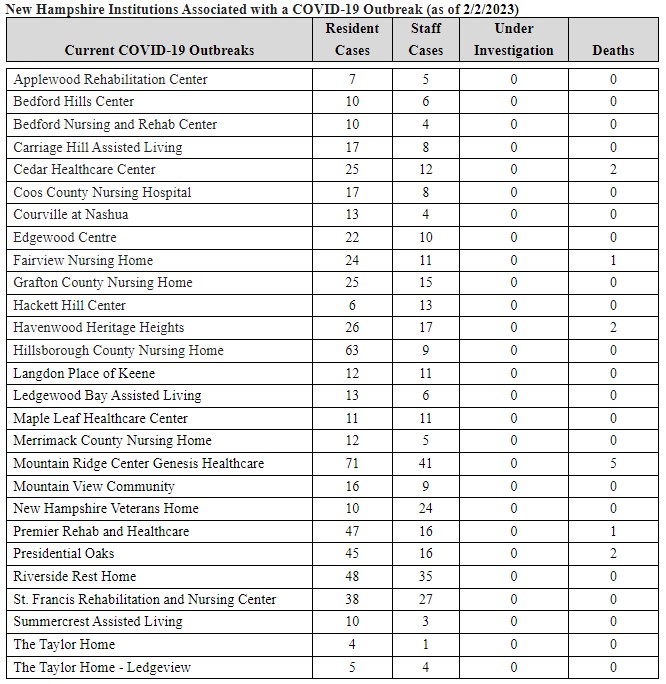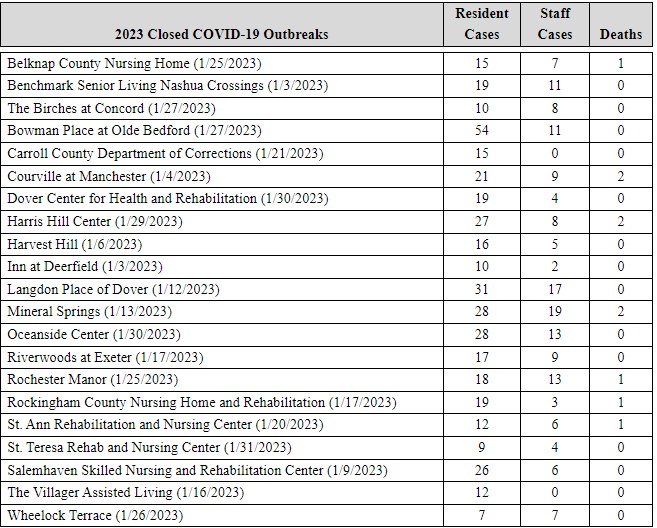 New Hampshire COVID-19 Dashboards will be updated weekly and will continue to provide summaries of COVID-19 trends including information about wastewater. To view the dashboards, please visit the DHHS COVID-19 webpage at https://www.covid19.nh.gov/.
For additional hospitalization data, please visit the New Hampshire Hospital Association's COVID-19 information page at https://nhha.org/index.php/whats-new/1545-coronavirus-disease-2019-covid-19-outbreak.