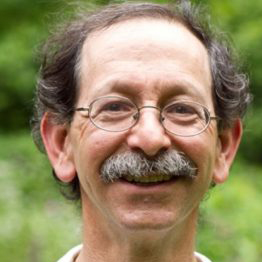 Arnie Alpert is a retired activist, organizer, and community educator long involved in movements for social and economic justice. Arnie writes an occasional column Active with the Activists for InDepthNH.org.
By Arnie Alpert, Active with the Activists
Eighty-four years ago, the threat of Nazism became reality, as murder and destruction spread across Germany.
Over a 48-hour period, mobs destroyed hundreds of synagogues; plundered thousands of Jewish-owned businesses, homes, and schools; and murdered more than 90 Jewish men, while police looked the other way.
The Nazis called it Kristallnacht, the Night of Broken Glass, but it was much more — a night of broken families, broken communities, broken bones, and broken lives. It was the beginning of the Holocaust. By its end, the Nazis had murdered millions of people — Jews, gays, Roma, and others — and dragged Germany from the ranks of civilized nations into the gutter of violence and hatred.
History is, of course, about the past, but we study it to understand the present. In the present, New Hampshire has a Nazi problem.
These are not cartoon Nazis, sit-com Nazis, or soup Nazis. They are the real thing, members of a group called NSC-131. They've revealed themselves in Nashua, where they showed up outside School Board meetings, left leaflets in neighborhoods, paraded through downtown streets, and harassed a Latino legislator. Last summer they demonstrated outside a drag story hour held at a Portsmouth theater.
When the Nazis demonstrated outside the Kittery Trading Post on July 16, Dresden Lewis, owner of a Portsmouth bakery, spoke out in defiance of anti-Semitism and hate. Her friend, Miriam Kovacs, began speaking up as well by sharing Lewis' social media posts to her own accounts.
Kovacs owns Broken Spoon, a Jewish-Asian fusion takeout restaurant in downtown Franklin, where her shop's windows are decorated with symbols of love and welcome. Soon after her own posts were published, a picture of her windows showed up on a white nationalist website. "And they urged their followers to leave a review," she said.
She knew the "reviews" she received were implicit threats. But Kovacs didn't keep quiet. Having grown up in a Jewish household and learning about the Holocaust when she was little, "I just always wondered, what if more people had spoken up?" So, Kovacs spoke up, going to the police, giving interviews, talking with the state's attorney general, and maintaining visibility in New Hampshire's smallest city.
I met Kovacs in Kittery on October 3, when the UNH Carsey School held a forum on responses to hate group activity. At a crowded community center, Zandra Rice-Hawkins of Granite State Progress briefed about 100 people on neo-Nazi and white nationalist groups active in New Hampshire and southern Maine.
Captain Dave Keaveny of the Portsmouth Police spoke about the definition of hate crimes, including the sometimes fuzzy line between protected speech and criminal activity. Nevertheless, he said, anyone who has experienced threats rooted in hate should report them to law enforcement. He noted that some people don't trust the police, but said, "If you don't feel like going to the police, there are other groups out there."
In one small group discussion, Kittery residents said they felt like they had been living in a safe bubble that burst when the Nazis appeared in their own town.
"How many of you came here tonight because you've heard about things happening in your communities and maybe you were scared or a little bit worried?" Rev. Heidi Heath of the NH Council of Churches asked. Lots of hands went up. "How many of you came here tonight because you believe in our collective capacity for change, or you believe in our capacity for telling a new story?" she asked. Hands went up, including that of Miriam Kovacs.
Kovacs said she was encouraged by the turnout, "seeing how many people are aware of what's going on, and how many people are looking for ways to help." Still, she's frustrated by an inadequate response from law enforcement and the elected officials who are supposed to protect their communities. The resolution condemning white supremacist attacks approved in September by the Franklin City Council – with six votes in favor and three abstentions – left her dissatisfied, as did unresponsiveness from other elected officials. More is needed, she said, including more police training and more education for state and federal lawmakers about the threat posed by Nazism and white nationalism.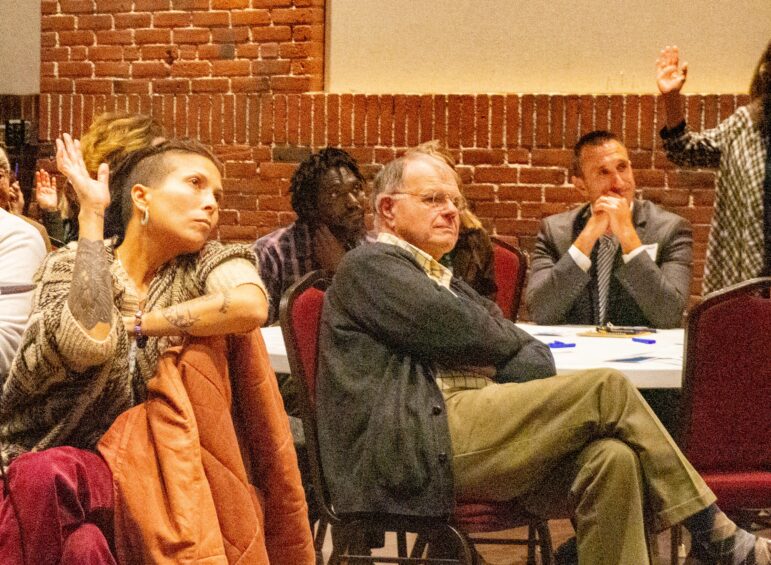 Incidents of Nazi swastikas and racist slogans recently found in places such as Laconia, Goffstown, and Hopkinton stand as examples of how the ideology of hate can spread. Such graffiti is not just vandalism, Kovacs said, "It's an abuse of freedom of speech, when the symbols represent genetic cleansing and harm to your neighbors and intolerance for the right for other people to exist."
"What I'm seeing is a normalization of the signs of hatred and genocide and intolerance. And if we start becoming numb, to seeing them more often, that's a dangerous foreshadowing. I don't think we should ever get used to seeing these symbols," she said. "Six million people were murdered. And that symbol represents it."
Moreover, it's not only virulent anti-Semites who pose a threat. New Hampshire has a broader problem with extremist and militia groups motivated by white nationalism and anti-democratic ideologies. According to Zandra Rice-Hawkins, groups such as the Proud Boys and Oath Keepers are organizing in New Hampshire, as are Three Percenters, Boogaloo Bois, and the Patriot Front. If it wasn't already clear, the January 6 insurrection is a clanging alarm bell that white nationalist activity is a threat to human rights and democracy.
The national leader of the Constitutional Sheriffs and Peace Officers Association (CSPOA), which the Anti-Defamation League calls "an anti-government extremist group," spoke on May 22, 2021 at a Manchester convention center. According to the ADL, the CSPOA recruits sheriffs into the anti-government extremist 'Patriot' movement. A researcher who watched a video of the event told me the audience included Don Bolduc and others whose names appeared on ballots this week.
The CSPOA is not the only extremist group trying to recruit from the ranks of law enforcement. According to the ADL, the Oath Keepers will accept anyone as a member, but "what differentiates them from other anti-government extremist groups is their explicit focus on recruiting current and former military, law enforcement and first responder personnel." An analysis of leaked membership data obtained by the ADL says that more than 600 people with ties to the Oath Keepers were elected officials, law enforcement officers, first responders, or members of the armed forces. It's no surprise that some victims of hateful activity, including people of color, are reluctant to seek help from the police.
Just this week, a sign outside a church in Westmoreland was defaced with a Confederate flag, racist and homophobic slurs, and a white supremacist symbol, according to a report in the Keene Sentinel. The sign had rainbow colors and conveyed a message of love, inclusion, and healing.
"I think a lot of people are comfortable with learning the history, but not comfortable with acknowledging the reality of history repeating. People like to believe it can't happen again," said Kovacs. "You need to speak up if you don't want it to happen again. It takes the entire community; it's not going to blow over."
Some communities have spoken up. Following a recent incident in which Nazi swastikas and racist slurs were spray-painted on a public road and street signs in Hopkinton, the town's Select Board and School District were quick to "unequivocally condemn" the act. "We recognize the pain and trauma that arise as a result of antisemitic and racist hate," their statement said. "We stand in solidarity with our Jewish and Black neighbors." Hopkinton Police announced on Wednesday that they had identified the people who were responsible, but released no details.
Franklin has appointed a "citizens task force" to address the white supremacist attacks it condemned in its September resolution. According to a City Council member, the task force has already met twice.
Nashua, where both Nazis and Proud Boys have demonstrated in public places, has declared itself a "Welcoming Community." The city is the first in the state to receive official certification from Welcoming America, a status it achieved last month. "Having this recognition helps us reinforce the assertion that we are passionately dedicated to ensuring that everyone feels safe and supported here in Nashua," said Mayor Jim Donchess.
The NH Department of Justice has had a Civil Rights Unit since 2017. Its responsibilities include investigating civil rights complaints, including "actual or threatened physical violence, property damage, and property trespass that was motivated by race, color, religion, national origin, ancestry, sexual orientation, gender, gender identity, or disability," according to their website.
Laconia, too, has shown leadership going back at least to 2000, when the mayor and the police department formed the Laconia Human Relations Committee. Among its objectives is to "pursue the prevention of prejudice, intolerance, harassment and discrimination in our community through public discourse, media exposure, community action and education on these issues."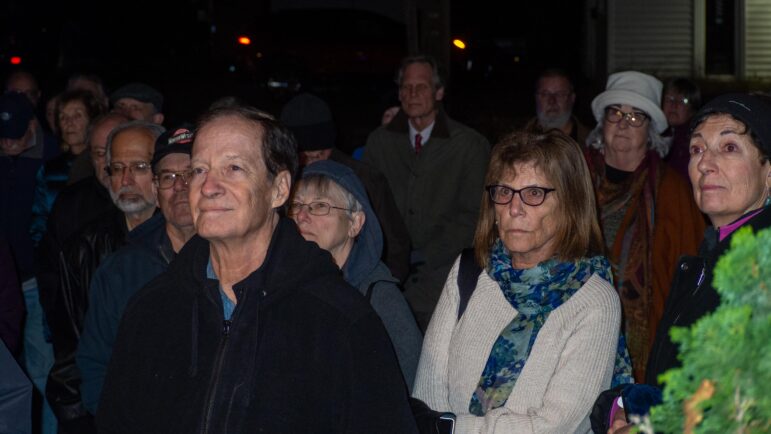 Carol Pierce, a founder and member of the Committee, was one of about 70 people who gathered outside Temple B'nai Israel in Laconia for a Kristallnacht commemoration on Nov. 9. Pierce described discovering her German heritage at a young age, in the midst of World War Two. By the age of 10 she was wondering what her family would have done if they had stayed in Germany. "As the war ended, I read with horror about death camps," she said.
With the crowd huddled by the Temple steps as the weather grew colder and cars zipped by on Court Street, Pierce finished her talk with a call to connect the past and present. "We cannot help but be aware of the anti-Semitism that swirls around us, amplified once more," Pierce said. When even one incident of racist graffiti can contribute the growth of terror, she said, "the overwhelming historical tragedy of Kristallnacht must never be forgotten. By all of us."
Lois Kessin, who served as host and emcee for the commemoration, wore a pin on her lapel that said, "Silence is the voice of complicity." After the program, she told me, "I grew up in this synagogue. And when I was here, there were seven or eight Holocaust survivors. And they didn't talk much, but I saw their numbers. I saw their pain." Now, when she sees other holocausts unfolding around the world or anti-Semitic graffiti scrawled in public places in her own town, she says, "I just want to do something."
But do what? Miriam Kovacs told me, "I just want everyone to be aware that even if they think they don't know where to start, or they don't feel like they're doing enough, just showing up and wanting to help is a lot." She wants more public education, more responsiveness from police to hate incidents, and more attention from the public officials who make and enforce the laws.
Kovacs said after the threats, the support she received from customers gave her a boost. "Once word got out, people from all over the state started showing up," she said.One woman even called from California to order takeout for her mom, who lives in New Hampshire.
"What I'm seeing is the majority of people aren't in support of Nazis and white nationalism. But it's also important to give people the knowledge that this is happening," she said. "That's why it's so important to speak up."
"I am exhausted," Kovacs said. "But I've said it several times, I'm never going to pass up the opportunity to keep the message going, to keep raising awareness." A sign in the window at Broken Spoon is spreading the message: "More Equality. More Humanity. More Hope. More Pride. More Acceptance. More Love."