WRITING ON THE FLY
By GEORGE LISET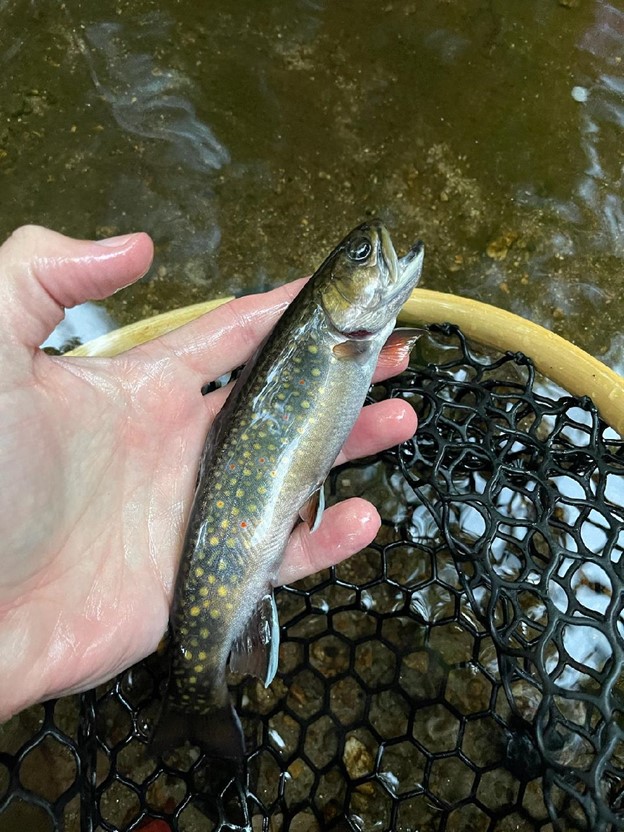 The dog days of summer are upon us which makes fly fishing for trout a challenge on the Seacoast.
Trout like cold water, not bath water, which most of the rivers on the Seacoast seem to be. I'll be signing up with Captain John McKernan for a couple Striper trips out to Great Bay and Portsmouth and Rye Harbors because Stripers are fun and I know they will be biting, but I needed to scratch that trout itch.
Then, last week, I received a call from my college friend Jim Van Yperen. Jim and I played college football together and we had talked about getting together to fly fish. Jim mentioned that his son was coming for a visit and wanted to find some trout. I told Jim that he would have to head up north to the Mount Washington Valley if he had any hope of catching a trout. I had mentioned to him that Steve Angers from the North Country Angler fly fishing shop had posted a video on his Facebook page that the Saco and Ellis Rivers were fishing pretty well.
Jim said it would be a ride from his house on the other side of Concord, but I told him it would be worth the trip. I had not heard how he and his son made out until he called a couple days ago and asked if I wanted to meet him in North Conway to fish the Saco. I couldn't say "Yes" fast enough. So the next morning we met at our agreed upon spot.
I arrived at the spot early and was checking out the river when another angler came over to do the same. He had a place in town and fished the Saco regularly. He said that because of the previous day's rain the river was running fast and a little murky and that he would wait until the evening or the next day to fish. Being a good sport he pointed out a few spots on the river where he usually had some success. He wished me luck and mentioned that if I caught anything that I would be doing alright.
Jim arrived shortly and we headed over to one of the spots the gentleman pointed out. I started casting a size 16 Hornburg just to get the kinks out. Jim went with a dry fly. The Saco is a beautiful river and certain sections are very popular with families, kayakers, canoeists and float tubers especially. The joke at the fly shop is that you have to get on the river early to beat the "Tube Hatch"!!!
Since the river was running fast, I suggested to Jim about using a Bead Head Wooly Bugger to get on the bottom where the fish were holding. Jim added that he and his son did well last week plying the banks. Jim headed over to a bank that had a fallen tree in the water. A few minutes later Jim caught a nice Brown and a Brook Trout.
I fished an area nearby and was too quick with my retrieve and missed another. The sun was coming up and was hitting close to 90 degrees, and then it happened. The "Tube Hatch" started coming off onto the water. Jim and I looked at each other and decided to hit the Ellis River. There might be a swimmer, but no music and no tubers.
We drove north along the Ellis and stopped at a couple of spots. I switched over to my light Orvis 3 weight Superfine and put on a size 18 Bead Head Caddis and found two nice Wild Brook Trout in a little pool. We checked out a few other spots and decided to head back where I left my truck.
    I never cease to be amazed at the beauty of the White Mountains. There are a number of rivers that are prime trout habitat which hold the most sought after prize in the valley, if not the Northeast, the native Wild Brook Trout. So stop by the North Country Angler, get your free fishing map, and enjoy fly fishing North Conway and the Mount Washington Valley.
 George Liset of Dover is an award-winning outdoor writer and avid fly fisherman who shares insights of his time on the water exploring New Hampshire streams and rivers as well of those around New England. George is a graduate of Wheaton College, Illinois, and the University of New Hampshire. His column Writing on the Fly has been honored by the New England Press Association and the New Hampshire Press Association.