By SUSAN DROMEY HEETER, Joyful Musings


Every once in a while there is a summer so lovely it should be framed, bronzed, paused for eternity. And, dear Joyful Musers, my summer of 2022, so far, is just that. It's been a month of a well deserved break, a glorious reprieve from all things stress, all things prickly, all things exhausting. I have not been asked to be a witness at the January 6th hearings, nor have I been on a plane. All is well.
My husband and I celebrated twenty-five years of marriage in May. And we pondered and planned on an event that would indicate the joy of that milestone, the recognition that, so far, we've made it. We looked at five star lodgings, flights to tropical islands, fancy excursions. And, as room service is about as foreign to us as valet parking, when a 270-square foot cottage came up for rent, we jumped on a month of a glorious view of the Ipswich Harbor in Massachusetts rather than crisp linen sheets and chocolates on the pillows.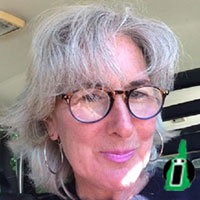 And the cottage is rustic at best. There is a bed and an outdoor shower, a fridge and a stove. There are chairs from 1956. Birds have created a nest in the roof; spiders are our housemates.
But, dear Musers, there is not only one big screen, there are two: both that envelop the Ipswich Bay and allow us to watch the boating channel, the high tides, the low tides, the sunrise, the sunset. I packed bathing suits and a hammock; my husband has been kayaking. We've eaten cheese and crackers; I just made a chicken fruit salad that we'll eat for days. It's good to read and walk and gaze, It's good to stop and replenish during a world that really does need a good time out. I know I do.
I joked with a friend that I am in my own insane asylum, when my husband is gone, my daughter not visiting, friends not stopping in, I just rock on the hammock; I read. I learned how to play one note on the ukelele, "C." That's enough for now. I may learn a few more as the weeks pass – or I may not.
Instead, I may walk and walk and walk on Crane Beach, I may look for sand dollars, I may rock and rock and rest and rest. I may simply pause and listen to the birds, I may hope the deer who joined me for breakfast last week will return.
In a world where we live with timers and agendas and data and obligations, it's good to feign a hospital visit, to opt for simple over chaos, rest over running.
I muse joyfully you are having a summer you'd like to bronze, capture, pause. And, if not, start now. It's July 2022 only once, dear Musers, carpe diem, carpe aestas, carpe vita.
Susan Dromey Heeter is a writer from Dover who recently let her hair go au natural white. Writing has been her passion since her English majoring days at the University of Massachusetts in Amherst. Dromey Heeter has lived in The Netherlands, Alaska and currently basks in all things New England, including the frigid winters. An avid swimmer, Dromey Heeter's great passion is to bring back body surfing as most children have no idea how to ride waves without ridiculous boogie boards.