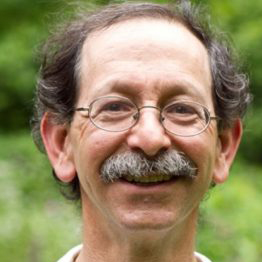 Arnie Alpert is a retired activist, organizer, and community educator long involved in movements for social and economic justice. Arnie writes an occasional column Active with the Activists for InDepthNH.org.
By Arnie Alpert, Active with the Activists
PORTSMOUTH—When Olivia Zink, Executive Director of Open Democracy, began planning the organization's eighth annual Seacoast Democracy Walk, she probably had no idea it would attract so much attention.
Founded by Doris "Granny D" Haddock, who in her late 80s famously walked 3,200 miles, crossing the country to promote campaign finance reform, Zink's group sees walking as a way to raise awareness and to put some movement into the movement.
The theme of this year's Seacoast Walk was building multi-racial and inclusive democracy. That's why Zink invited the Black Heritage Trail's Nur Shoop to lead them past several historic sites on their way to a rally in Market Square on a busy Sunday afternoon.
The event began in Rock Street Park, a small green space between a basketball court and a new parking garage a few blocks from Portsmouth's bustling downtown. There, about 40 people heard speeches from Rekha Mahadevan, Jackie Weatherspoon, and Maggie Fogarty.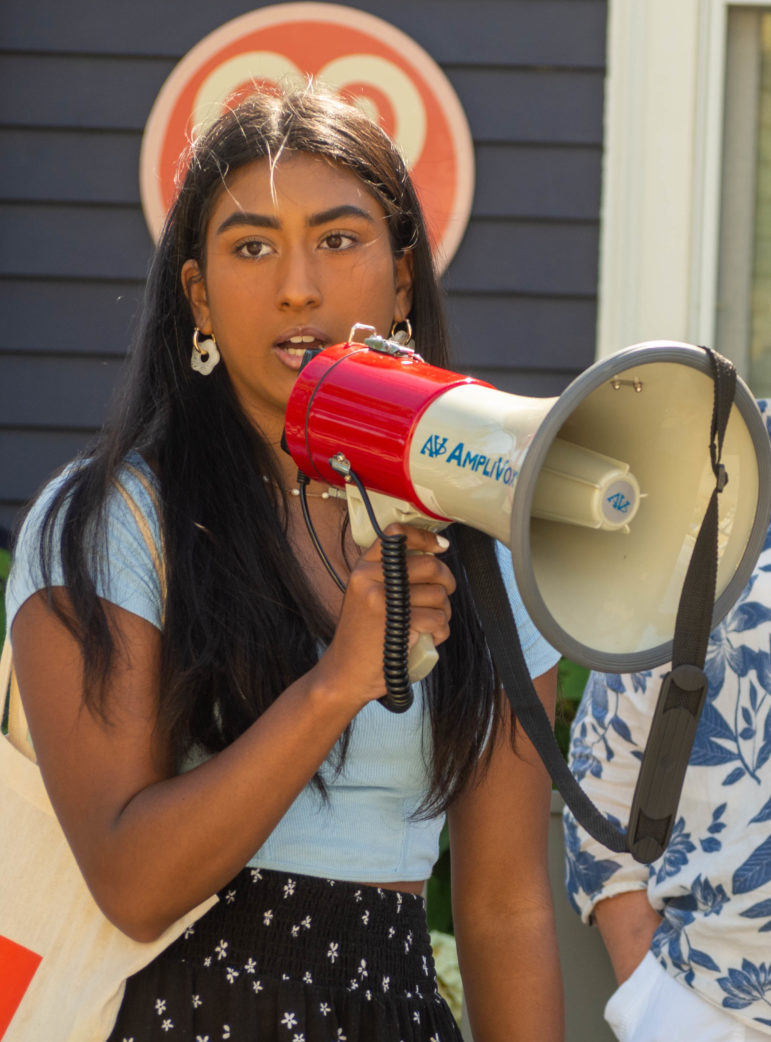 For Mahadevan, a rising senior at Berwick Academy, voting rights are under attack. Voter ID requirements, barriers to getting ballots translated into languages such as Arabic and Haitian Creole, and difficulties even finding out where to vote are suppressing the voices and rights of people of color. "According to the American Bar Association, only 5% of white survey respondents reported that they had trouble finding polling locations, compared to 50% of African American and 14% of Hispanic respondents," she said.
"Now, I can't stand and talk here about inclusive democracy and voting rights without addressing the recent overturning of Roe v. Wade by the Supreme Court," added Mahadevan, a Madbury resident who also serves as vice president of the Seacoast NAACP Youth Council. "Abortion enables people to exercise self-determination over their bodies, their family lives, and their own safety. A functioning democracy protects these very same values. Political self-determination requires voters to be able to effectively choose who governs, and a ballot lets voters defend themselves against policies that threaten their own rights," she said. "So, let's keep fighting and taking steps towards a more inclusive democracy."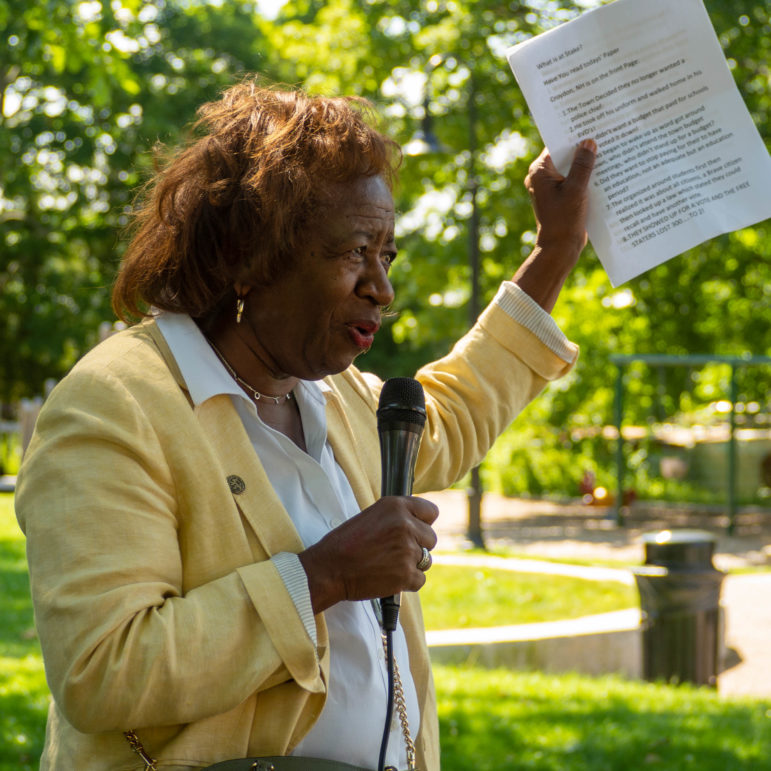 Human rights activist Jackie Weatherspoon, too, focused on threats to democracy, with memories of a 1989 KKK organizing drive in Exeter as fresh in her mind as the recent efforts of "Free Staters" to slash funding for public schools in places like Croydon. Recalling, too, that Black women were excluded from the early 20th century women's suffrage movement, Weatherspoon said democracy is "too precious for anybody to sit on the side."
"You know what we have to do," the former State Representative exhorted the crowd. "We have to go to town meeting, we have to vote, we have to register, we have to go to our local high schools and get your kids and their friends and your grandkids, your nieces and nephews registered to vote. Then you have to make sure some of the young people take positions in town hall."
"We want to be side by side with our young people," she added, "so they have good schools. So there's affordable housing. So women can determine not only what to do with their bodies on the inside, but what to do with their bodies on the outside."
Maggie Fogarty, who directs the American Friends Service Committee's New Hampshire Program and sits on the Dover School Board, followed with another plea for the importance of multi-racial democracy.
"While voting isn't enough, and it can be heartbreakingly not enough, it is essential still," she said. "So many of us here give our time and energy to building collective power to make change. And sometimes that's electoral. Sometimes we're running for office, sometimes we're doing issue advocacy. But we have learned time and again that we're up against a rigged system. Just in the last decade, we've had mass movements for immigrant rights, for racial justice, for common sense gun laws, for environmental justice, for repro rights, for accountability for police brutality. But they slam up against a wall of inertia in our legislatures, incremental policies, and hideous counter proposals that are all funded by big money."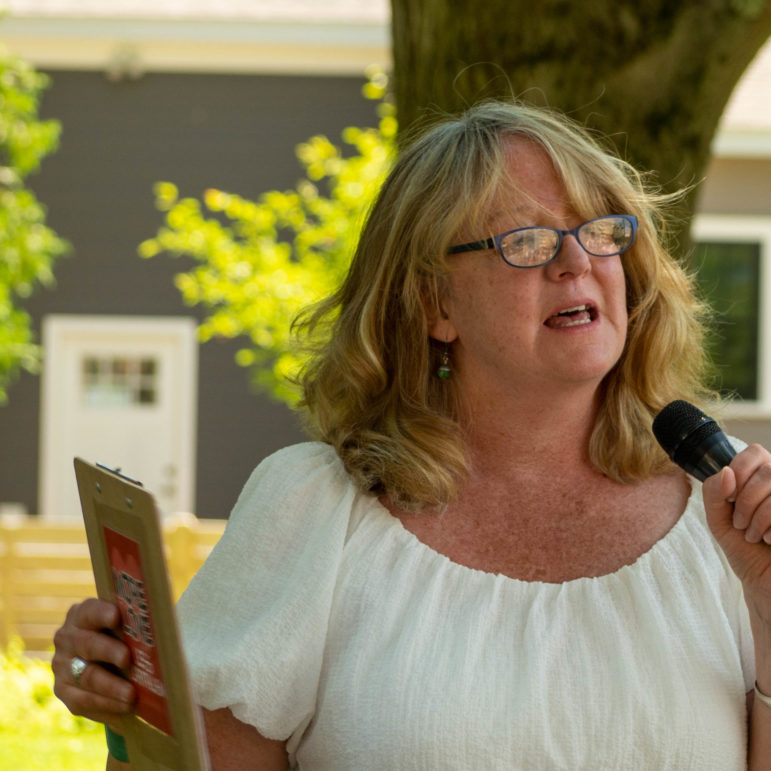 For Fogarty, it's not all doom and gloom. "The good news is that there actually is plenty we can do and no one of us needs to do all of it. We need to find our thread, our piece of the work, and contribute that, what we can. The movement is not served by exhausted, burnt out, despairing people," she said.
After Fogarty's speech, Nur Shoop picked up a megaphone and led the group, by then about 50 people, around the corner to the site of the former People's Baptist Church, where a primarily African American congregation worshipped from 1915 to 1988. Shoop, a Kittery resident who is active in the local chapter of the NAACP and also leads Black Heritage Trail tours, said the young Martin Luther King, Jr. preached there in 1952 while he was studying theology in Boston, prior to taking up a pulpit in Montgomery, Alabama. Singing in the choir that day was another Boston grad student, Coretta Scott, who married King the following year. The building, which later became a function hall known as The Pearl of Portsmouth, is one of numerous sites spread through Portsmouth's old neighborhoods where the Black Heritage Trail has brought previously obscure stories to light. One might say that recognition of New Hampshire's Black history is itself part of the long process of building a multi-racial democracy.
While walking, Judy Krassowski of Goffstown told me she became involved in pro-democracy organizing while teaching at Trinity High School in Manchester, where she discovered that 18-year-olds were having difficulties exercising the right to vote. With support from Open Democracy, she organized a project to get information about voting to high school students at public, religious, charter, and home schools. "I do this for democracy," she said when I asked why she joined the walk.
From the site of People's Baptist Church, the group followed Shoop to the Rockingham Hotel, which Shoop said had mostly excluded Black guests into the 1960s, and then to the African Burial Ground, also on State Street. Two decades ago at this sacred site, workers discovered coffins with the remains of enslaved Africans who could not be buried at the city's white-only cemeteries. The peaceful spot, nestled between State and Court Streets, was transformed into a memorial park containing the re-buried coffins, with words of a poem by the park's designer, Jerome Meadows, inscribed in the bricks.
Mahadevan, who is learning from Shoop how to lead Black Heritage tours, took the bullhorn to read Meadows' words.
"I stand for the ancestors here and beyond. I stand for those who feel anger. I stand for those who were treated unjustly, I stand for those who were taken from their loved ones. I stand for those who suffered the Middle Passage. I stand for those who survived upon these shores, I stand for those who pay homage to this ground. I stand for those who find dignity in these bones."
Shoop pointed out that slavery was not just a southern phenomenon. Based on early census records, 55 out of 93 early New Hampshire towns had residents who were enslaved, including an uncounted number of children.
From the Burial Ground, Shoop led her troupe through the city to St. John's Episcopal Church, where she described the work of a multi-racial team of activists to agitate successfully for desegregation in Portsmouth in the 1960s.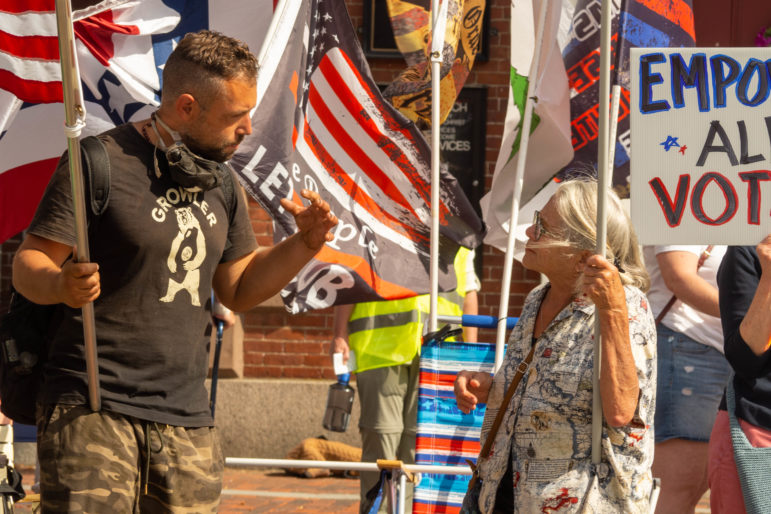 Singing "We Shall Overcome," the democracy walkers proceeded down Daniel Street to Market Square, where they found a surprising scene in front of the North Church on Congress Street. There, a curious assembly of people held rainbow flags, Trump banners, "Don't Tread on Me" flags, American flags of various designs, and placards with a diverse array of messages. Meanwhile, tourists with puzzled looks tried to figure out what was going on.
It was Civil Rights Sunday, a weekly affair organized by Seacoast Occupy, where local progressive activists take to the public square to advertise their support for voting rights, peace, climate justice, gun violence prevention, and women's reproductive rights, and to proclaim that Black Lives Matter. The weekly demonstrations have attracted counter-protestors, a group which calls itself the "Seacoast Deplorables," taking off on a regrettable comment of then-presidential candidate Hillary Clinton. It was rather chaotic, but generally peaceful. With the arrival of the Open Democracy walkers, the Deplorables were in the minority.
Wei Lin, a Nashua resident spending a Sunday afternoon in the Port City, said she was surprised by the sight. "We first saw the Trump flag. And then we saw the rainbow flag. And we're like, no, that's not what Trump supports." But noting that the bulk of banners and signs were about civil rights, voting rights, and democracy, she said, "We're happy that the majority seems to have more sense." Elizabeth Chung, also of Nashua, said her favorite sign said, "America is a melting pot."
"I was a little concerned when they mentioned there would be counter protesters," said Margaret Mikailov, watching the demonstration from across Congress Street and holding a sign that said, "Be Vocal, Vote Local." The Nashua resident, who is majoring in Russian Studies at the University of Vermont and helped organize the Democracy Walk as a summer intern with Open Democracy, said "It looks like they're outnumbered."
Lauren Selig told me she joined the Walk "because I believe passionately in the importance of democracy and the right to vote, I believe in justice and equity. And I think that we all need to stand up and fight for it." Selig is one of five Democratic candidates running for Durham's three State Representative seats.
For Selig, the counterdemonstrators were disturbing, but she observed, "I think it shows the truth of democracy that really we are all supposed to be able to have our voices heard."
The demonstration – or perhaps demonstrations – went on for about another hour after the Democracy Walkers arrived. With the Leftist Marching Band going through its repertoire of social justice tunes from its spot by the church's front door, the participants waved their diverse flags at tourists, chatted with old and new friends, and in some cases had civil conversations with people who held views different from their own. To be on the safer side, Open Democracy had brought a team of "peacekeepers," activists trained and prepared to intervene if anyone was threatened with violence.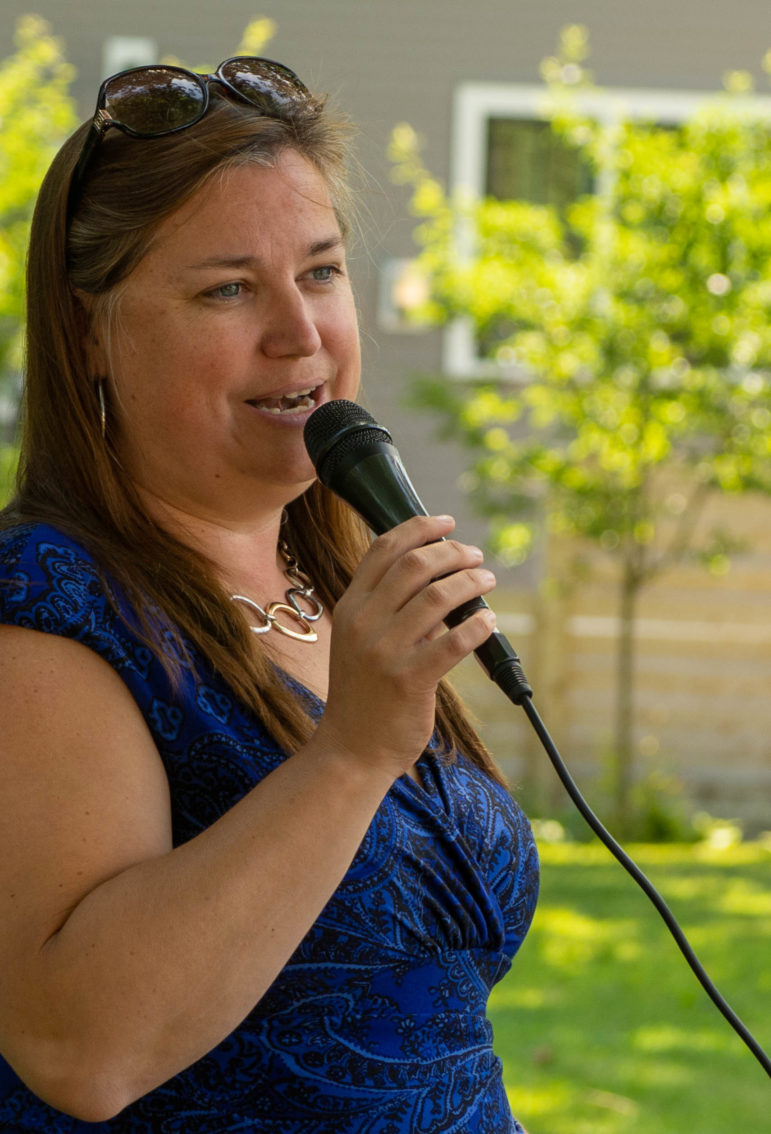 Olivia Zink said that while Granny D was mostly known for trying to get big money out of politics, she felt strongly about civil rights. It was interesting, Zink said, "that we have been greeted at Market Square by a group of folks that don't share the same values of building a multi-racial and inclusive democracy."
"The need to build a movement that includes everybody is really the foundation of where we are right now," said Zink, who serves on the Franklin City Council and sits on the Secretary of State's Special Committee on Voter Confidence. "We shouldn't be talking about voting rights for one class."
"Everybody needs to have access to the ballot," she stated, adding that the next Democracy Walk, in honor of Granny D, will go from Dublin to Peterborough on August 13. Get more information at OpenDemocracyNH.org.