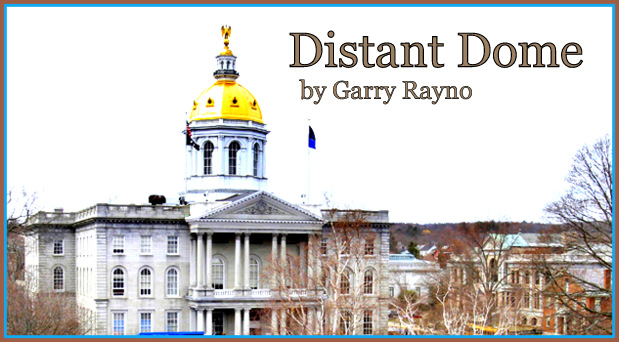 By GARRY RAYNO, InDepthNH.org
Energy prices are going up faster than Elon Musk's or Jeff Bezos's space ships.
As gasoline prices close in on $5 a gallon, the cost of electricity will more than double beginning with next month's bills.
The Public Utilities Commission's approval of escalating energy prices was not optional as the electric utilities framed the increases as fuel costs, which are called "pass throughs" which means they go directly onto your bill.
So do other things in the complicated electric utility world, such as what's called forward capacity. You may have heard the phrases "forward capacity market" or "forward capacity auction."
However, New England electric ratepayers could collectively reduce their bills by $1.5 billion to $1 billion a year if there were no forward capacity component. When the ill-fated Northern Pass transmission project was before state regulators, the forward capacity market cost New England ratepayers about $2 billion a year.
With New England's 7.3 million electric customers — residential, commercial and industrial — eliminating forward capacity would not save a lot of money for each bill payer, but it would be some.
To understand the situation, a good question to ask is what is the forward capacity market and how did it arrive in New England.
About 25 years ago, many states— not all — deregulated their electric industries, meaning they separated the transmission and distribution of electricity from generating the power.
Older folks remember the large utilities like Public Service used to both generate and move it over their wires. The old framework meant the utility's customers were both buying the electricity and paying to construct not only plants but almost any other construction the utilities needed to do from remodeling an office to replacing poles.
The idea behind decoupling transmission from generation was ratepayers would no longer be responsible for the capital costs of building new generation, that it would be up to investors to put up the money and if the price of electricity was not enough to cover the capital costs, that would not be the customers' obligation.
In other words it shifted the financial risk of building new generation from customers to investors.
That sounds good, but the separation also allowed generators to sell their product to the highest bidder whether the utility was in the same region or not.
For example, California capped the price of electricity so generators sold their electricity to someone like Enron who moved it out of California and sold it for much more, causing rolling blackouts and other problems in California.
So the forward capacity market was instituted here in New England, in the mid-Atlantic and in the Great Lakes states. All three regions have forward capacity auctions and programs.
The solution to selling to the highest bidder was to look forward three years and pay generators to guarantee they will provide a certain amount of electricity at a price set by the auction, but not really.
The program was intended to keep local generators selling their product to local utilities and to provide money to help the generators upgrade equipment and become more efficient.
But what it really became was candy store money or something to help boost the bottom line to please stockholders.
The Northern Pass project eyed the forward capacity market as a cushion when the price tag grew, while the legacy or existing generators did all they could to prove the hydro-electricity from Quebec would be too costly to participate in the market.
Generators have to prove they can generate the power for less than or equal to the auction price in order to participate.
The program has been a nice source of money for the legacy generators and some argue a significant detriment to large renewable energy projects.
When the program was established, renewable energy was much more expensive than burning fossil fuels, but not so today and some want to end or at least make significant changes to the forward capacity arrangement.
An incident involving a gas-fired plant in Salem, Massachusetts added a little fuel to the fires of change.
Salem Harbor Power Station was paid $100 million in forward capacity money when it could not produce the electricity it promised because construction was delayed.
ISO-New England, which manages the wholesale market for the region, has been investigated as well by the Federal Energy Regulatory Agency for its part in the scandal.
The ISO sent out two press releases last week saying they were given misleading information in making their decisions concerning the bankrupt Salem Harbor project.
Salem Harbor is bankrupt and the New England electric customers are out $100 million.
Last month, NEPOOL, an independent, FERC-approved, advisory group of varying interests from generators to consumer advocates, held its summer meeting and one of the topics was the Forward Capacity Market.
The organization's external market monitor from Potomac Economics suggests doing away with the forward capacity market and auction and replacing it with a seasonal, short-term winter capacity program with a sealed bid process.
He notes the current system focuses three years out and not indicative of what the market will be at the time and is not flexible like other alternatives would be.
The capacity market is designed to meet the peak demand for electricity in the summer and winter months. The summer peak demand in New England is not that much of a problem with its heavy reliance on natural gas until there is a situation like today's. Although the United States produces sufficient amounts of natural gas, Russia's invasion of Ukraine has driven up the demand worldwide and the price has skyrocketed.
In winter it is much more problematic because natural gas for heating takes precedence over electric generation and there is little available for that outside of liquified natural gas.
The external market monitor is not the only person calling for the end to the forward capacity market. Michael Goggin of Grid Strategies, notes in an article for Energy Systems Integration Group, "experts are debating the role of capacity markets as the generation mix evolves to larger amounts of renewable and storage resources."
He notes there are better ways to address peak demand, such as a compromise "giving states, instead of the grid operator, more authority over resource adequacy decisions, per the model in the Southwest Power Pool region."
Goggin said the three capacity markets have the largest energy surpluses of any other region in the country and that increases costs.
He notes in New England the capacity market is more than 20 percent of the wholesale cost of electricity.
"Stakeholders who own generation or have affiliates that own generation are also highly influential in grid operator decisions, and they generally support higher capacity market prices for self-interested reasons," Goggin says in his article.
He and others say the bias toward legacy generators also impacts the flexibility of the market and does not encourage renewable projects or other small generators.
"Returning resource adequacy authority to states is consistent with the traditional divide between state and federal authority, and does not penalize states that want to invest in clean energy resources," Goggin said. "State officials are better positioned to oppose the billions in costs associated with maintaining excess generating capacity."
New Hampshire and the other New England states need to explore alternatives to ISO-New England's forward capacity market program that are less costly and more encouraging to renewable energy projects not subject to the market fluctuations of the fossil fuel markets.
Those markets are driving the price of electricity and gasoline to places they have never been before.
Distant Dome by veteran journalist Garry Rayno explores a broader perspective on the State House and state happenings for InDepthNH.org. Over his three-decade career, Rayno covered the NH State House for the New Hampshire Union Leader and Foster's Daily Democrat. During his career, his coverage spanned the news spectrum, from local planning, school and select boards, to national issues such as electric industry deregulation and Presidential primaries. Among many awards, he earned the New Hampshire Press Association Lifetime Achievement Award. Rayno lives with his wife Carolyn in New London.