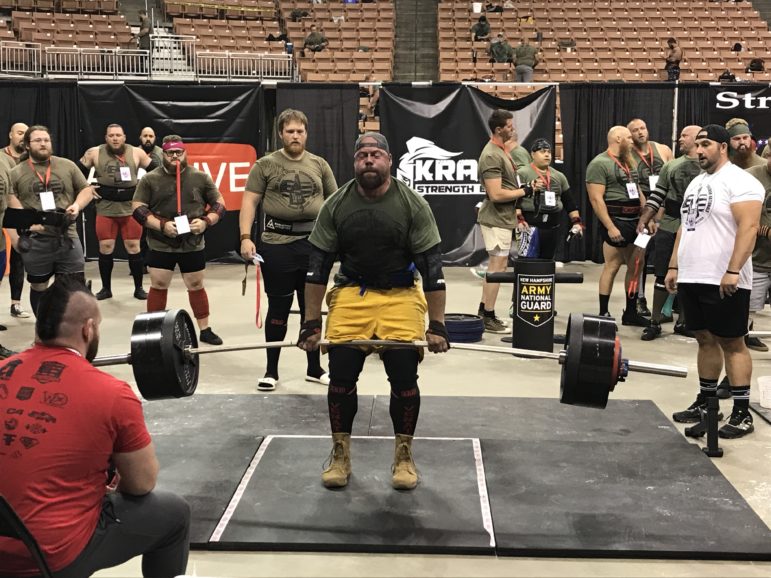 By Beverly Stoddart, A NH Writer's Life
MANCHESTER – In an effort to lift 720 pounds, a strongman competitor has thirty seconds to perform a deadlift. It is a one-and-done opportunity. The bar bends in a frown under the extreme pull where the athlete fights gravity. It looks as if the man's legs will crumble underneath him, but he has trained to defy this challenge. Knees are wrapped, and a leather belt protects his back. He succeeds, dropping the bar and plates to the ground when given the pointed finger upward by the seated, mohawk-coiffed judge. The weight is raised by thirty pounds after each round, continuing until none of the competitors succeed. The stopping point was around 900 pounds. Chasing weight is the desire by the individual to continually strive to lift, push, and pull heavier and heavier weights. Some participate in the strongman challenge.
My family and I have a big dog in this fight. Patrick Narcise is my husband's grandnephew. He and his family have traveled from New Jersey to Manchester, New Hampshire, for Patrick's first-ever participation in the 2022 United States Strongman Nationals held at the SNHU Arena on Saturday, June 25. It was our first time meeting Patrick and his two sisters. Life's needs, disease, and distance keep families apart. However, Patrick's desire to participate gave us the opportunity to have a family gathering. Along with Patrick are dad, Pat, Mom, Trish, and sisters Gabby and Casey.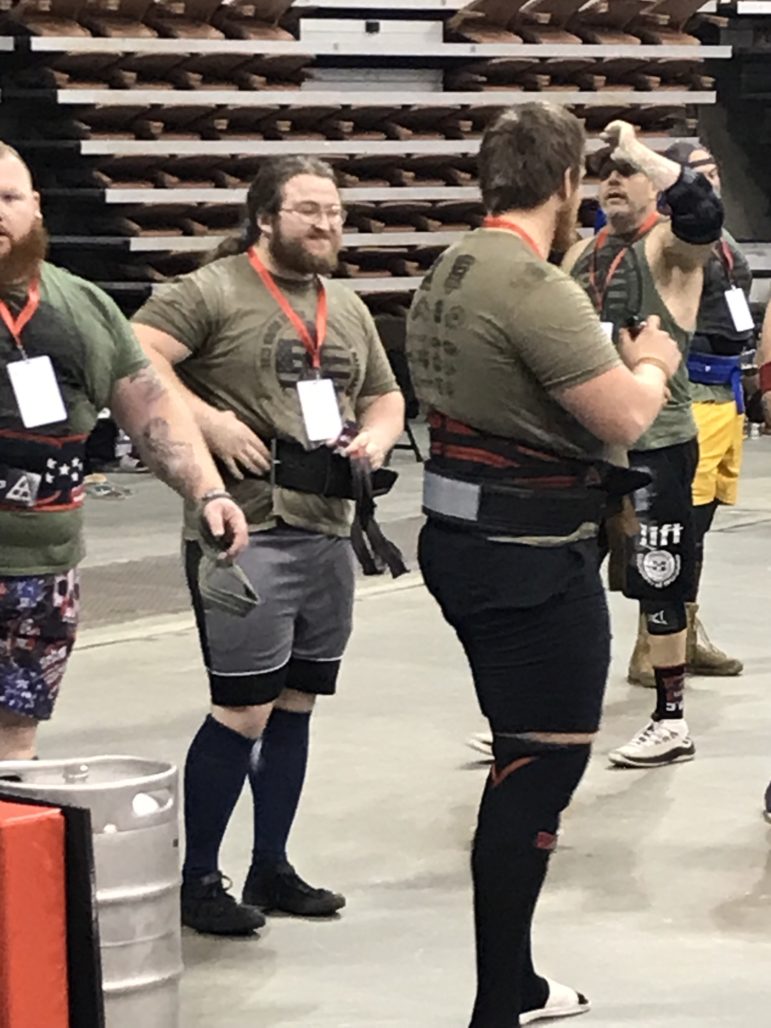 There are unique, tough events Patrick will have to tackle. He must lift a weighted sandbag, a beer keg, twin weighty suitcases lifted and held for a timed event, and then an increasingly heavy bar in a deadlift. In the 'crucifix' test, a weighted steel tube with a crossbar must be carried, and it's 300+ pounds, fifty feet in a timed event. The winner must be capable of the carry and do it as fast as his legs will move. The final event is the atlas stone. This is a ball of cement with red painted numbers stating the weight is 325 pounds. It is daunting, to say the least. There are no handles. And while those blessed with long arms have a slight advantage of embracing the stone, it takes sheer full-body strength to make the move to get the stone up and balanced on one shoulder.
First, the competitor hunches down and wraps his arms around the stone. He pulls the stone to the top of his legs, pauses, and takes huge, oval-mouthed breaths. Next, he rolls the stone over his stomach, pausing again with recovering breaths. The next move is to roll the stone onto a shoulder with one arm supporting the side and the other free hand holding it in place. However, to succeed at the atlas stone lift, the free arm must leave the stone and stretch out and away. As soon as that arm goes out, it is a success. He immediately drops the dangerous weight. Two helpers are positioned to stop the ball from rolling out of control.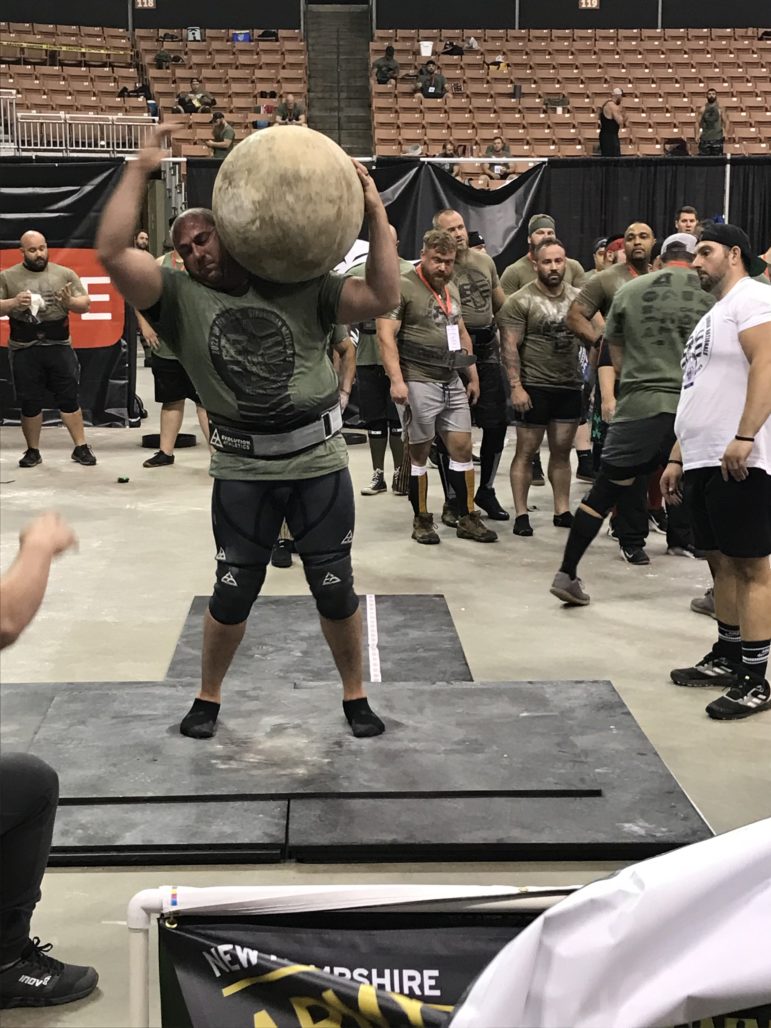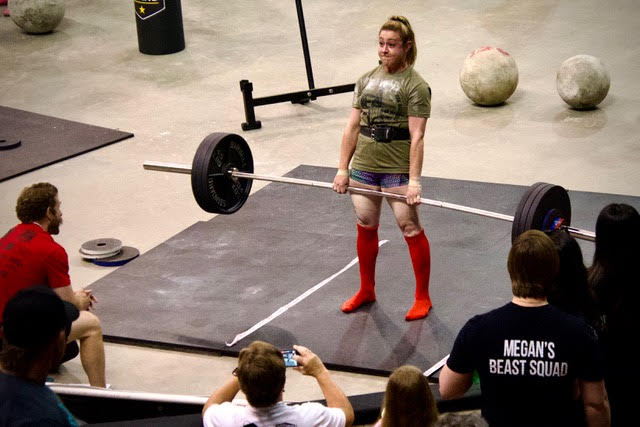 None of these events are for the weak. Men and women compete. It is a passion for those who do. Patrick made his own cement atlas stone to practice with and it weighed in at 280+ pounds. He is a certified personal trainer and works with clients at his home-based fitness center. One of his clients is blind, which speaks to his level of how gentle and kind this big-hearted man is. This is what he wrote about his strongman effort on his Facebook page:
"I can now say I'm the 9th Strongest 308 pounder in the nation. (Weighed in at 289, weight class is 276-308). Videos shown are a 350lb crucifix carry, best performance of mine by far, took it for 25ft each way for 22.9 seconds, missed 2nd place on this event by less than 1 second. Also gave the 325lb atlas stone a good fight. Heaviest stone I've ever lapped, event was to get it to shoulder but just couldn't balance. A few other events of course but these two I'm most proud of."
My husband was especially proud of Patrick. Michael has been a certified personal trainer for over twenty years and owned gyms for fifteen years. He was delighted to watch his 24-year-old grandnephew compete. That plus, Patrick got pretty great results for a first-timer. The whole family is proud of Patrick. We cheered and applauded Patrick and all the competitors as they took on this challenge.
Beverly Stoddart is a writer, author, and speaker. After 42 years of working at newspapers, she retired to write books and a blog. She is on the Board of Trustees of the New Hampshire Writers' Project and is a member of the Winning Speakers Toastmasters group in Windham and the Ohio Writers' Association. Her latest book is Stories from the Rolodex, mini-memoirs of journalists from the 1960s, 1970s, and 1980s. A prized accomplishment was winning Carl Kassel's voice for her voice mail when she won the National Public Radio game, Wait Wait…Don't Tell Me! She has been married for 45 years to her husband, Michael, and has one son and two rescue dogs.