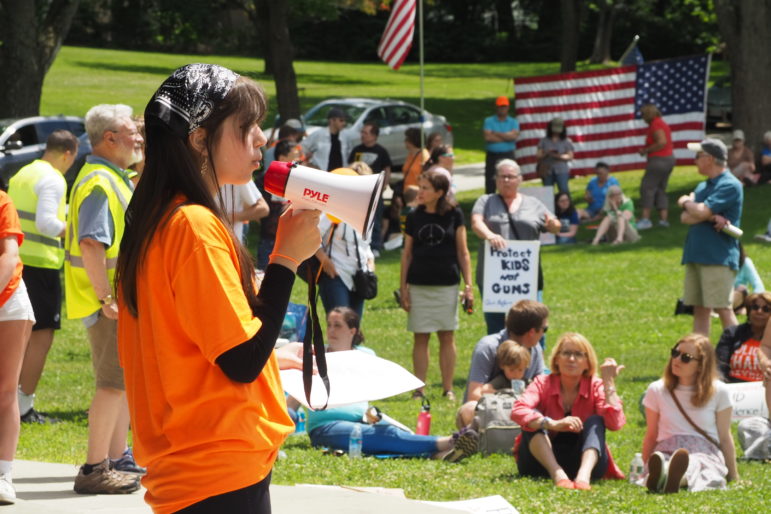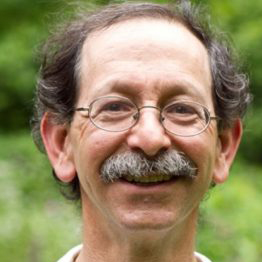 Arnie Alpert is a retired activist, organizer, and community educator long involved in movements for social and economic justice. Arnie writes an occasional column Active with the Activists for InDepthNH.org.
By Arnie Alpert, Active with the Activists
NASHUA—When Andrea Osorio first sat down to draft a speech for Saturday's rally against gun violence, there had already been 213 mass shootings in the United States this year. When she revised it the first time, the total was up to 246. "And this morning," the Nashua High School North junior told several hundred people in Nashua's Greeley Park, "when I checked to revise my speech, it was 254." That's about 11 mass shootings a week, she calculated.
Yesterday's march and rally was led by local high school students and joined by Democratic politicians, including U.S. Senator Maggie Hassan, D-NH. It was one of more than 300 demonstrations nationwide coordinated by March for Our Lives, a youth-led movement started by students from Marjorie Stoneham Douglas High School in Parkland, Florida, following the 2018 killing of 17 people by a former student armed with a semiautomatic rifle.
Aarike Roy said she was in sixth grade when she went with her mom to a March for Our Lives protest after Parkland. She hoped nothing like the Parkland massacre would happen again. After the recent killings in Buffalo and Uvalde, Roy decided that it was time for another march. When she first asked some of her high school friends if they wanted to organize something, "They were like, no, I don't have the time," she told me. So, deciding to do it by herself, if need be, she made up a flyer and posted it on social media.
Soon, other kids were signing up. "They were like, I want to get involved. Let me get involved, I need to help. And these were, honestly, some of these were people I never would have thought would have wanted to get involved, which I think just makes things so much better."
Roy also reached out to students she knew through the Democratic Party, where she found more supporters and connections to local politicians. After learning that the plaza by Nashua's City Hall was already booked, she decided to hold the rally in Greeley Park, where a stage with an amphitheater-like grassy lawn makes a great site.
The group assembled by the Soldiers and Sailors Monument north of downtown Nashua at 1 p.m. on Saturday. After a brief speech by Hunter Porter, a Nashua High School North student holding a "Fuck the NRA" sign, a crowd of more than 250 people marched a mile up Concord Street to Greeley Park, chanting, "protect kids, not guns."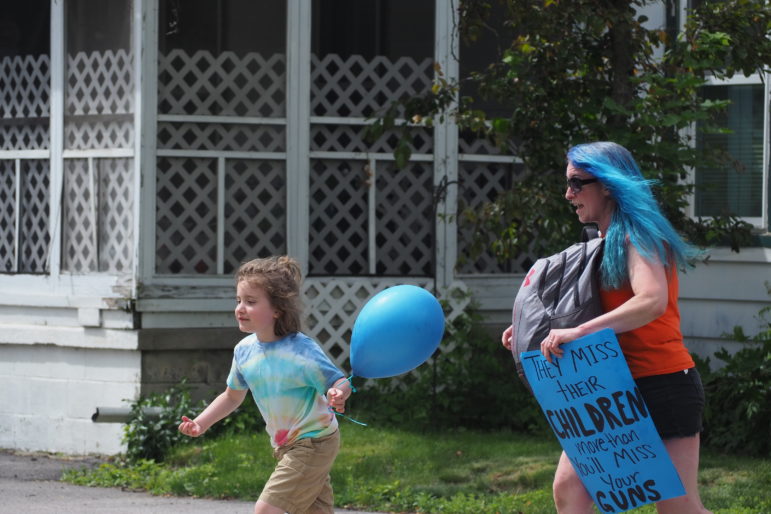 Roy served as emcee and was the first speaker. For those who go through experiences like the Uvalde killings, Roy said, "so many people are left with their lives changed and an indescribable amount of trauma and images that no amount of therapy or mental health program can erase from their heads." Nevertheless, the turnout for Saturday's rally gave her hope. "When you speak loudly in such a big venue like this, and … you're getting people to come and listen to what you have to say, I think it's students who give us a lot of hope as well, because people value what we have to say."
After her own speech, Roy introduced four other young women, all Nashua high school students, for their own impassioned speeches.  Then it was time for the politicians. Nashua Representative Laura Telerski said she was a substitute teacher who had just been through her first active shooter drill when she attended Nashua's 2018 March for Our Lives rally.  It was then that she decided to run for State Representative.
In her first term, Telerski voted for four bills aimed at gun violence prevention, including one that would have banned most firearms on school property.  All were vetoed by Governor Chris Sununu.  This year, the legislature adopted two bills aimed at loosening gun restrictions, she said.  "HB 1178 is on its way to the governor right now, and if signed will prevent the state from enforcing any federal law or executive order regarding firearms.  And it would prevent our law enforcement from working with the FBI, the Department of Justice, and the ATF if we experienced a gun tragedy in our state.  Sununu may sign HB 1178 any day now," she said.
Shoshanna Kelly, a Nashua alderwoman now running for Executive Council, said, "I simply cannot live in a country where your right to bear arms should end my right to hold my child in my arms."
Hassan was the final speaker. "Since Uvalde, we've had at least 20 mass shootings in this country. It is outrageous. It is heartbreaking. It is horrible."
After Sandy Hook, she said, "I thought this is unimaginable, this can never happen again, now things will change. And of course, it hasn't. So, we no longer can call these events unimaginable in the United States of America. They are predictable in the United States of America. And that is the heartbreak and that is the horror of where we are right now."
Hassan expressed hope for a new gun safety bill to gain bipartisan support in the Senate. After the rally, she told me she has supported legislation to repeal provisions of the federal law which protects firearms manufacturers from liability lawsuits. She said she is also a co-sponsor of a bill to restrict sale and possession of semiautomatic assault weapons.
After the rally, I spoke to Warren Chen, a junior at Bishop Guertin junior, who connected gun culture with unlimited political spending enabled by the Citizens United court decision and the "antiquated" Second Amendment. We also discussed the fact that almost all the speakers and organizers at today's rally were women, while almost all those committing mass shootings are men.
Chen told me his little brother, a sixth grader, came to him after sledding one day and said, "I was scared the whole time. I was sweating. I was scared someone's going to shoot because I'm Asian."
"That says something about our news," Chen continued. "Because you're hearing about incidents of hate crimes, right? You're hearing about gun violence and guns, guns, right?"
There's no March for Our Lives chapter in Nashua and no apparent infrastructure for ongoing organizing other than the Democratic Party at this point. But Aarike Roy says, "We will not stop. We will be back here year after year. And we will continue to protest until we get what is deserved."
By 2 p.m. on Sunday, the Gun Violence Archive was reporting that the number of mass killings this year had reached 260.