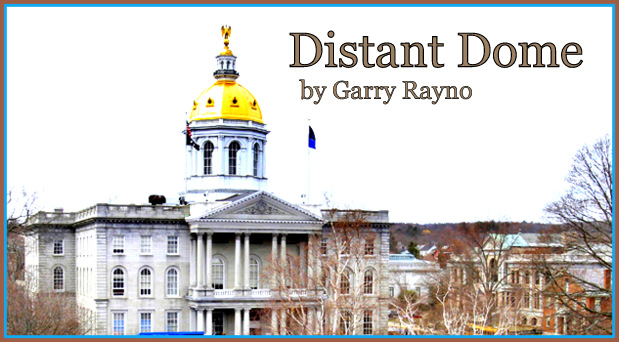 By GARRY RAYNO, InDepthNH.org
CONCORD – The candidates are lining up at the Secretary of State's door to file for the upcoming primary election.
This is when every candidate has hope of making a run in the general election and on to victory in November, although few will cross the finish line.
The candidates can look forward to a summer of barbeques, festivals, street walks, local party meetings, debates and conventions and little sleep and lots of miles on your vehicle.
Some candidates will run for open seats as lawmakers retire and there have been a number of goodbyes in the House and Senate as there always are at the end of the second year of a term.
Two long serving members of the House said their goodbyes. the longest serving member of the House, Democrat Laura Pantelakos of Portsmouth, and Republican David Welch of Kingston.
Death claimed the lives of some other long-time members like Democrats Renny Cushing, Doug Ley, Barbara Shaw and Kathy Rogers and Republicans Dick Hinch and David Danielson.
Other House members are running for Senate like Daryl Abbas and Howard Pearl.
Every two years, about one-third of the House turns over.
The Senate turnover is usually less, but this year is greater than normal with Senate President Chuck Morse who is running for US Senate, Tom Sherman who is running for governor, and Harold French and Kevin Cavanaugh who are running for the Executive Council, as well as Erin Hennessey, Bob Giuda and Jay Kahn.
Predicting outcomes will be a little more difficult this year as the political boundaries of the districts are redrawn to align with changes in population due to the 2020 census and some very partisan gerrymandering by Republicans who control the House by the slimmest margin ever and the Senate by a 14-10 split.
What is not gerrymandered are the two congressional districts because they were drawn by a special master hired by the Supreme Court to align the districts to change in population. Republican Gov. Chris Sununu rejected all the plans put forward by Legislative Republicans.
The few changes — five small up-state towns were moved from the first to the second district — mean the announced candidates will be running in the districts they thought they were running in before the redrawing, which was going to be an issue with the Republican drawn maps.
The small changes in the districts will do little to change the partisan leanings as District One, very slightly leans Republican, while District Two leans Democratic.
The two Democratic US Representatives Ann McLane Kuster and Chris Pappas are not likely to have a serious primary challenge, but Republicans are lining up to run against them particularly in District One held by Pappas.
As of Friday, there were two people filed and a whole lot of other folks who have announced they are in the running but have yet to make it to the Secretary of State's Office to file. They have until Friday to file.
In District Two, three Republicans have filed and at least one other candidate has announced he will be in the running.
The other hot contest is for the Republican nomination for the US Senate seat now held by Democratic US Sen. Maggie Hassan.
As of Friday, seven Republicans have filed, including Morse and former Gen. Donald Bolduc. The other known candidate Kevin Smith has yet to file so that will make it at least eight candidates for the primary.
While Hassan has yet to file, one other Democrat has filed for the seat.
In the governor's race, no Democrat has filed as yet, although Sherman intends to file Wednesday.
On the Republican side, Sununu already has two challengers and he has yet to file as well.
The candidates with good advisors will use the focus of the filing period to put their message before the public, which at this point has been more focused on what their state lawmakers have been doing than what the candidates have to say.
The candidates will be wading into confusing waters this year with many booby traps to circumvent.
The state's and national economy are in pretty good shape coming out of the worst of the pandemic.
State revenues are more than $400 million in surplus and the unemployment rate is very low as many jobs go unfilled which also raises pay for workers.
At the same time the lack of workers is causing some businesses to cut back on services and inflation is the highest it has been in 40 years.
There are major supply chain issues and shortages, but most people working have better prospects for upward mobility than they have had for some time.
The limits of globalization became obvious with the pandemic and the push for greater investment at home will continue to grow.
The economic issues have muddied the traditional positions of Republicans and Democrats on such things as tariffs and trade agreements.
Outside forces have also exposed some highly charged issues that all candidates will need to address.
The US Supreme Court is expected to release a decision soon that is expected to overturn the Roe versus Wade decision that made abortion legal. Roe versus Wade was called the law of the land and settled law by several of the newer justices, said to win their lifetime appointments to the court.
If it is overturned it will be the first time in its history the court will deny citizens what it once determined was their constitutional right.
That decision will have ramifications beyond abortion, as it would open the door to other newly granted constitutional rights such as same-sex marriage, interracial marriage and contraception.
While Democrats view the court's likely decision to overturn Roe versus Wade as a driver for its base, Republicans will have to navigate around the vast majority of state residents who want to see Roe versus Wade remain in place.
Another risky issue for the candidates will be gun rights in light of the mass shootings that have happened recently, particularly the murder of 19 young students and two teachers in a Texas school.
In recent years, New Hampshire like many other states, has loosened it gun regulations like needing a permit to carry a concealed weapon or prohibiting loaded guns on off-road vehicles.
The debate at the federal level will also play out in Concord, as attempts to increase background checks and rein in private sales will be explored in the next two years.
Gov. Sununu said he sees no need to change the state's gun laws, but his vetoes of bills trying to put more guardrails around access to guns two years ago are bound to be raised by his gubernatorial opponent.
Another controversial area candidates will need to address is vaccine and mask mandates in light of the continuing COVID-19 pandemic.
Republicans passed a number of laws prohibiting the state, health care providers and private businesses from treating those without vaccines differently than people who are vaccinated.
Trying to navigate the murky atmosphere of the culture wars will tax the political capital of candidates running for office this year.
Garry Rayno may be reached at garry.rayno@yahoo.com.
Distant Dome by veteran journalist Garry Rayno explores a broader perspective on the State House and state happenings for InDepthNH.org. Over his three-decade career, Rayno covered the NH State House for the New Hampshire Union Leader and Foster's Daily Democrat. During his career, his coverage spanned the news spectrum, from local planning, school and select boards, to national issues such as electric industry deregulation and Presidential primaries. Rayno lives with his wife Carolyn in New London.