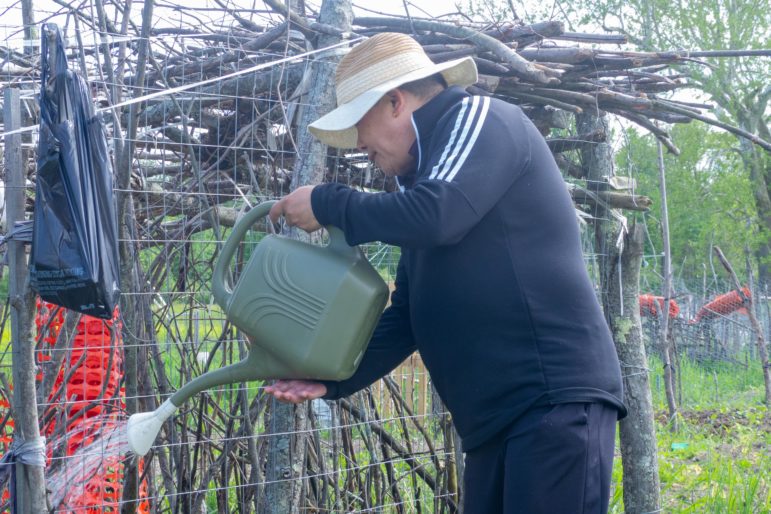 "It took a village to raise the water"
Arnie Alpert is a retired activist, organizer, and community educator long involved in movements for social and economic justice. Arnie writes an occasional column Active with the Activists for InDepthNH.org.
By Arnie Alpert, Active with the Activists
CONCORD—Eleven years ago, Godance Ndabumvirubusa had to wade through mud and poison ivy to fetch water from a nearby pond and haul it nearly 100 yards to her new plot at the Sycamore Community Garden in Concord. Now, thanks to a new solar powered pumping system, she draws water from a tank just a few yards away. "I'm happy for the water," she said, while hoeing her plot and planting corn.
Gardeners and project volunteers joined together on Thursday afternoon to officially inaugurate the water system. Ruth Heath of Canterbury said the new system will make water more accessible for gardeners, most of whom came to Concord as refugees from Bhutan and several African and Middle Eastern countries. With eight tanks spread across the 2-acre field, it will be "so much easier for them to grow organic vegetables for their families," Heath said.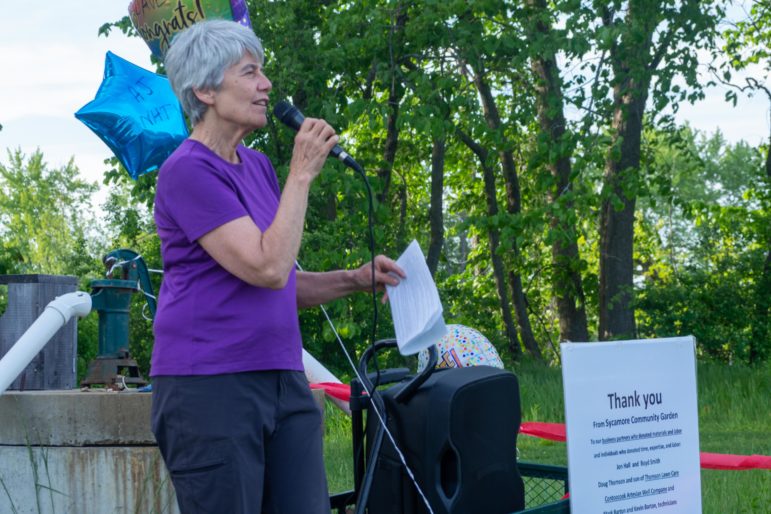 The garden, which sits on property owned by NH Technical Institute (NHTI) between I-293 and a wide bend of the Merrimack River, was initiated in 2009. Ralph Jimenez recalls being asked by local church leaders to start a garden for refugee families, many of whom had been farmers in the countries from which they had to flee. After Doug Woodward, Concord's City Planner, suggested the site on the Merrimack floodplain, Jimenez approached community college officials with the idea.
It took only a week to set up a meeting with NHTI President Lynn Kilchenstein, Jimenez said. "I got halfway through my sales pitch. And I was sitting next to Kilchenstein. And she just said, 'Let's just do it.'"
The garden began soon after with 54 plots and a team of volunteers, including Jimenez and Heath.
Thirteen years on, the community garden has grown to 168 13' x 26' plots, many with fencing and structures to provide shade. Gardeners are raising mustard, peppers, tomatoes, corn, eggplants, okra, beans, pumpkins, cucumbers, and more. Having accessible water near his garden is "a huge change," says Ruben Das, of Concord, who has gardened at Sycamore since 2014.
Heath, who serves as president of the garden's board and was the chief water project organizer, made the complex improvement sound easy. As she ticked off the names of engineers, a well company, an electrician, college officials, contractors, and others who gave time, donations, and material support, Heath said, "Every time I asked somebody, they did it."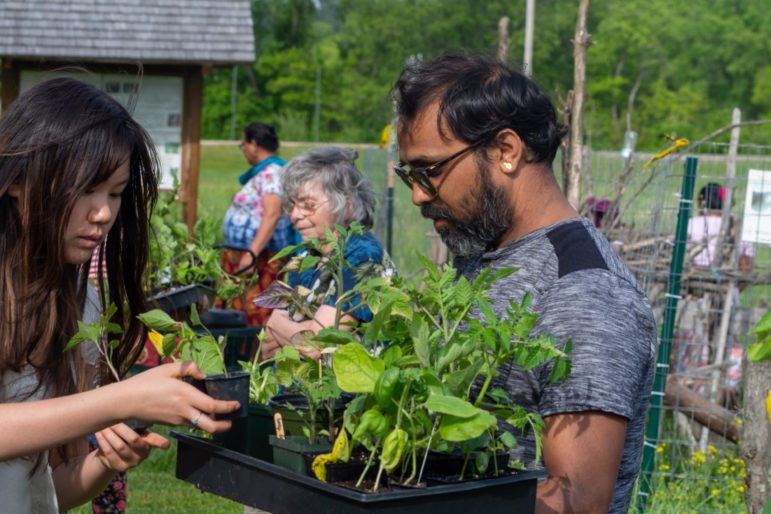 "It took a village to raise the water," she said, prior to cutting a symbolic ribbon with volunteer Jon Hall.
"We did not want a fossil fuel powered pump," Heath said. Instead, the system is powered by a solar array which sends water through 800 feet of 1 inch pipe to the eight plastic tanks spread across the field.
Throughout the late afternoon, gardeners lined up with trays to collect donated seedlings for tomatoes, peppers, onions, eggplants, okra, and more. Many of them were busy drawing water from the new tanks and taking it to their nearby plots.
There were plenty of smiles all around.