By SUSAN DROMEY HEETER, Joyful Musings

I saw a hawk this morning using the wind to coast, to flow, to float, to rise above some rocks.
She used the currents to maintain her height, used the currents to avoid expending energy, used the currents to stop and pause, to glide.  And, today, dear Joyful Musers, I wonder how you use the currents in your life to pause, to glide.

To me, it's a gift to not always flap, to use my wings to simply stop and let the wind carry me, to pause, to pray, to float.

It's been a few weeks of a lot, a lot of moving, a lot of decisions, a lot of work.  And there are times when I've been so tired, the best I could do was match a couple of socks and call it a day.  I've floated on the currents of Netflix, using "Worst Roommate Ever" to not stop and land.
I floated, paused with stories of horrendous real life situations that astonished and shocked, stories that allowed me to float on the currents of someone else's unfortunate experience.
  
It's good to float, to maintain height by couching on currents that allow for a break.  I find podcasts rejuvenate, driving in silence provide pause, walking in the woods allows for a reprieve from the flapping of wings.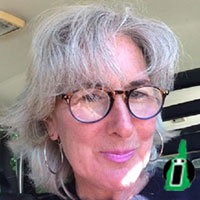 Days can be busy, spring sometimes wants more from us than winter, birds are singing, gardens are getting ready to be planted, the sun is out longer.
Our wings are getting geared to flap more, we're getting ready to move, our feathers beg to be preened.
Are you a hawk today, taking a moment to use the winds to glide and float? Oh, dear Musers, I hope your pause rejuvenates so when you do flap your wings, you're ready to fly, to soar, to go.

 Preen on, dear Musers, relax and flap when you're ready. In the meantime, those currents are there for you to gaze below and know you'll land when you're ready.
Susan Dromey Heeter is a writer from Dover who recently let her hair go au natural white. Writing has been her passion since her English majoring days at the University of Massachusetts in Amherst.  Dromey Heeter has lived in The Netherlands, Alaska and currently basks in all things New England, including the frigid winters. An avid swimmer, Dromey Heeter's great passion is to bring back body surfing as most children have no idea how to ride waves without ridiculous boogie boards.