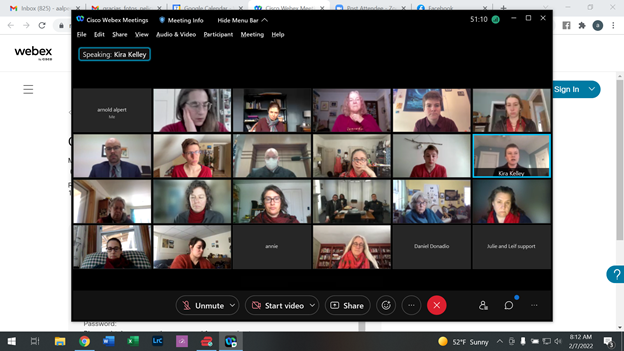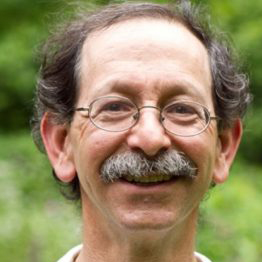 Arnie Alpert is a retired activist, organizer, and community educator long involved in movements for social and economic justice. Arnie writes an occasional column Active with the Activists for InDepthNH.org.
By Arnie Alpert, ACTIVE WITH THE ACTIVISTS
The facts of the case were mostly clear and uncontested:  On January 8, Cody Pajic of Boston and Dana Dwinell-Yardley of Montpelier went onto the property of Merrimack Station in Bow, New Hampshire, New England's last operating coal-fired power plant. 
Dwinell-Yardley and another person climbed an inactive smokestack and hung a banner saying, "Shut It Down." Pajic and a fourth activist chained themselves to the bottom of the stack. When they refused to leave, police arrested them.
No strangers to the power plant, Pajic and Dwinell-Yardley had been arrested there before.  In one prior case, they were found guilty in District Court, after which they filed an appeal and are still awaiting a jury trial on criminal trespass charges.  The terms of their release for that case specified that they would not return to the power plant's property.  After their January 8 arrest at the plant, Merrimack County prosecutors wanted to revoke bail and send them to jail to await trial.  The state's motion to revoke bail was the subject of a court hearing on Monday, February 7, held online over WebEx.
After hearing from prosecution and defense attorneys, Judge John Kissinger denied the prosecutor's motion.
"I won't be returning to the coal plant any time soon," commented Pajic, "but I'm excited to continue the fight against fossil fuels with No Coal No Gas, and I look forward to the day there are no coal plants in New England left to protest."
Pajic and Dwinell-Yardley are both active members of the No Coal, No Gas campaign. Since 2019 that organization has been holding demonstrations at the power plant and elsewhere to demand the plant cease operation. Recent demonstrations have included an attempt last October to plant a garden in the power plant's access road and protests outside the Connecticut offices of the two investment firms which own Granite Shore Power, the plant's operator. Additional actions have targeted ISO New England, the Massachusetts-based firm which manages the regional electric grid.
When police arrived on January 8, the activists said they'd leave if the plant's owners would remove it from a list of a list of power plants competing for subsidies in ISO's "Forward Capacity Auction."  That didn't happen.
Later, they said they'd leave if they could talk to Granite Shore Power's president, James Andrews. Police said that was not possible, though later the group learned from a police report that Andrews was actually on site at the time. After several hours, police arrested the four activists, who were charged and released late that night.
At issue in the courtroom Monday was not whether Granite Shore Power should continue burning coal and emitting carbon into the atmosphere.  Nor was it whether Pajic and Dwinell-Yardley had been at the power plant on January 8, a fact their lawyers did not contest.  The issue was whether the state could revoke bail from a previous arrest and jail them under the terms of RSA 597:7-a, the state law governing "Detention and Sanctions for Default or Breach of Conditions."  Under the law, bail can be revoked if a defendant has violated conditions of release and poses either a risk of flight or a danger to themselves or the community.
"Trespassing on a power plant property, especially 150 feet in the air, is an inherently dangerous activity," argued prosecutor Matthew Flynn.
"The defendants have a belief that this conduct is morally right, and they have expressed a willfulness to continue to engage in this illegal conduct," Flynn charged. "Their conduct speaks for itself."
Judge Kissinger seemed unconvinced by the notion that Pajic and Dwinell-Yardley posed a danger to the community. The question he was wrestling with, he said, was "whether going forward, I can be satisfied that there won't be ongoing violations of what amounts to a bail order. I'm not talking about the no trespass statue, now we're talking about the authority of the court and people taking seriously a court order that's a condition of their release."
Kira Kelley, the Vermont-based attorney representing Dwinell­­­-Yardley, was willing to address the judge's concerns. But first she wanted to contest the allegation that trespassing is "inherently dangerous" and that her client's liberty was somehow a threat.
"Think about the extensive care and safety precautions and astonishing commitment to nonviolence that has been demonstrated every step of the way," she said.  The smokestack banner drop was a "careful, conscientious act of protest that is part of an ongoing campaign."  Her client is an experienced rock climber, she noted, and climbing a ladder with a harness and a helmet is not like "a kid climbing a smokestack for a thrill."
"We're talking about people who care a lot about what they're doing, but that does not mean an escalation of danger or harm," Kelley emphasized. Moreover, she said her client has never missed a court hearing and is committed to seeing the appeal through to its end. If Dwinell-Yardley were sent to jail, she'd probably be there longer than any sentence she might receive.
The question is, Kelley asked, "are there bail conditions that can keep Dana from re-offending or from violating other conditions of release?" She suggested that specifying that further violations would result in automatic revocation of bail would deter her client from returning to the power plant.
"That's sort of my view," agreed the judge.
The prosecutor wasn't happy. "There were bail conditions in place that said don't go back to the spot," he huffed. "For the court to say, 'this time we really mean it, don't go back,' is inconsistent with the statute."
After pointing out that if the defendants' bail were revoked, they could simply request a remand to District Court, where the judge had given a lenient sentence, Judge Kissinger indicated he would deny the state's motion.
Pajic's lawyer, who had only recently been assigned to the case, said he had nothing to add to Kelley's arguments.
Judge Kissinger concluded, "That is my intent on both these matters, to issue an order that bail for both these defendants will be amended to specify that further violations of the trespass order with regards to the power plant would result in immediate bail revocation and detention pending resolution of those matters."
The defendants and many of the 20 supporters watching over Web-Ex expressed relief.
"I'm glad that Judge Kissinger recognized that the state's attempt to put us in jail was also a way to pressure us into giving up our right to appeal and our right to a jury trial," Dwinell-Yardley said. "I feel really lucky to be working with a community of activists who understand that direct action extends to the courtroom, and who showed up to support us in such a big way today. While I won't be going back to the coal plant in person for now, I intend to keep working with the No Coal No Gas community to get this plant shut down for good."
The defendants and Kira Kelley also had comments on the bail system, which Dwinell-Yardley said is "used as a weapon against so many people."
"Three out of five people in jail in this country right now are being held pre-trial," Kelley observed. "I am relieved that Dana and Cody will not be adding to that number, and I wish that more courts acted with as much practicality as Judge Kissinger in his decision today in finding that jail was not the appropriate answer to the important question of how to keep people and communities safe."
"Nobody should have to sit in a cage awaiting their trial, and I'm grateful that Dana and I avoided that fate today," Pajic added.