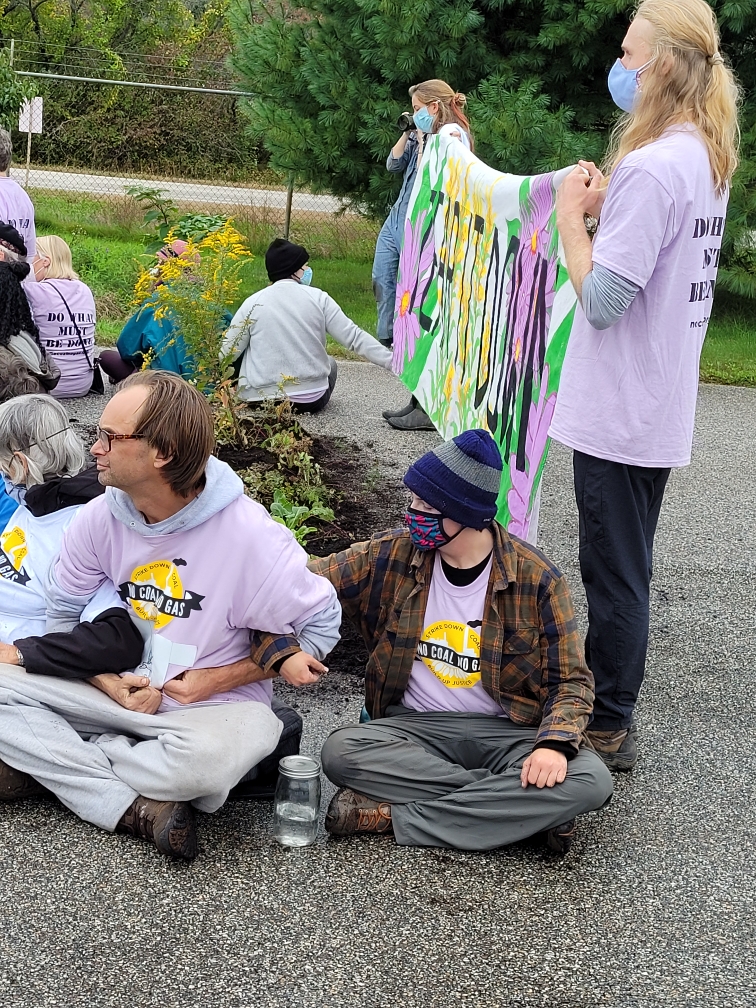 COLUMN: Arnie Alpert is a retired activist, organizer, and community educator long involved in movements for social and economic justice. Arnie writes an occasional column Active with the Activists for InDepthNH.org.
By ARNIE ALPERT, Active with the Activists
BOW – Aiming to reclaim the coal-fired power plant in Bow for life-affirming purposes, a group of activists used pickaxes, shovels, and rakes to plant a garden in the middle of one of the plant's access roads on Sunday afternoon.  After a few dozen state police in full riot gear showed up, 18 people were arrested.   
The gardening action followed a rally attended by about 200 people in the ballfield opposite Merrimack Station, New England's last operating coal-fired power plant. Mary Fite, a Bow resident who came with her partner and their three children, addressed her comments to the plant's Connecticut-based owner, Granite Shore Power, a joint venture of Atlas Holdings and Castleton Commodities. "They don't care about your health, and they don't care about your children. They don't care about future generations," she charged. "Granite Shore Power does not care about climate change or the future of planet earth."
"Granite Shore Power wants to intimidate residents and invalidate our concerns, but here we are," she said, to cheers from the crowd.
Kate Lessard, a Bow High School student, also spoke. "As a young person it's really important for us to take action in shutting down the climate crisis before it's too late because if left unchecked it will have worse and worse effects for my generation," she said in an interview before the rally, adding that a majority of her peers agree.
After the rally, the group split into three parts, one which launched canoes and kayaks from the Allenstown side of the Merrimack and rallied in the water on the east side of the plant for about two hours. While a second group followed a marching band north on River Road, the third group carried seedlings, bags of topsoil and garden tools up the access road marked "employee entrance."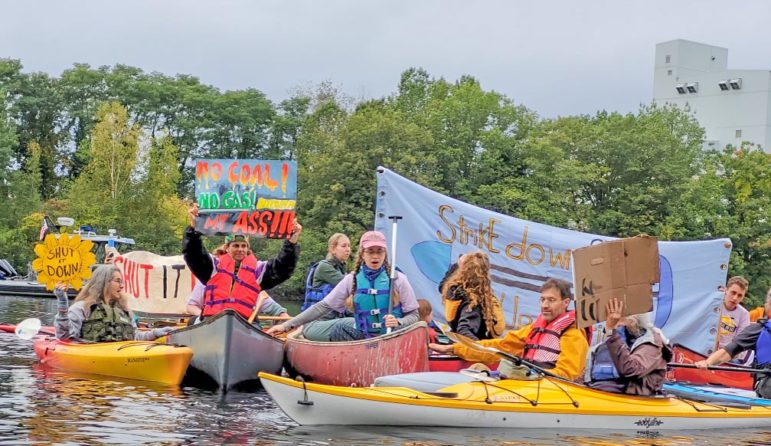 With one group of gardeners remaining in the area by River Road and starting a garden in the grassy roadside, the others marched right past the sign that said, "Merrimack Station Employee Entrance." After a short walk, they stretched their "Tear It Down" banner across the road. With two people holding the banner and thirteen on the ground, two activists took pickaxes and began tearing up the asphalt. That's when the State Police cruisers showed up.
After the pickaxe wielders were taken away without resistance by State Police, the others poured topsoil and began planting seedlings, but the garden project was interrupted by about two dozen police in full riot gear who marched up from behind. More riot police appeared from the other side and blocked off the access road. A Bow Police sound truck on the other side of a chain link fence blared warnings that the gardeners were trespassing on private property. Arrests began about fifteen minutes later.
When it was over, 16 more people had been arrested, again with no resistance, each marched by two officers down the road, where they were handcuffed and instructed to stay put.
One of them was Sue Durling, a Hillsborough resident who used her wheeled walker to join the march and the mid-road gardening project. "I need to do something. I can't sit around and do nothing and leave this world to my grandchildren as it is. I have to do this," she said. Durling and two others were each given a summons, charging them with criminal trespass and given a November 8 court date.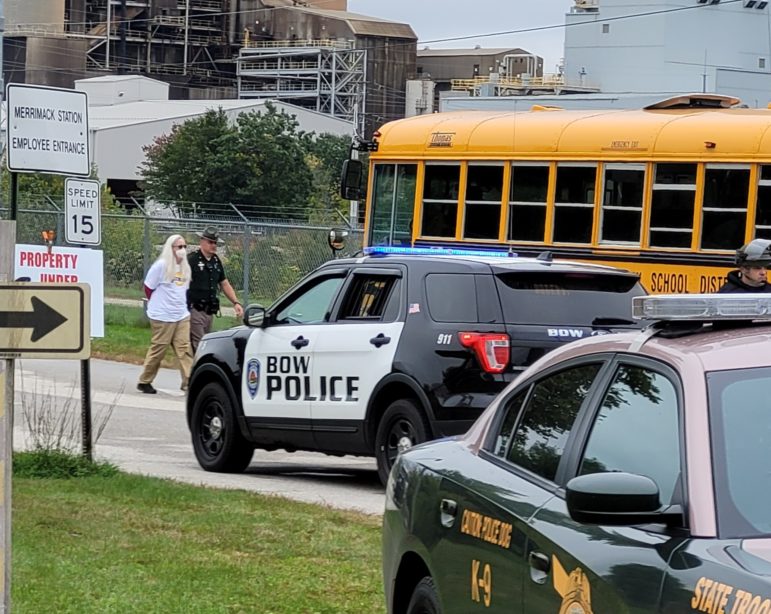 The others were taken in a school bus to the Merrimack County House of Corrections in Boscawen, from which they were all released on their own recognizance with misdemeanor charges and the same November 8 appointment at Concord District Court.
The demonstration was the latest in the No Coal No Gas campaign, which is backed by groups including 350NH, Rights and Democracy, and the Climate Disobedience Center. "Arrest is not the goal," commented organizer Isaac Petersen after the arrestees had been taken away. Civil disobedience is just one of the nonviolent tools the campaign employs, he said.
Sunday's action followed months of planning, weeks of training, and a weekend action camp held at Pitch Perfect in Canterbury. "I support what they're doing wholeheartedly," said LeeAnn Mackey, owner of the rustic campground where activists pitched tents, shared meals, held workshops, made banners, and made plans.
They also learned and sang songs, including one with a gardening theme. "They tried to bury us. They didn't know we were seeds," were the lyrics of one chant-like song. Another, Greg Greenway's "Do What Must Be Done," lent itself to slogans printed on the backs of "No Coal No Gas" t-shirts.
No Coal No Gas launched in 2019 when a few climate activists removed some coal from the piles outside the Bow power plant, later dumping it on the State House lawn in Concord as a demand that the state take action to end the use of climate-disrupting fossil fuels. Later that year, a larger group returned to Bow, this time dressed in Tyvek suits and carrying empty buckets as if to say, "we'll stop the use of coal if we have to remove it bucket by bucket." Sixty-seven people were arrested for criminal trespass.
While many of them accepted plea bargained sentences, 19 have appealed to Superior Court for a new trial, which has not yet been scheduled. One of them, the Rev. Kendra Ford from Portsmouth, was back on Sunday. "The plant is still burning coal, and we want it to stop burning coal, so I have to come back," said Rev. Ford.
"This plant stands in for all the other places in the world where we're still extracting coal, transporting coal, still burning coal, and putting carbon into the atmosphere," she added. "This plant and all the other fossil fuel infrastructure needs to close down, and we're just going to keep showing up and demanding that stop for the sake of our planet and our future."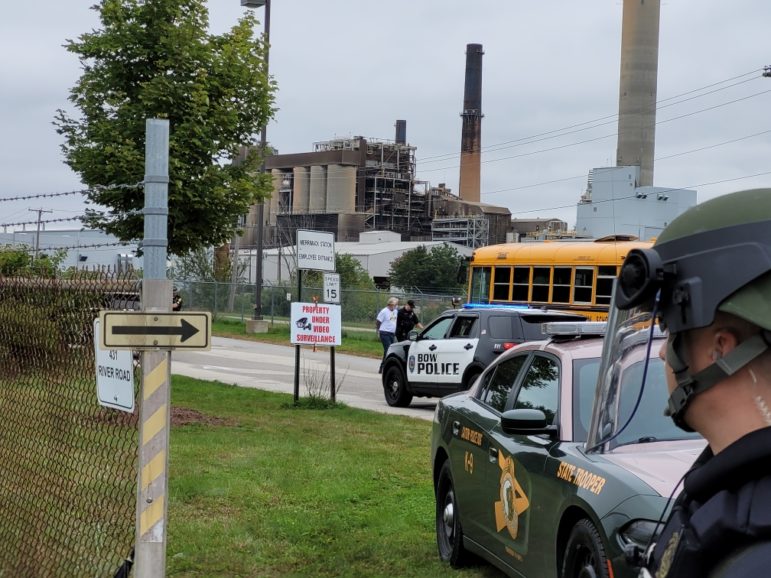 During the winter of 2019-2020, No Coal No Gas staged nonviolent blockades of trains carrying coal to Bow. Police arrested coal train protesters in several Massachusetts towns as well as at a railroad bridge in Hooksett. Five cases from the train blockades are still pending in court, according to a campaign spokesperson.
The point, they say, goes beyond the specifics of any one action, but to "show what is possible."
"All too often, conversations around climate action are constrained by the concept of 'political feasibility,' instead of being guided by moral necessity. We commit to taking moral action to do what must be done and hope to show that collective resistance and a Just Transition are both necessary and possible," says a statement on their website.
They list building unity and community as their top goal, above even stopping the burning of coal.
Finally, they say, "We aim to shut down the last coal-fired power plant in New England not already slated for closure. By using creative, nonviolent confrontation, we will unmask the violence happening in Bow and around the world."
In addition to the demonstrations on the tracks and at the power plant, No Coal No Gas has also organized a utility bill payment strike and tried to influence decisions of ISO New England, a relatively obscure agency which oversees the regional power grid under the oversight of the Federal Energy Regulatory Commission. It is only through ISO's "Forward Capacity Auctions" that Granite Shore Power is able to keep the fires burning at Bow. That means, as Isaac Petersen explained during one of the action camp workshops, the ISO is "one of the organizations that has the power to shut down the Bow coal plant."
According to ISO's data, coal provides only 0.15% of the region's electricity, compared to more than 3% for wind and more than 2% for solar. Rather than providing baseload capacity, the Bow plant fires up only on the hottest and coldest days. Since it's otherwise uneconomical to keep a power plant operating for only a few days a year, Granite Shore depends on subsidies, or "forward capacity payments," built into the rate structure to remain profitable.
As Bow resident Mary Fite put it during the rally, "They will try and keep this plant going as long as profits are there, as long as it's being funded by us. They will keep on taking handouts to stay online."
Untangling the technical details has required the campaign to develop what one activist called "a high level of nerd-dom." At the time of the last Forward Capacity Auction, No Coal No Gas generated about 100 comments submitted to ISO and FERC to deny ongoing subsidies to Granite Shore. They have also held demonstrations outside the ISO's Holyoke, Massachusetts offices.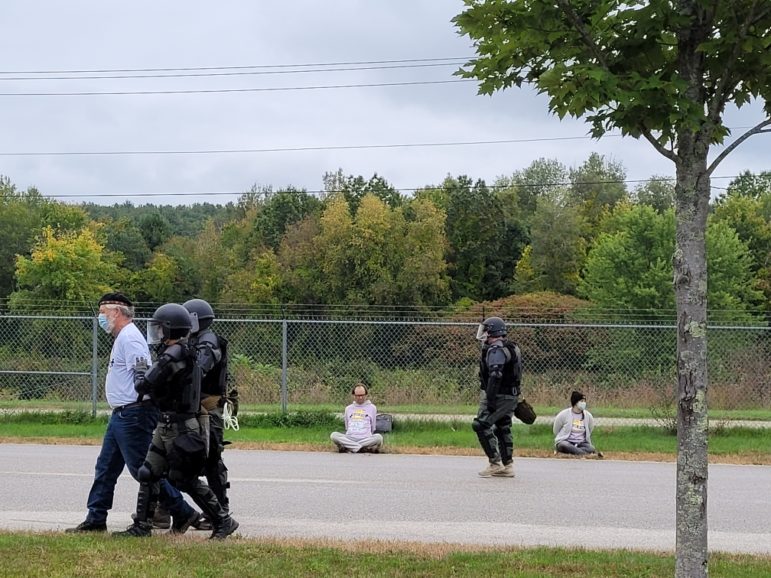 After months of planning, Sunday's demonstration required some last-minute adjustments by organizers. Unlike the 2019 demonstration, when the Bow Police posted "No Parking" signs along one side of River Road, most of the roadside on both sides were posted on Sunday. That meant participants had to park miles away and carpool to the site.
Likewise, although they thought they had permission to use a boat ramp south of the plant to launch their kayaks, by Sunday morning the site, which is owned by Merrimack Station, was blocked off with chains. "RESTRICTED ACCESS. LAW ENFORCEMENT, FIRE, POLICE, OR RESCUE ONLY," read bold-face signs by what is normally Bow's only access to the river.
Organizers adapted by using a put-in across the river in Allenstown instead.
In message to 350NH supporters after the action Lila Kohrman-Glaser, the grassroots group's co-director, said, "Today we are fighting hard for the world that we need. We are putting our bodies on the line to shut down the Merrimack Generating Station and we won't stop until we have won."
"If there's one thing this year has taught me, it's that I don't know exactly what tomorrow will bring. I DO KNOW THAT WE WILL KEEP COMING BACK until we end the use of coal once and for all," she added.