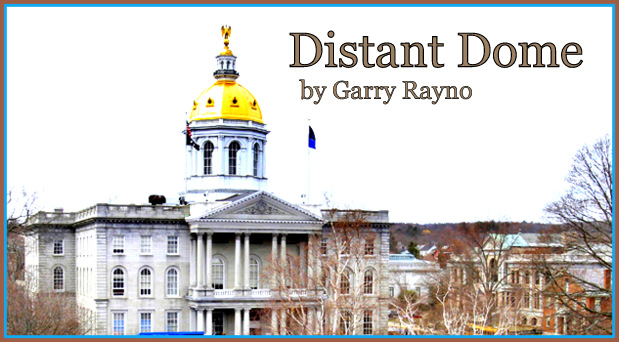 By GARRY RAYNO, InDepthNH.org
This is an election year, but the only race that appears to be drawing a lot of attention is the Republican primary for the U.S. Senate held by Democrat Maggie Hassan.
Granted there are a number of Republicans lining up for the 1st District Congressional seat held by Democrat Chris Pappas, but what that district looks like i.e. what communities will it comprise is still up in the air, although the House has already approved a gerrymandered map favoring a Republican candidate.
Gov. Chris Sununu has asked the Senate to make some adjustments to the map that would move 35 percent of the state's population into another district.
However, no proposed changes have appeared for public consumption with a public hearing before the Senate Election Law and Municipal Affairs Committee scheduled Monday.
U.S. Senate seats have only one district, the entire state, so there is no waiting to see which communities you will represent.
To date, the GOP U.S. Senate race has three known candidates and one or two more may join the fray before the June filing period.
Last week Kevin Smith, who was the Londonderry town manager and Chair of the Pease Development Authority, officially announced his candidacy. He also worked in former Gov. Craig Benson's administration and was the executive director for the conservative Cornerstone Action, a New Hampshire affiliate of a national group.
Smith ran for the Republican gubernatorial nomination in 2012 but finished second to Ovide Lamontange, who lost to Hassan in the general election.
Retired Brig. Gen. Donald Bolduc announced late last year he would be a candidate after running two years ago. He lost that primary to Corky Messner, who was unsuccessful in his challenge of Democratic U.S. Sen. Jeanne Shaheen.
And during Saturday's blizzard, Senate President Chuck Morse officially threw his hat in the ring for the U.S. Senate nomination.
Morse, who owns a nursery and landscaping business in Atkinson, is serving his eighth term in the NH Senate, having served four terms in the NH House.
He took over as Senate President in 2013 after then president Peter Bragdon resigned. Morse held the top position until 2018 when Donna Soucy became Senate President of the Democratically controlled Senate.
Morse assumed the position again in 2020 when Republicans regained control of the Senate.
Announcing his run for the U.S. Senate now tends to make Morse a lame-duck leader for the rest of the 2022 session, which could change things a little in the NH Senate and what it does.
His announcement will also bring more scrutiny of his actions as Senate President on some of the more radical legislation bound to come over from the House this session.
The House is hearing numerous bills on vaccine and mask mandates including prohibiting private businesses from imposing them as well as health care organizations and educational institutions.
Morse has always been an advocate for private business in the Senate and limiting government involvement in its affairs. It will be interesting to see what he does with that legislation.
Morse much like Smith could be called a pragmatic conservative, but that may not be enough in a Republican primary these days.
He is not someone who likes to see government affairs disrupted like they were this fall when the Executive Council was asked to accept federal money to boost the state's vaccination programs.
He did vote with the rest of the Republicans on the Joint Legislative Fiscal Committee to table accepting the federal money, but then voted to accept it at the committee's next meeting after the Executive Council had reversed course several days before.
Morse did follow through on many of the House's priorities last year, including the divisive concepts rewrite, 24-week abortion ban and the "education freedom accounts," but other priorities were either delayed and some killed in the Senate.
In making his announcement, he said he makes no apologies for the abortion ban noting he is a pro-life Republican.
That is fine, but because of his position as Senate President, he is under a microscope that Smith and Bolduc are not.
The first priority for state Republican Party leaders is a GOP primary that does not create a lot of animosity that could hurt the winning candidate in the general election.
So far, although it is very early, they are following the script by adhering to the long used and true red strategy of running against both the incumbent Hassan and Washington D.C.
In other words, make it a campaign focusing on national issues where the three candidates are pretty much in agreement, not local issues that may be more divisive.
And focus on Hassan and what she has or has not done. But more importantly, run against Congress and Washington D.C. Former Gov. Steve Merrill always ran against Concord, although he spent a good deal of his working life before he ran for political office in Concord. It was a winning strategy for him and many others.
But in the three U.S. Senate GOP candidates are going to have to separate themselves from the others sooner or later and that is when things become dicey.
There will be no lack of money going into this primary. The question is who gets the endorsement of former President Donald Trump and the other question is will it matter.
If Gov. Sununu had decided to run for U.S. Senate, which he did not, he likely would not have had a serious primary challenge.
And he is not likely to draw much of a primary challenge running for re-election either, but you never know.
What actions he did take early in the pandemic — particularly the mask mandate he imposed last winter — has stirred up a hornet's nest of anti-vaxxers and anti-maskers.
Some would like nothing better than to challenge him in a GOP primary, but that would be a bit quixotic.
Sununu's high approval ratings have come down to earth as do for any governor or mayor eventually. The longer you are in office, the more people you will upset for many reasons.
And to date no strong Democratic candidate has appeared on the horizon to challenge Sununu.
And like Morse he also will be under the microscope and will not be able to hide behind an omnibus budget package as he did last year, saying he would not veto the budget over this or that.
This year the bills will be more singular and some will test his political skills.
What does he do with the anti-mask and anti-vaccine related bills that will end up on his desk as well as other bills where lawmakers want to extend their reach into what can be and cannot be taught in public schools and universities.
The second year of the two-year term is also fraught with many difficult decisions if you are running for re-election, or seeking higher office.
And this legislative session will produce more than the usual challenges if you are Sununu or Morse.
But at least they are not waiting to find out what communities they will represent as the U.S. Representative candidates are in both districts.
Garry Rayno may be reached at garry.rayno@yahoo.com.
Distant Dome by veteran journalist Garry Rayno explores a broader perspective on the State House and state happenings for InDepthNH.org. Over his three-decade career, Rayno covered the NH State House for the New Hampshire Union Leader and Foster's Daily Democrat. During his career, his coverage spanned the news spectrum, from local planning, school and select boards, to national issues such as electric industry deregulation and Presidential primaries. Rayno lives with his wife Carolyn in New London.