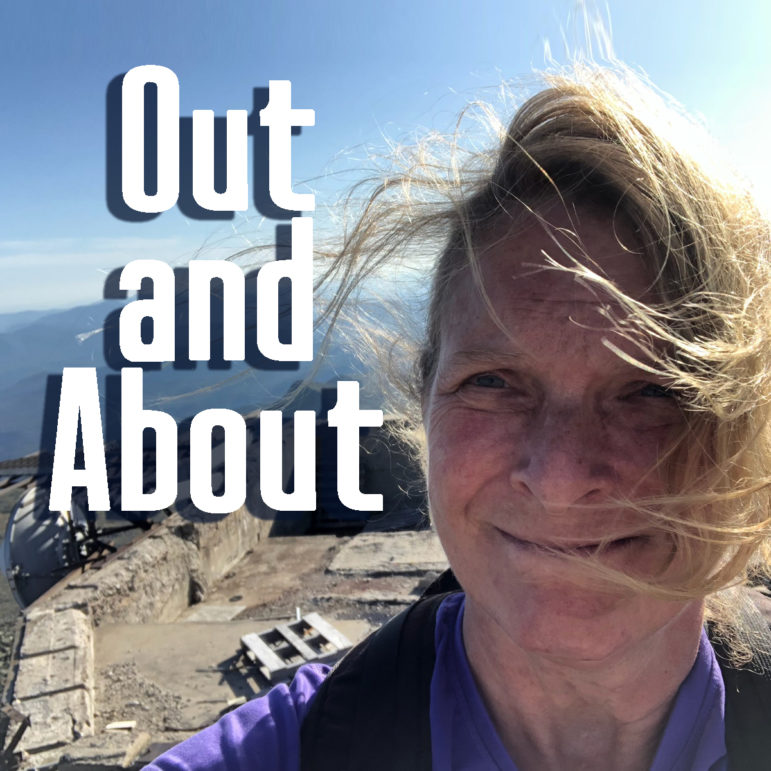 By PAULA TRACY, InDepthNH.org

SNOWVILLE – If you are thinking you need a bit of White Mountain warmth, a morning walk, or snowshoe through the woods with a view of the Northern Presidentials, if you enjoy reading a book fireside with a snifter of brandy while a sweet cat naps at your feet following a delicious dinner, well, this just might be the place.

This is the Snowvillage Inn in Eaton, near Madison.
I had never been here but the word for this place is COZY. I came up for dinner with friends Thom Perkins and Kathy Bennett on Wednesday after a very long day in Concord, listening to and writing about the problems of this state with COVID-19 still dominating the headlines.

Getting into the car at the State House at 4:56 p.m. I plugged in my google maps and it told me I would be there at 6:30 just in time for dinner after a nice drive through the Lakes Region in the darkness.

I did not fully unwind until this morning when I awoke to the magnificent view you see in this photo, of Mount Washington with the sun just coming up in the center of the photo. Breakfast included poached eggs, grapefruit juice, and it was followed by a lovely walk on the trails with Jen Kovach.
Jen and Kevin Flynn own the inn and have really done an amazing job constructing the ideal, small quiet inn here.

Josh Burkett, chef and graduate of the New England Culinary Institute, produced an amazing dinner for us which started with an ahi tuna appetizer, a main dish of fresh local mushrooms from the forest with a light cream sauce over a bed of fettuccine, and a flourless chocolate torte for dessert.

Kathy had a fun-looking martini while I stuck to a glass of chardonnay while Thom drank water as he was the designated driver.
I met some ladies from Wolfeboro out for a nice dinner. People in the valley often come for dinner and decide to stay over, particularly on snowy nights in Snowville when cozy beds beat finding yourself in an icy ditch, Jen said.

It really is so simple to renew your soul at a place like this, and while alone, I can see this as a perfect couples retreat.
You can refresh your senses without having to get on a plane and deal with masks and TSA and COVID-19 protocols and you don't have to be away from your work or pets or kids for long to feel that break from reality.

While here, I got to meet "Cinci," the inn cat, who is a little rescue girl with a sweet, kind disposition.
I also got to meet PJ Goodwin who first came to the Inn in the 1980s from the Marblehead area and loved it so much, she and her husband moved to the region.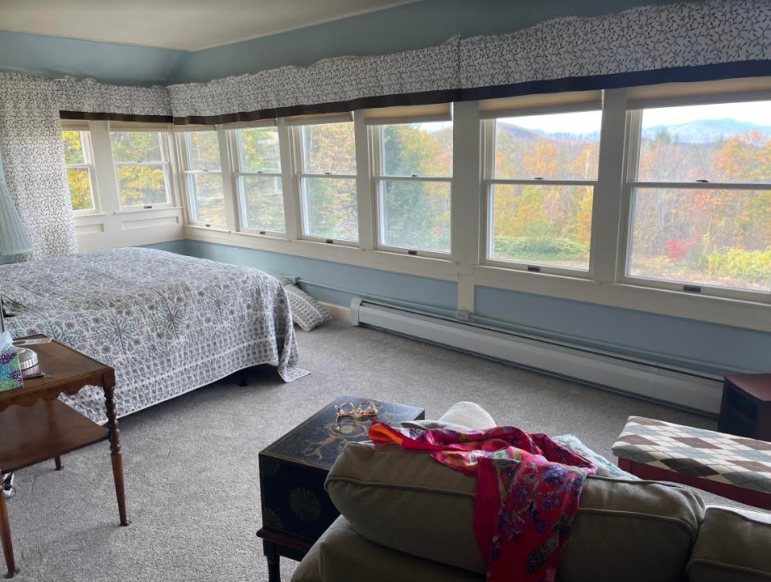 She was hosting an art opening on the walls of the inn and the small dining room was full of diners and patrons seven of whom purchased her art.
JP said she recalled winters at the inn skiing downhill from Crystal Lake well below and finding a frozen picnic left for them by the innkeepers including frozen baloney and cheese and very frosty beers.

Memories.
It was always a couples getaway, she said.
The Inn has been welcoming guests since 1948. The main house was built in 1916 by Frank Simonds, a Pulitzer Prize-winning author who is best known for his five-volume history of World War I. He called it "Blighty."

The view from the inn, high on the open slopes of Foss Mountain includes Mount Washington in its center.
Helen Keller, who spent summers here in Snowville, had strings to follow in the woods, Jen said. She could hold onto the strings to adventure into the forest and though blind, she wrote of the area that it was "a nest of peace, twice blessed."

In 1948, Simonds summer home was turned into an inn by Greta and Maxx Pluss. They were followed by innkeepers Ginger and Pat Blymyer in the 1970s and they had a pet as do Jen and Karen only theirs was a pig.
Because of the cat and the sense of peace and serenity here, the inn is not pet friendly so keep your dogs at home and get a break from them, too.

The five-bed inn has an adjacent Chimney House with four guest rooms for rent, built in the 1980s by the owners at the time, the Cutrone family. Each of the rooms has its own fireplace. Together with another structure, they can make the whole property available for weddings or retreats.

Kevin has had two stints as owner and innkeeper. He first came here from Long Island, wanting another inn but this one with a restaurant, Jen said. He brought in a professional chef and word got around that the food was amazing along with the views and cozy atmosphere of the place.

He sold the inn in 2005 but bought it back in 2012 with Jen and together, they have made many updates and restorations while still maintaining the beauty of the 1916 structure.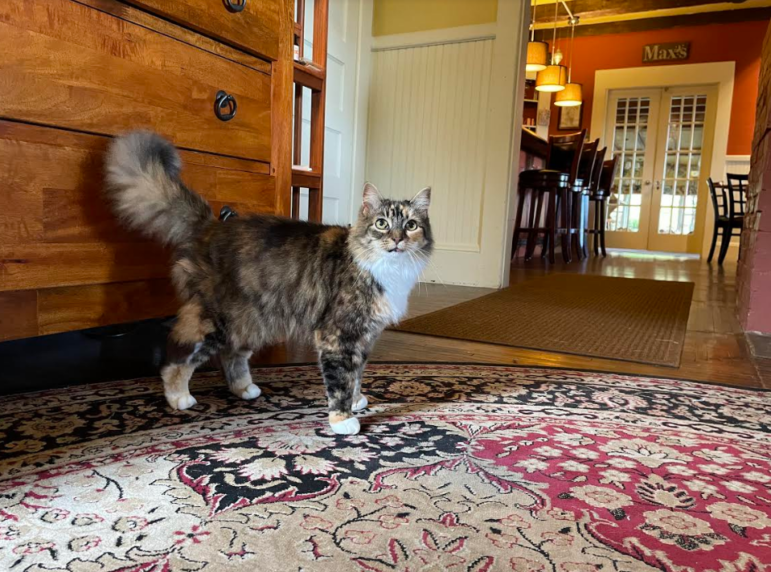 The 10 acres which were once more than 100 includes a lovely set of loop trails through the woods on Foss Mountain, perfect for a late fall walk like the one Jen and I took after breakfast.
Coming back to my marvelous room, which is equipped with wifi, the world got a hold of me again as I looked down at my laptop that a press conference and Zoom Call with state police was needed from my desk with a view to Mount Washington.

If you have a little time for a little cozy, do yourself some good and find a bit of it this late fall and early winter before the crowds arrive. Dinner will cost about $120 per couple not including tip. I spent $250 for a room with view, but check the website for pricing.
It will do you some good and this little spot is a "nest of peace."