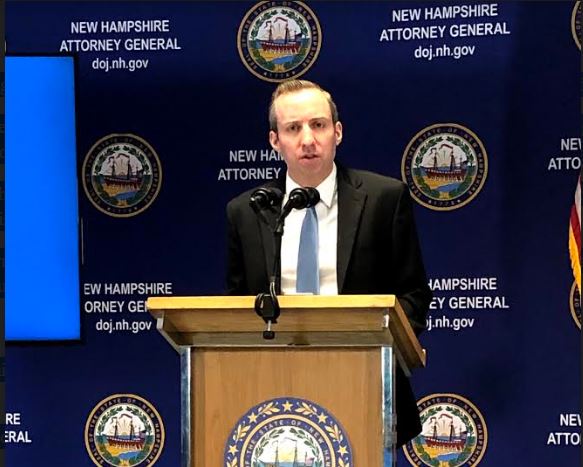 By DAMIEN FISHER, InDepthNH.org
CONCORD — By all accounts, Jeffrey Ely's life was spiraling out of control in the months before his fatal encounter with police at the Claremont garage/storage space where he was living.
Ely, 40, was shot and killed during an armed standoff with New Hampshire State Police troopers during the March incident. The New Hampshire Attorney General's report on the shooting, released Wednesday, found that the six troopers who shot Ely were legally justified.
Attorney General Office's Report Regarding The March 31, 2021 Officer-Involved Shooting Incident In Claremont, New Hampshire
Ely's friend and family told investigators that he was drinking heavily, and possibly using drugs in the months before his death. One friend told investigators that Ely was deteriorating before his eyes. Ely had a history of mental breaks, according to the report, and was known to disappear for months at a time.
Also, according to the investigation, Ely was an angry man who had started focusing his anger at the unknown person or group that he believed was monitoring his thoughts.
The March 31 incident started in the morning, when Ely started threatening the others who rented at the former mill building on Sullivan Street that was converted into a multi-business commercial building. Ely was reportedly yelling, driving recklessly around the building, and threatening to "shoot everyone," the report states.
Claremont police officers went to Ely's rental unit, a mechanic shop with a small bedroom, and tried to speak with him, according to the report. During the conversation, officers report it was clear he was having mental health issues, like hearing voices, but he claimed he did not want to hurt anyone present.
"Ely said that he wanted to harm whoever was making the voices but did not want to harm himself or anyone in the area," the report states.
Claremont police, unable to get Ely to agree to see a mental health professional, left the area intent on developing a plan to either have Ely agree to treatment, or they would opt for an involuntary emergency admission.
Later that day, shortly before 3 p.m., police were called back to the mill complex after Ely drove around the parking lot shooting at people, the report states. No one was injured, and Ely was seen with an AR-15 style rifle, heading into his shop where he next barricaded himself inside, covering the windows and setting up piles of tires, according to the report.
Claremont police tried again to talk to Ely, and during the conversation he reportedly fired four rounds from inside the building. Again, no one was injured and at this time Claremont got help from the New Hampshire State Police SWAT Team and the State Police Crisis Negotiation Unit.
Police obtained an arrest warrant and the SWAT team took position to try and get Ely safely out of the building, according to the report. Ely would reportedly not talk to officers and posted a video of a gunshot being fired to his Facebook account, apparently as a warning.
The SWAT team brought in the Bear, a tactical vehicle, and took position in front of the entrance to Ely's unit. For two hours he refused to communicate with police, and they grew concerned as they neared. He was a former maintenance man in the mill building, and likely had keys and access to the whole structure, and knowledge of where to hide, according to the report.
After no response from Ely and concerned he might have fled to another part of the building, or harmed himself, the team used the Bear to push on the front door.
"Almost instantaneously, Mr. Ely fired his rifle at the Bear. The troopers within the Bear heard the gunfire, saw the muzzle flash from within Mr. Ely's shop, and saw sparks as bullets impacted the front area of the Bear," the report states.
Trooper Hawley Rae continued to implore Ely to put his gun down, but Ely refused, and at one point was seen with two rifles, according to the report. The troopers used the bear main to push the door open more, and kept asking Ely to put his guns down.
Ely instead was seen putting on a jacket of some kind, and troopers feared he planned to come out with the rifle, according to the report. Rae kept asking Ely to put the gun down, but instead he raised his rifle and started heading for the door, as though he was coming out to fight.
"That action prompted Sergeant Gary Ingham, TFC Shane Larkin, TFC Nicholas Cyr, TFC Stefan Czyzowski, Trooper William Neilsen, and Trooper Noah Sanctuary to fire their weapons at Mr. Ely, striking him several times," the report states.
After the shooting, Larkin saw Ely move on the ground, and fired three more shots into Ely, fearing he was going to start shooting at the troopers, according to the report.
Investigators found several rifles and handguns and nearly a thousand rounds of ammunition, with some of the guns and ammo stashed at different locations throughout the space, as though Ely was prepared for a gun battle, according to the report.
The autopsy, conducted by the Office of the New Hampshire Chief Medical Examiner, found methamphetamine and other drugs in Ely's system. New Hampshire Attorney General John Formella, said at Wednesday's press conference that methamphetamine is a growing concern in the state.
"It's an increasing trend that we've seen," Formella said.
Formella said New Hampshire law enforcement officials are partnering with other states to get a handle on the methamphetamine issue. This is the fourth shooting in recent months that is linked to the drug.
David Donovan, 35, was shot and killed by police in Meredith in November when he came at police, armed with a knife and bloody from just having stabbed his mother's boyfriend, according to the New Hampshire Attorney General's report. Donovan's methamphetamine use caused him to become violent, paranoid, and delusional in the months leading up to his fatal encounter with Meredith police.
In October, Ethan Freeman, 37, of Thornton, was shot and killed by Thornton Police Officer Matthew Yao when a naked and bleeding Freeman charged Yao during a confrontation. Freemen had a history of methamphetamine and other drug abuse, as well as a significant history of mental health issues.
In December, Mark Clermont, a paranoid felon who was known to carry an assault-style rifle and wear ballistic vest while hunting for alien spacecraft, was shot and killed by New Hampshire State Police Trooper Matthew Merrill during a gun battle Clermont started. Clermont was known to use methamphetamine.